Beef cheeks are incredibly delicious with a tender, melt-in-your-mouth texture that's just irresistible!
It's an underrated cut of meat with marbling that makes it a perfect ingredient to ensure juicy meat every single time.
Whether you love them braised, slow-cooked, or smoked, you just can't go wrong when cooking beef cheeks!
From braised dishes to beef tacos, we've got you covered with some of the best beef cheek recipes that you can easily try at home!
Enjoy an amazing Beef Cheek Ragu that's extremely delicious and is sure to tantalize your taste buds!
The beef cheeks are seared and simmered in a mixture of red wine, beef stock, tomato paste, and other delightful ingredients, ensuring tender meat and plenty of incredible flavors at the end.
When paired with pappardelle, it becomes a terrific pasta dish that's sure to satisfy any appetite.
Everything comes together really nicely in this braised beef cheek recipe that makes for an unforgettable meal!
This is one of the most flavorful slow cooker beef cheek recipes and you definitely don't want to miss out on it!
Seasoned with a variety of spices that includes paprika, onion powder, and garlic powder, the beef cheeks are guaranteed to be delicious when cooked.
The sauce is a mixture of honey, soy sauce, and rice wine vinegar, and it's poured over the meat in a slow cooker to cook alongside aromatics that impart depth and complexity to the flavor.
It's a taste explosion in your mouth with every bite and you can enjoy an awesome meal just by serving it with steamed rice!
For a hearty and amazingly delicious dish, you've got to check out this fantastic Beef Cheeks with Parmesan Polenta recipe!
Slow-cooked in a mixture of beef stock, red wine, aromatics, and herbs, the beef cheeks are incredibly flavorsome and so tender that they fall apart easily.
Served on top of a creamy and buttery Parmesan polenta, it's a wholesome dish that you can enjoy any day of the week!
The lovely taste will definitely have you add this to your list of favorite beef cheek recipes!
Savor terrific Beef Cheek Birria Tacos that are incredibly tasty with this superb recipe that you'll absolutely want to try for your next Taco Tuesday!
Marinated in a blended mixture of Mexican chilies, chipotle, aromatics, beer, and other delightful ingredients, the meat is extremely flavorful and incredibly yummy.
They are made even tastier when simmered with herbs to cook until tender, adding loads of depth and complexity to the flavor in the process.
When combined with tortillas, they become one of the best beef cheek tacos you'll ever taste!
Level up your cooking skills with this top-notch beef cheek recipe that's sure to impress with its great looks and taste!
The beef is browned in a skillet, then simmered in a mixture of red wine and tomato purée along with onions, leeks, and carrots, before being slow-cooked in the oven until tender.
Paired with creamy hummus, this dish is packed with unbelievable flavors that'll whet your appetite and it just tastes superb.
It might take some time to cook but it's really simple and you'll know it's all worth it once you take that first bite!
These pies are superbly tasty and they are the perfect pasty for breakfast, brunch, tea break, or pretty much any time of the day!
With a filling of incredibly tender and flavorful meat, savory pancetta, and mixed mushrooms, these pies taste out of this world and every bite is bursting with great flavors.
The crisp and buttery pastry is just the cherry on top and everyone will be fighting for seconds with how delectable these pies are.
Give it a try and you'll definitely not regret it!
Make your next meal a little special with one of our favorite beef cheek recipes that creates an elegant dish fit for special occasions!
Simmered in a mixture of vegetables, red wine, tomato paste, and other lovely herbs, the beef cheeks are extremely tender and flavorful, making it a mouthwatering delight.
The meat is enhanced with a topping of fragrant shallot jus and when you set them atop mashed potatoes, you have a wholesome meal that everyone will definitely enjoy.
It's a great addition to your meal rotation and an awesome way to feast on tasty beef cheeks!
Inject a little Asian flair to your next meal with these terrific slow-cooked beef cheeks that are incredibly tender and amazingly delicious!
Braised in a flavorsome mixture of hoisin sauce, kecap manis, soy sauce, cooking wine, lemongrass, ginger, and garlic, the beef cheeks are packed with mind-blowing flavors that are just irresistible.
The oven does most of the cooking as well when they are baked until tender, making it a breeze to whip up this tasty dish!
Paired with carrot purée and a dipping sauce made by blending garlic, chili, and green onions, this is a heavenly dish that you definitely need to try!
This instant pot beef cheek recipe makes such tasty barbacoa and it's an absolute must-try dish in our books!
Cooked under pressure with a variety of spices and herbs that includes cumin, oregano, and bay leaf, the meat is extremely tender and succulent.
Get some warm tortillas and top them with cooked beef, pico de gallo, cilantro, and salsa, and you'll have a marvelous meal to enjoy!
You'll be gobbling these down like no tomorrow because they are just that delicious!
Spruce up your next meal with these Asian-inspired braised beef cheeks that make for an awesome meal any day of the week!
There's no lack of flavor in this dish with the beef cooked in a mixture of beef stock, lemongrass, star anise, kecap manis, aromatics, and many other delightful ingredients.
Served with a side of mango salad topped with a dressing made by blending sweet chili sauce, sesame oil, garlic, ginger, lime juice, and sugar, this is a super appetizing dish that you just can't wait to devour.
If you love strong and bold flavors, this is definitely the dish for you!
Grace your taste buds with an amazingly delicious beef daube loaded with incredible flavors that are sure to please!
Marinated overnight in red wine, then braised in a mixture of vegetables, orange juice, prunes, mushrooms, and other herbs, the beef cheeks are super tender and they taste fantastic.
The braising sauce is puréed for better texture and flavor before combining it with the meat again to serve alongside any of your favorite carbs.
It's a scrumptious dish that definitely has a place in any meal you want to give an upgrade to!
Fire up your smoker and try out this splendid Smoked Beef Cheeks recipe that's oh-so-yummy and just irresistible!
It's ridiculously easy to make and what you'll need to do is get your favorite beef rub and season the beef cheek meat before smoking it at 275°F (135°C).
Then braise the meat in beer, butter, and brown sugar until it becomes tender and superbly flavorful.
You'll love how the meat falls apart easily and it's so tasty!
For more smoky goodness, be sure to check out our Pit Boss Smoker recipes!
Expand your cooking repertoire with a simple casserole recipe that makes such delicious beef, perfect for a hearty meal!
Cooked in the oven with red wine, onion, carrot, celery, garlic, bacon, and mushrooms, the meat is loaded with sweet and savory flavors and the mixture of ingredients makes it a really wholesome dish.
The oven does most of the cooking so it's really easy to whip this up when you're planning an awesome meal for the family!
It's so tasty and you'll likely have a new favorite dish after trying it!
Amplify your meals with a fantastic barbacoa dish that tastes superb and it's so easy to make!
Rubbed with a spice mixture of cumin, oregano, chili powder, garlic, salt, and pepper, the cheeks are placed in beef broth and topped with onions and bay leaves, with everything wrapped in foil and left to let the flavors meld overnight.
Cooked low and slow the next day, you'll end up with amazing tender and flavorsome meat that you can enjoy with warm tortillas to enjoy a simple but satisfying meal.
You won't believe how easy it is to whip up something that tastes this good!
Sign us up for this terrific dish that's exceptionally delicious with tender beef and a flavorful green herbed sauce!
Seared beef cheeks are cooked with vegetables, herbs, tomato paste, beef stock, red wine, and sherry, ensuring plenty of depth and complexity to the flavor of the meat.
Topped with a herbed sauce made by combining garlic with oil, mint leaves, and parsley leaves, the meat is given an easy upgrade and you'll salivate when the aroma hits your nose.
Serve with a side of potato purée for a simple and wholesome meal!
If you have a sous vide machine, you've got to check out this wonderful recipe that makes tasty beef cheeks every single time!
Vacuum-sealed into a pouch with rosemary sprigs, garlic, and seasonings, the meat is cooked in a water bath for 48 hours before searing to give it better color and flavor.
It's incredibly easy to make with the sous vide machine doing all the cooking and although it requires some time, it's well worth it for what is essentially an effortless meal!
And with the beef consistently tasty, you'll get the urge to make it again not before long!
Enjoy delectable comfort food with this hearty Beef Minestrone Soup that's one of our favorite beef cheek recipes!
Cooked and simmered with a combination of lovely ingredients that include red wine, vegetables, bacon, tomato paste, and cherry tomatoes, this is a soup that you'll definitely sip till the last drop!
Everything comes together really nicely with tender beef and vegetables providing loads of nutrients and complex flavors in this minestrone soup.
Serve with some crusty homemade bread to mop up all that delicious soup!
Experience a culinary delight with these fantastic braised beef cheeks that you absolutely must try!
The meat is simmered in a mixture of red wine, cocoa powder, carrot, onion, celery, and tomatoes, rendering plenty of amazing flavors to create a wonderful dish.
The rich and bold flavors create a mind-blowing taste sensation in your mouth with every bite of the tasty beef cheeks and they are incredibly succulent.
It's a heavenly dish that you definitely don't want to miss out on because it's just that tasty!
Mix things up a little and try making this chili that's superbly tasty and a great way to enjoy tasty beef cheeks!
It's a lovely combination of tender beef, bell pepper, kidney beans, chipotle chili, adobo sauce, and a whole variety of spices that add tons of flavor to this dish.
Served with a dollop of sour cream and homemade salsa, this is a delectable dish that's sure to please your taste buds!
If you haven't tried Beef Cheek Burgers before, you don't know what you've been missing out on!
Tender and flavorsome beef that has been slow-cooked in a mixture of stout, aromatics, and spices, is combined with an outstanding mushroom mayonnaise and delivered in between two burger buns for an awesome feast.
It's a mouthwatering dish that's exceptionally delicious and there's just something about the tender meat that makes you want to gobble up the burger.
You'll definitely want to mark this as a must-try for your next meal!
At Glorious Recipes, we have our favorite Slow-Cooked Braised Beef Cheeks recipe that we absolutely adore and they taste heavenly! Check out the recipe below!
Yield: 4
Slow-Cooked Braised Beef Cheeks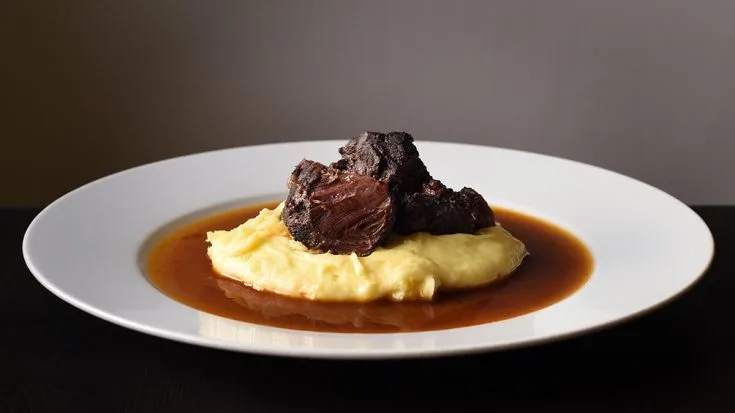 Indulge in tender, melt-in-your-mouth beef cheeks braised to perfection with this simple recipe!
Total Time
3 hours
20 minutes
Ingredients
2½ lb beef cheeks (4 pieces)
1 large yellow/brown onion, diced
2 small celery sticks, diced
2 medium carrots, diced
3 tbsp tomato paste
13½ oz red wine
2 garlic cloves, finely chopped
4 thyme sprigs
2 cloves
2 bay leaves
10 black peppercorns
olive oil
salt, to taste
Instructions
Remove any excess fat and connective tissues from the beef cheeks. Prepare the other ingredients.
Add a little olive oil to a large pot over high heat. Season beef with salt, then sear the meat on all sides to caramelize for better flavor and color. Set aside.
Add a little more oil and add diced onion, celery, and carrots. Cook them for a few minutes, then add tomato paste. Cook to remove the raw tomato taste, then add red wine to deglaze the pot, scraping any brown bits at the bottom.
Lower the heat and add the remaining ingredients (garlic. thyme, cloves, bay leaves, peppercorns). Add back beef cheeks and enough water to cover the meat completely.
Add a touch of salt to the liquid and cover the pot with a lid. Turn down the heat to low and simmer for 2½ hours, stirring and turning the meat occasionally. Top up with water if required.
The beef is done when it's fork-tender and almost falling apart. Serve over mashed potatoes and enjoy!
Nutrition Information:
Yield:
4
Serving Size:
1
Amount Per Serving:
Calories:

904
Total Fat:

51g
Saturated Fat:

20g
Trans Fat:

2g
Unsaturated Fat:

26g
Cholesterol:

247mg
Sodium:

334mg
Carbohydrates:

16g
Fiber:

4g
Sugar:

5g
Protein:

76g
Nutrition information is only an estimate and can vary depending on ingredients used.
Which of the beef cheek recipes have you tried so far?
Let us know in the comments below!
For more awesome beef recipes that you might like, check out the following:
Veal Chop
Sirloin Tip Roast
Chuck Steak
Beef Cubes
Bottom Round Steak
Steak and Rice
Recipes with Beef Broth
Canned Beef
Shaved Steak
Beef Shank
Share on your favorite social media platform and tag us @GloriousRecipes – we can't wait to see what you have made!