If you love salmon, you'll love salmon bites!
Salmon bites are basically salmon cubes, chopped into bite-sized pieces that are convenient to eat and easy to pair with any sauce or glaze to make delicious meals!
Since you don't need thick fillet cuts to make these tasty bites, it's usually more affordable as well and great for when you're on a budget but still want the nutritional benefits of salmon.
Whether you like it air-fried or wrapped in bacon, we've got you covered with some of the best salmon bites recipes!
These honey garlic salmon bites are the perfect finger food or appetizer at parties because they are super flavorful and delicious!
Glazed in a sauce made with brown sugar, honey, garlic, and soy sauce, these awesome bites are sweet and fragrant, with a little kick from the red pepper flakes added.
The bite-sized pieces are especially great for this recipe because there is more surface area to be coated with the delicious sauce!
Garnish with sesame seeds and chopped scallion to add a touch of color before serving!
We love air fryer recipes because they keep the clean-up minimal and the food still tastes as good as a pan-fried dish.
And it's no different with these air-fried salmon bites with garlic cream sauce!
The salmon itself is already very tasty when seasoned with paprika, garlic, salt, and pepper, but smothering it with a garlic cream sauce totally elevates the dish!
Pair it with some mashed potatoes or rice for a complete meal!
For a quick and easy salmon bites recipe, you cannot miss out on these pan-fried salmon bites with honey sesame soy sauce!
No prior marination is required to whip up this fantastic dish so you can easily make these tasty bites at a moment's notice!
The sauce is a combination of soy sauce, honey, toasted sesame oil, and sriracha sauce, giving it a really nice flavor that's sweet, savory, and spicy at the same time.
They are excellent when paired with some fragrant steamed rice!
Savor these tasty honey lemon pepper salmon pieces that are easy to make and taste so delicious!
It's simple and fast to make them and all you need is garlic, honey, and some lemon pepper sauce.
Toss and coat the salmon pieces then pan-fry until they are well-seared!
They make great appetizers so serve them at your next gathering and everyone will definitely enjoy these tasty bites!
If you're looking for a healthy and nutritious meal, check out this fantastic salmon recipe!
With loads of vegetables included in this dish, you are getting all the essential vitamins, minerals, and fiber that are great for your body!
Add blackened and crispy salmon seasoned with a variety of spices, plus a tasty spicy sauce drizzled all over, and you have an amazing dish that's perfect for lunch or dinner.
It's a well-rounded dish and easily one of our favorite salmon bites recipes!
Enjoy these tasty air-fried teriyaki salmon cubes that have a perfectly crispy exterior and tender interior, making them a great option for an awesome meal!
With a spicy and creamy yogurt sauce, the salmon pieces are even more flavorful than ever!
Along with brown rice, avocado, and edamame, they combine together to create a really healthy and wholesome meal.
It's so delicious and easy to make that you definitely need to add this recipe as part of your lunch and dinner rotation!
Fire up your smoker because these candied smoked salmon cubes are like salmon candies and they taste amazing!
With a maple syrup glaze coating these delightful bites, they are slowly smoked to perfection with a sweet and sticky coating on the outside.
They are fantastic as finger food or snacks but you can also enjoy them in sandwiches or use them as a bacon substitute.
You'll definitely be making these every summer because they are just that delicious!
Another air fryer salmon bites recipe to add to the list of quick and easy meals!
Add some Thai flair to your next meal with these tasty bites that are marinated in a soy-citrus mixture before being cooked and smothered in an extremely flavorful Thai sweet chili sauce.
Bring up the heat with some bird's eye chilies to experience authentic Thai cuisine or use Serrano peppers if you prefer a milder heat.
Serve with some rice to complete this wonderful meal!
Spruce up your next gathering with these amazingly delicious spicy salmon bites that are mouth-watering and super addictive!
With an awesome wasabi soy mayonnaise drizzled all over the tasty salmon, every bite is bursting with flavor and you just can't stop at one.
The marinated salmon cubes are pan-seared till browned and crispy, giving them an awesome texture and flavor even on their own.
They are then topped with a dressing made by combining Japanese kewpie mayo, soy sauce, and wasabi paste, which give it a fantastic savory and spicy taste.
Serve these as an appetizer or a side dish and watch as your guests gobble them up!
Make these delicious blackened salmon cubes with garlic honey glaze and you'll have a tasty meal in no time!
The salmon cubes are coated with a blackening seasoning that includes paprika, garlic and onion powder, marjoram, basil, and peppers, so you can be sure they are going to come out tasty.
It's easy to cook them and you can either pop them in the air fryer, oven, or pan-sear them in a skillet!
To complete this dish, drizzle homemade honey garlic butter glaze over the cubes and enjoy!
Sweet and spicy makes for a great combination and these honey sriracha salmon cubes are definitely going to tantalize your taste buds!
With honey, sriracha sauce, garlic, ginger, soy sauce, and vinegar, the sauce is extremely flavorful and it's reduced to a thick glaze that coats the salmon cubes.
Garnish with sesame seeds and freshly chopped chives before serving with rice or you can also wrap them in lettuce!
No matter how you choose to eat them, you're definitely going to enjoy this delicious dish!
Everyone loves bacon and when you combine that with tasty salmon, you get a fantastic umami bomb that's super tasty!
Best of all, you can easily make them with an air fryer or pop them in the oven and you'll have these delicious bites in no time!
The salmon cubes are seasoned with garlic powder, dry mustard, coriander, salt, and pepper, giving them plenty of flavor.
They are wrapped in bacon and secured with toothpicks before being baked until cooked.
It's a simple baked salmon bites recipe and we're sure you'll love it!
Introduce some Asian flair to your next meal with this air fryer salmon bites recipe that's so easy to make and tastes heavenly!
The salmon cubes are marinated in a mixture of oyster sauce, honey, soy sauce, ginger, Japanese mayo, salt, and pepper, ensuring plenty of flavors.
Air-fry these little cubes, then drizzle a honey ginger sauce all over to add even more depth to the flavor.
Garnish with some sesame seeds and spring onion to complete the dish!
Elevate your next meal with this fantastic salmon bites recipe that's definitely going to have you coming back for more!
Marinated in a mixture that includes brown sugar, garlic powder, and paprika, the salmon cubes are pan-seared in a skillet until cooked and crisp.
They are then coated with hot honey, which is made with a combination of honey, red pepper flakes, and apple cider vinegar.
Serve them as an amazing appetizer or pair them with some carbs and greens for a wholesome meal!
Don't miss out on these Cajun honey butter salmon cubes that are absolutely delicious and great for a quick and tasty dinner!
The salmon pieces are coated with an extremely flavorful sauce made up of Cajun seasoning and many other spices, providing maximum flavor with every bite.
They are really tasty and you can choose to serve them as an appetizer, a mid-day snack, or pair them with some steamed rice or salad for a full meal!
Dig into these tasty salmon cubes that are cooked to perfection in a hot maple sriracha sauce that provides all the flavors you need to enjoy an awesome meal!
The salmon cubes are already coated with garlic, chili, and smoked paprika powder before they are pan-seared so they are already loaded with flavors on their own.
The fantastic maple sriracha sauce is just a cherry on top, adding tons of additional flavors to the salmon pieces.
It's a simple but delicious meal that you can make over and over again!
For awesome sweet and savory salmon bites, check out this fantastic recipe that you're definitely going to love!
The salmon cubes are marinated in a special BBQ sauce and spice rub that imparts plenty of umami flavors and they are the reason why these salmon cubes are so tasty.
Season with more marinade and sesame seeds before cooking them until they are done.
They are super tasty and you'll be hooked once you take the first bite!
Grace your taste buds with this amazing orange ginger salmon appetizer that's going to be the highlight of the party!
With a marinade made up of orange juice, honey, white wine, soy sauce, garlic, and ginger, the salmon cubes will taste exceptional and oh-so-yummy!
Grill these little bites until opaque and garnish with chopped scallions before serving.
It's so delicious and easy to make!
If you have a Blackstone griddle, you'll need to check out this fabulous grilled salmon bites recipe!
Salmon cubes are lightly seasoned with salt and pepper, and seared until they are golden and crispy.
They are topped with marinated green onion and peppers, before a fantastic bourbon glaze is drizzled over, providing tons of flavors.
Stick each cube with a toothpick and serve these as an amazing appetizer!
P.S. If you're interested in more Blackstone recipes, check out our list of Blackstone chicken recipes for more ideas!
Indulge in delicious salmon nuggets with this amazing fried salmon bites recipe!
Everything tastes wonderful when battered and fried, and these little bites are no exception!
They are dredged in a flour mixture with cornstarch, baking soda, paprika, salt, club soda, and egg yolk, before being deep-fried until golden and crispy.
Serve with your favorite dipping sauce or try out the delicious Tiger sauce or Bitchin' sauce!
At Glorious Recipes, we have our favorite Soy Wasabi Salmon Bites that we absolutely adore! They are extremely flavorful and delicious! Check out the recipe below!
Yield: 12
Soy Wasabi Salmon Bites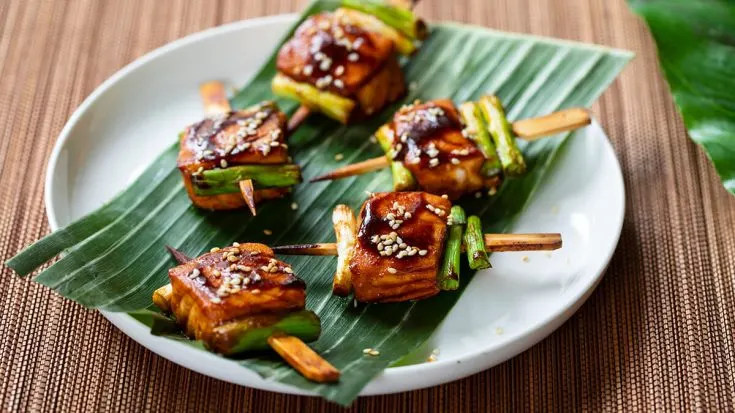 Enjoy these fantastic Soy Wasabi Salmon Bites that are absolutely delicious! Coated with a savory and spicy glaze, these salmon skewers are the perfect appetizer or mid-day snack!
Ingredients
2 salmon fillets, skin removed and cut into cubes
2 spring onions, chopped into 1-inch pieces
2 tsp soy sauce
1 tsp wasabi paste
½ tsp honey
Instructions
Using skewers, thread through salmon cubes and spring onions and place them on a baking dish.
To make the marinade, add the remaining soy sauce, wasabi paste, and honey to a small bowl and mix well. Pour it over the salmon skewers and turn the skewers to ensure they are well-coated with the marinade. Leave them for 10 minutes before turning the skewers again.
Get a grill or griddle to high heat. Place skewers and cook for around 15 minutes, making sure you turn them frequently so that they are evenly cooked. When it's opaque and slightly charred, it's ready to be served!
Nutrition Information:
Yield:
4
Serving Size:
1
Amount Per Serving:
Calories:

245
Total Fat:

14g
Saturated Fat:

3g
Trans Fat:

0g
Unsaturated Fat:

10g
Cholesterol:

72mg
Sodium:

272mg
Carbohydrates:

2g
Fiber:

0g
Sugar:

1g
Protein:

25g
Nutrition information is only an estimate and can vary depending on ingredients used.
Which of the salmon bites recipes have you tried so far?
Let us know in the comments below!
For more fish recipes, check out our Tuna Tartare recipes to serve as appetizers, or try your hand at some amazing Porgy, Coho Salmon, Albacore Tuna, Yellowtail, Tilefish, Smoked Cod, Blackfish, or Cobia recipes!
Share on your favorite social media platform and tag us @GloriousRecipes – we can't wait to see what you have made!