Beef cubes are an easy way to get some tasty protein into your meals and they are incredibly versatile!
Cut into bite-sized pieces, they take on flavors extremely well and are an invaluable ingredient in many dishes.
Whether you prefer them grilled, sautéed, or slow-cooked, they are sure to elevate your meals to the next level.
From hearty stews to delicious bites, we've got you covered with some of the best beef cube recipes that you can easily try at home!
Recreate the flavors of Japanese cuisine with these Hibachi-styled beef cubes that are crazy delicious and so easy to make!
The highlight of this dish is a simple sauce made by combining soy sauce and teriyaki sauce to create the perfect blend of sweet and savory flavor that totally enhances the taste of the meat.
The cubes are stir-fried in butter with garlic before the sauce is added to thoroughly coat them and it's just an absolutely amazing dish that you need to try.
For something that tastes so good, it's incredibly simple to whip up and definitely one of our favorite beef cube recipes!
A mainstay in Filipino cuisine, this fantastic Beef Caldereta is a hearty tomato-based stew with tender meat and nutritious vegetables!
It's a delectable mix of bell peppers, carrots, potatoes, aromatics, olives, beef cubes, and many other lovely ingredients, all simmered in a spicy tomato sauce until they become extremely flavorsome.
Thickened with shredded cheddar cheese, this stew tastes amazingly delicious and pairs really well with a bowl of steamed white rice.
It's definitely a great way to add some variety to your meals with this awesome Filipino dish!
Enjoy an exceptional meal with this brilliant French Beef Stew that's loaded with great flavors and juicy meat!
There's no lack of flavor with red wine, beef stock, pancetta, aromatics, herbs, and tomato paste all combined to create this incredible stew.
Slow-cooked in the oven until the flavors meld and the beef becomes nice and tender, this terrific stew is just irresistible.
Serve with your favorite carbs to enjoy a complete meal!
These amazing Slow Braised Barbequed Beef Bites taste absolutely incredible and are definitely a must-try beef cube recipe in our books!
It's ridiculously easy to make and all you need to do is add beef and onion to a Dutch oven before pouring over a sauce mixture that includes Worcestershire sauce, ketchup, chili powder, and paprika.
The oven does all the cooking for you and with a little bit of patience, you'll come back to extremely flavorful, moist, tender, and tasty meat.
Serve with a side of rice for an easy but awesome meal any day of the week!
This is one of those quick and easy beef cube recipes that you definitely want to keep handy because it makes a great-tasting dish in minutes!
Seasoned with salt, pepper, and paprika, beef cubes are seared and sautéed with a flavorful honey garlic sauce until they are nicely cooked.
Everything comes together really fast and it's so tasty that you'll want to slurp all that delicious sauce right up!
It's the perfect dish for a scrumptious weeknight dinner!
For a hearty dish that has all the protein and carbs you'll want in a meal, you've got to check out this splendid recipe!
Tender potatoes and seared beef combine in this simple dish that uses butter and soy sauce to impart savory flavors that are really delightful and enjoyable.
A garnish of parsley helps to complete this easy stir-fry and you'll love the umami flavor that every bite brings.
Give it a try and you'll definitely not be disappointed!
Inject some Moroccan flair to your next meal with these outstanding kabobs that are superbly tasty and flavorful!
Marinated in a mixture of garlic, cumin, orange juice, and molasses, beef cubes are then skewered and grilled until cooked.
Served with spiced bulgur that combines pumpkin pie spice, orange juice, cumin, raisins, and other lovely ingredients, this dish is definitely a mouthwatering treat.
With how delicious these kabobs are, this is definitely one of our favorite beef cube recipes as well!
Discover your new favorite comfort food with this fantastic Beef Stroganoff that's incredibly delicious and is sure to whet your appetite!
This dish involves a tantalizing combination of seared beef cubes and mushrooms, simmered in a mixture of beef broth, brandy, and red wine until they are fully cooked and tender.
Sour cream is added to make the sauce creamy and when the mixture is served over butter noodles, you have a hearty dish that's oh-so-yummy.
You're bound to enjoy this stroganoff with its great flavors!
Dig into these excellent Cajun Butter Steak Bites that are quick to whip up and taste absolutely amazing!
There's no marination needed, making it perfect for any last-minute meals because it's so easy to make!
With a blend of spices that includes paprika, garlic powder, chili powder, onion powder, cayenne pepper, and dried herbs, the beef cubes are extremely flavorful when cooked in garlic butter.
The incredible aroma will make you salivate in an instant and you'll definitely enjoy this lovely dish!
For a wholesome and absolutely delicious stew, you've got to check out this terrific recipe that's perfect for an awesome meal!
It's a wonderful combination of potatoes, beef cubes, onions, carrots, celery, and many other lovely ingredients, all baked in a mixture of beef broth, curry powder, and other spices.
All the flavors meld extremely well together and you'll have a rich and tasty stew that's just pure divine once it comes out of the oven.
You can pair it with a side of white rice to make it even more satisfying!
Get a taste of Vietnamese cuisine with this simple dish that's loaded with great flavors and ingredients!
Featuring beef cubes marinated in a mixture of oyster sauce, fish sauce, sesame oil, sweet soy sauce, sugar, and minced garlic, this dish is an absolute delight that's sure to tantalize your taste buds.
Once the cubes are perfectly seared in a skillet, they are served alongside pickled onions, watercress, and tomatoes, with a drizzle of vinaigrette to enhance the flavor further.
With how easy it is to whip up, it's a no-brainer to add to your meal rotation!
If you love spicy food, you need to check out this fantastic Beef Noodle Soup that's absolutely delicious!
The broth is a combination of Sichuan chili bean paste, chili powder, garlic, and water, which means that it's guaranteed to give you an addictive kick with every sip.
Along with spices such as star anise, Chinese cinnamon, and fennel seeds, the beef cubes are simmered in the broth and cooked until tender.
Served together with vegetables and noodles, this is a dish that's sure to spice up your meal!
When you feel like enjoying some Japanese cuisine, try out this wonderful beef cube recipe that's super easy to whip up!
Perfectly pan-seared beef cubes are paired with fragrant sliced garlic fried till beautifully golden and served with a side of white rice and shredded cabbage.
A simple but extremely flavorsome sweet soy sauce is drizzled over the meat to complete this superb dish that's incredibly enjoyable.
It's quick to make and you get your dose of protein, carbs, fiber, and nutrients in one simple meal!
Ramp up your next meal with this easy recipe that combines some of our favorite ingredients together in one dish!
Beef cubes seasoned with Worcestershire sauce, garlic powder, and onion powder are combined with aromatics and simmered in beef broth and red wine until they become tender.
Rosemary and thyme help to add depth to the flavor, making this a delightful treat any day of the week!
You'll love how simple but flavorful this dish is!
Add some cultural richness to your meals with this awesome Trinchado, a traditional South African spicy beef stew with Portuguese influence!
Marinated beef cubes are cooked in a slow cooker with a mixture of beef stock, red wine, per-peri sauce, balsamic vinegar, garlic, onion, and tomatoes until tender before being served with french fries or bread.
If you're out to impress with your home cooking skills, pair it with some homemade crusty bread!
This is a great way to add some variety to your meals and definitely one of our favorite slow cooker beef cube recipes for whipping up an amazing meal!
Skip the Chinese takeout and make your own tasty meal with this Chinese Pepper Beef Cubes recipe!
It's a delectable combination of beef, bell pepper, tomato sauce, soy sauce, ginger, sugar, and other delightful vegetables and ingredients to create this extremely flavorsome dish.
It takes little effort to whip up and everything comes together really quickly!
Served over white rice, this is a palatable meal that's perfect for the entire family!
Don't miss out on this easy recipe with beef cubes and vegetables that you can use to make a sumptuous and complete meal!
Meat marinated in a blend of spices and seasonings, which helps to make it extremely flavorsome, is added into an oven bag along with the other ingredients and tossed into the oven to cook.
It's a simple two-step process and you'll end up with tasty protein with nutritious vegetables that taste fantastic with little effort.
Everyone will love how delicious and healthy this stew is!
If you love rich and bold flavors, you've got to check out this terrific Beef Masala Curry that's sure to delight your taste buds!
You are guaranteed plenty of wonderful flavors with a spice mix that includes garam masala, turmeric, cumin, smoked paprika, and coriander, making this an irresistible curry that smells fantastic.
Along with tomato passata, beef stock, and other ingredients, they all help to create a dish that tastes divine.
This instant pot beef cube recipe is extremely easy and you get to enjoy a delicious curry at the end of it!
Whip up an awesome meal with this Irish Beef Stew that's hearty, comforting, and amazingly delicious!
Beef cubes are combined with vegetables and simmered in a mixture of beef broth, stout, tomato paste, and a variety of herbs to create this superb dish that's sure to bring a smile to your face with its heavenly flavors.
With tender meat and flavorful soup, every bite is a taste sensation that can't be beaten.
Serve with your favorite carbs to enjoy an impressive meal that's perfect any day of the week!
Sign us up for this Hungarian Goulash that's exceptionally tasty and loaded with great ingredients and flavors!
It's a delightful combination of beef cubes, potatoes, mushrooms, peppers, carrots, tomatoes, and onions, all cooked and simmered in beef broth that's made tasty with a host of spices and herbs.
Cooked until the meat and vegetables become extremely tender, this is a hearty and comforting stew that's super delicious.
The fantastic flavors make this one of those beef cube recipes that you just can't miss out on!
Get ready for Mexican night with this Chile Colorado that's sure to entice your appetite with its amazing aroma and flavor!
This dish is a flavorsome stew with tender beef cubes simmered in a red chili sauce that's made by blending a variety of chilies with chicken stock.
It might just be one of the most satisfying meals you'll ever have with the rich and bold flavors, making it a must-try for everyone!
Serve with rice or tortillas to turn it into a complete meal!
This simple air fryer beef cube recipe will be a lifesaver for those days when you need to make a delicious meal with little hassle!
It's straightforward to make and all you need to do is toss the meat in a mix of butter, Worcestershire sauce, steak seasoning, Italian seasoning, and garlic powder before letting the air fryer do all the cooking for you.
It's so easy and you'll be enjoying tender and juicy beef in no time at all!
Serve with mashed potatoes or any of your favorite carbs for a simple but tasty meal!
At Glorious Recipes, we have our favorite Japanese Beef Cubes that we absolutely adore and they taste heavenly! Check out the recipe below!
Yield: 4
Japanese Beef Cubes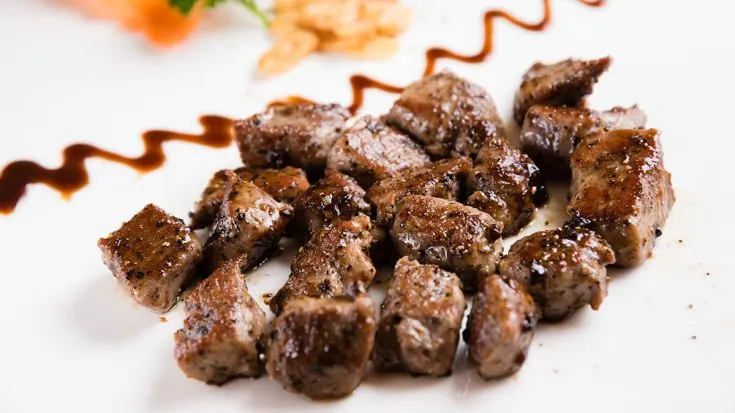 Feast on flavorful Japanese Beef Cubes that are crazy delicious and incredibly easy to make!
Ingredients
2 lb boneless steak, cubed
2 tbsp butter
2 tsp garlic, minced
½ tsp sesame oil
Sauce
3 tbsp Japanese soy sauce
3 tbsp teriyaki sauce
pepper to taste
Instructions
In a small bowl, combine Japanese soy sauce and teriyaki sauce. Set aside the mixture.
Add butter to a skillet over medium-high heat. Once the butter has melted, add minced garlic and sauté until fragrant and they just begin to turn brown.
Add beef cubes and toss with garlic. Add sauce and combine with meat to ensure thoroughly coated. Continue sautéing until beef is nicely cooked and sauce has reduced, about 5 minutes.
Drizzle sesame oil and give a quick toss. Transfer to serving plate. Enjoy!

Nutrition Information:
Yield:
4
Serving Size:
1
Amount Per Serving:
Calories:

708
Total Fat:

48g
Saturated Fat:

20g
Trans Fat:

0g
Unsaturated Fat:

21g
Cholesterol:

235mg
Sodium:

1341mg
Carbohydrates:

4g
Fiber:

0g
Sugar:

2g
Protein:

61g
Nutrition information is only an estimate and can vary depending on ingredients used.
Which of the beef cube recipes have you tried so far?
Let us know in the comments below!
For more awesome beef recipes that you might like, check out the following:
Steak Tips
Veal Chop
Sirloin Tip Roast
Chuck Steak
Bottom Round Steak
Beef Cheek
Steak and Rice
Recipes with Beef Broth
Canned Beef
Shaved Steak
Share on your favorite social media platform and tag us @GloriousRecipes – we can't wait to see what you have made!