Prickly pear, also known as cactus fruit, nopal, or tuna, has been gaining in popularity and it's easy to see why!
Its flavor can be compared to watermelon with a hint of classic bubblegum, and it comes in eye-catching bright colors such as red, green, and yellow.
The benefits of prickly pears are more than just the fantastic flavor as they are also a wonderful treasure trove of nutrients, packing tons of antioxidants, vitamins, and essential minerals that are great for the body!
From tasty cocktails to amazing desserts, we've got you covered with some of the best prickly pear recipes that you can easily try at home!
Enjoy a terrific dessert with this Prickly Pear Galette that's amazingly delicious and the perfect sweet ending to any meal!
With a simple crust filled with a combination of diced prickly pears and sugar, this awesome pie is brushed with eggwash and baked until beautifully golden brown and appetizing.
It's extremely tasty and satisfying, making it an easy crowd-pleaser, especially for those with a sweet tooth!
Make this for your next meal and be prepared to be showered with plenty of compliments!
If you're lucky enough to have an abundance of prickly pears, you've got to check out this brilliant recipe to turn them into a versatile syrup!
It's ridiculously easy to make your own prickly pear syrup and all you need to do is blend the fruits with water before reducing them, then add agave syrup and lime juice.
You can use the syrup as a refreshing infusion for your mocktails or cocktails, and even drizzle them over pancakes and waffles to enhance their flavor further!
With this simple recipe, you won't need another store-bought syrup again!
This is one of our favorite prickly pear recipes when we want a refreshing cocktail to enjoy a relaxing evening after a busy day!
It's a lovely combination of white rum, prickly pear, mint leaves, lime juice, syrup, and carbonated water to create this mouthwatering drink that's great for sipping all day long.
For an even more intense fruity flavor, use prickly pear syrup instead with the above recipe at #2!
This might just become your new favorite cocktail because it tastes absolutely superb!
Give an instant upgrade to regular barbecue sauce with this excellent prickly pear recipe that you definitely don't want to miss out on!
Featuring a delectable mix of Worcestershire sauce, vinegar, ketchup, aromatics, spices, prickly pears, lemon juice, and lemon zest, this BBQ sauce is extremely flavorful and tastes out of this world.
Whether you brush it on your favorite ribs or steaks, it helps to elevate all the food to another level and make them incredibly delicious.
You'll want to make a big batch because you'll likely be using them for everything!
Sip on this luscious Prickly Pear Spritz that's crazy delicious and exceptionally easy to make with only a few ingredients required!
Tequila is combined with lime juice and prickly pear syrup, then topped with soda water and Prosecco to create a cocktail that tastes absolutely heavenly.
Thanks to the amazing fruit, this drink is visually pleasing with an eye-catching pink color and it's sure to turn heads at any gathering!
If you want a cocktail to impress, this is definitely a top contender in our books!
Feast on this splendid pork loin that's exceptionally flavorsome and sure to captivate your taste buds with an amazing glaze!
Seasoned with a mix of spices, the meat is then roasted in the oven and basted with a glaze made from prickly pear fruit, chili, apple cider vinegar, sugar, and other lovely ingredients.
What comes out of the oven is incredibly delicious, tender, and moist meat that everyone will be fighting over!
Give it a try and you'll not be disappointed with its sensational flavor!
This prickly pear margarita recipe is an easy way to make a tasty drink that's perfect for Taco Tuesdays or any fun-filled party!
Served in salt-rimmed glasses, this cocktail combines tequila, lime juice, Cointreau, and prickly pear syrup with lime slices as a garnish.
With a pretty pink hue and an awesome flavor, this alcoholic beverage is sure to satisfy any mixology enthusiast!
There's nothing not to like about this quick and easy prickly pear cocktail!
Dig into this amazing fruit salad that's refreshing, nectarous, superbly tasty, and super easy to whip up!
Sliced prickly pears are drizzled with a simple pomegranate syrup made by reducing a mix of pomegranate juice, lime juice, and honey, and the result is astonishing.
Completed with a garnish of mint leaves, this salad is filled with wonderful flavors that will make you crave for more!
It's so delicious and definitely one of our favorite prickly pear recipes!
For those days when cocktails are too heavy a drink but you still want to enjoy something refreshing, try making this awesome lemonade instead!
This drink involves combining prickly pear purée, lemon juice, water, and honey to create a delightful lemonade that tastes terrific.
It's perfect for quenching your thirst on a hot day and it's so tasty that it's borderline addictive!
The best part is that it's incredibly easy to make!
Level up your baking game with these exquisite cupcakes that are super delicious and sure to impress your friends and family!
You'll be torn as to whether to bite into this fantastic sweet treat because these cupcakes look absolutely amazing and they taste as good as they look!
There's no lack of fruity flavor with a juice concentrate infusing plenty of refreshing flavor into both the cupcakes and the icing.
Bake these beautiful cupcakes soon – they will definitely be the talk of the town!
Nothing compares to the versatility of homemade jams and jellies when you want to enjoy unique flavors that can be difficult to find in stores!
This excellent recipe combines prickly pear juice, lemon juice, sugar, pectin powder, and calcium water to create a fantastic jelly that allows you to appreciate the flavor of prickly pears all year round!
It's incredibly simple to make and can be easily used in a variety of dishes such as sandwiches, salads, or even desserts!
This is a great way to experience the wonderful flavor of this excellent fruit!
Reward your taste buds with these candies that are definitely going to be a hit with both kids and adults alike!
Made with prickly pear purée, apple sauce, sugar, and pectin, these candies are incredibly delicious and super addictive!
It requires some time and patience before the candies are set but they are exceptionally straightforward to make and you'll know it's all worth it once you've had your first taste.
With how delectable they are, you'll be popping these babies like no tomorrow!
Making delicious ice cream is easy when you use an ice cream maker and this is definitely one of those prickly pear recipes that you'll want to keep handy!
Prickly pear juice, lime juice, cream, half-and-half, sugar, and salt are combined to create a mixture, which is then frozen and churned until a refreshing ice cream is formed.
It has a rich flavor and is superbly tasty, making this an awesome dessert that's thoroughly enjoyable!
(Make sure to also check out more of our favorite ice cream maker recipes!)
Go healthy with this top-notch fruit juice that's loaded with tons of nutrients and amazing flavors all combined in one drink!
This juice is a lovely mix of prickly pears, strawberries, watermelons, and green apples, with no added sugar at all.
It's the kind of beverage that can kickstart your body for the day and it's definitely one that you need to try!
Healthy and delicious, just how we like our recipes to be!
Agua fresca is a simple way to enjoy the natural flavors of fruits and this remarkable recipe will show you exactly how to make a delicious drink!
Frozen raspberries, lime juice, prickly pears, water, and sugar are combined and blended until a smooth and fruity drink is formed, and it tastes absolutely heavenly.
The sweetness and tartness present in the beverage are well-balanced, creating a mouthwatering and refreshing delight that's perfect for hydrating your body.
Give it a try and you might just be pleasantly surprised by how good it tastes!
For another refreshing and delectable beverage, check out this outstanding smoothie that's sure to delight your taste buds!
It's a fantastic blend of prickly pears, strawberries, bananas, and apple juice, with honey acting as the sweetener to make this drink extra tasty.
With so many fruits used in the making of this awesome smoothie, it naturally comes with tons of nutrients that are great for your body as well!
This prickly pear drink is a heavenly combination of ingredients and flavors that you'll definitely fall in love with!
Paletas are basically Mexican popsicles made with fresh fruits and they are great for beating the heat on a sunny day!
You'll need some popsicle molds for these but don't worry as they are incredibly easy to make!
All you need to do is blend diced prickly pears, water, lime juice, agave nectar, and salt, before straining the mixture into the molds and freezing them.
After a few hours, you'll have a refreshing frozen treat that you can enjoy any time of the day!
Indulge in this phenomenal dessert that's mind-blowingly tasty and sure to excite your palate!
This pie features a fantastic biscuit tart base and a filling of prickly pear, lemon juice, lemon zest, and condensed milk, plus a meringue topping, all baked until beautifully browned and set.
Every bite is a symphony of flavors that you'll never get tired of and it's just irresistible!
With how amazingly delicious it is, we have no doubts that this will quickly make its way into your list of favorite prickly pear recipes!
If you need a new and refreshing flavor for your next party punch, you've got to check out this wonderful prickly pear recipe!
It combines prickly pear syrup with mango purée, mango nectar, mango gelatin, and ginger ale to create something crazy delectable and incredibly addictive!
This is a great party drink that has a sweet and refreshing flavor, making it an easy crowd-pleaser for any gathering.
Be sure to give this a try, you won't regret it!
These outstanding friands are gloriously tasty and an absolute must-try in our books!
Made with a delectable combination of almonds, flour, sugar, egg whites, lemon rinds, and prickly pears, this is an extremely flavorsome and delicious sweet treat!
They make for the perfect ending to any meal and can also serve as a superb high-tea dessert to pair with your favorite cup of coffee.
Top with some toasted almonds to add texture for maximum enjoyment of these brilliant cakes!
At Glorious Recipes, we have our favorite Blueberry Prickly Pear Smoothie that we absolutely adore and it tastes heavenly! Check out the recipe below!
Yield: 2
Blueberry Prickly Pear Smoothie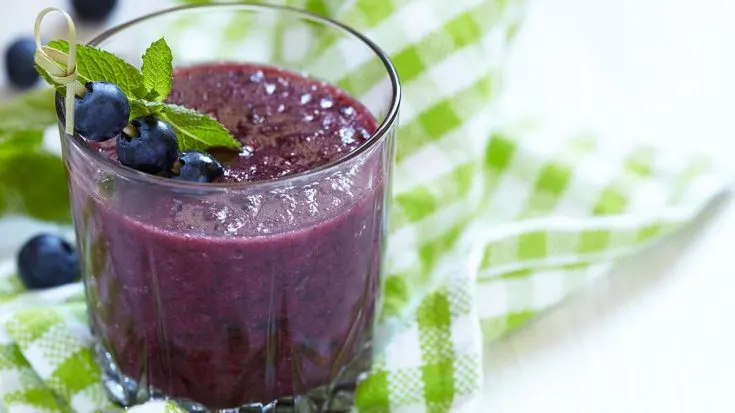 Quench your thirst with this refreshing Blueberry Prickly Pear Smoothie that's incredibly delicious!
Ingredients
1 cup frozen wild blueberries
1 prickly pear, peeled and diced
½ cup almond milk, unsweetened
½ tbsp flax seeds
1 tsp ground cinnamon
1 banana, peeled
ice (optional)
Instructions
Add all the ingredients into a high-powered blender and process until smooth. Garnish with blueberries if desired. Serve and enjoy!
Nutrition Information:
Yield:
2
Serving Size:
1
Amount Per Serving:
Calories:

136
Total Fat:

2g
Saturated Fat:

0g
Trans Fat:

0g
Unsaturated Fat:

2g
Cholesterol:

0mg
Sodium:

7mg
Carbohydrates:

30g
Fiber:

8g
Sugar:

7g
Protein:

2g
Nutrition information is only an estimate and can vary depending on ingredients used.
Which of the prickly pear recipes have you tried so far?
Let us know in the comments below!
For more awesome recipes that you might like, check out the following:
Dried Cherry
Asian Pear
Mulberry
Sour Cherry
Grape Tomato
Fonio
Jello Jigglers
Kohakutou
Mini Bundt Cake
Stuffed Crescent Roll
Share on your favorite social media platform and tag us @GloriousRecipes – we can't wait to see what you have made!