Half-and-half is perfect for adding a touch of creamy goodness to elevate your dishes to the next level!
If you have been using either milk or heavy cream and haven't yet checked out half-and-half, it's time to give it a try.
You can find it in the same dairy section of grocery stores and we'll tell you exactly how you can use it.
What Is Half-And-Half?
Half-and-half is, as its name would suggest, half whole milk and half light cream, which means it's great when you want to add some richness that's not as heavy as cream.
It strikes the perfect balance between richness and lightness.
Types Of Half-And-Half
Other than regular half-and-half, there are other variations as well.
Low-fat half-and-half has around half the amount of fat content, whereas fat-free half-and-half has around one-tenth the level.
You will find that the lower the levels of fat, the higher the amount of sugars and sodium.
Ingredients such as corn syrup are added for texture and flavor to taste as close to the regular version as possible.
What Are Some Half-And-Half Substitutes?
If you come across recipes that use half-and-half and you don't have any on hand, you can use the following as a substitute:
One part whole milk and one part light cream: Make your own half-and-half by using the same formulation.
¾ part whole milk and ¼ part heavy cream: If you have heavy cream instead of light cream, tweak the ratio accordingly to make your own half-and-half.
⅔ part low-fat milk and ⅓ part heavy cream: If you have low-fat or skim milk instead, you'll need more heavy cream to balance it out.
Half-And-Half vs Heavy Cream
According to the FDA, half-and-half contains less than 18% milkfat whereas heavy cream contains at least 36% milkfat.
Due to its lower fat content, half-and-half cannot be whipped like heavy cream.
As such, not all recipes are suitable to use half-and-half as a substitute for heavy cream.
Soups, pasta, and mashed potatoes, for example, are perfectly fine to substitute heavy cream with half-and-half in equal amounts.
It will not provide the same level of richness as heavy cream but it's healthier and still gives a creamy texture.
For recipes that require whipping heavy cream, you'll need to stick to heavy cream for that.
Recipes With Half-And-Half
If you're unsure about what to use half-and-half for or if you have leftovers, don't fret because we've got you covered with some of the best recipes with half-and-half that you can easily try at home!
Savor a delicious meal with this excellent recipe that makes a terrific pasta dish and it's sure to whet your appetite!
Cheese tortellini, sweet potato cubes, and spinach come together in this simple dish with chicken broth and rosemary adding depth to the flavor to make it extra tasty.
It's a hearty and comforting dish that's quick to whip up and it tastes so good!
This convenient one-pan recipe makes it easy to put quality food on the table for those busy weeknights!
Cook up a pot of Three Onion Chowder that's loaded with tons of incredible flavors that you're sure to love!
This soup features a tantalizing mix of pancetta, onions, celery, shallots, garlic, leeks, potatoes, herbs, and chicken stock, with half-and-half adding some richness to the flavor.
Topped with oyster crackers coated with parsley, this is a wholesome soup that's sure to warm your belly and soothe your soul.
You'll be sipping away non-stop because it's just that delicious!
Enjoy a fantastic meal with this Sun-Dried Tomato Pasta that's amazingly delicious and super easy to whip up!
It's a delectable combination of penne, chicken breasts, garlic, and sun-dried tomatoes, smothered in a flavorful cream sauce.
Basil helps to add a refreshing flavor to the dish and you'll love how incredible it tastes for something so simple to make.
It's one of those chicken recipes with half-and-half that you definitely need to try!
Making a flavorsome Alfredo sauce with half-and-half is exceptionally easy and you can pair it with your favorite pasta for a simple but tasty meal!
All you need to do is whisk flour into melted butter before adding half-and-half and Parmesan cheese to create the delightful sauce.
With a creamy texture and wonderful flavor, broad pasta such as fettuccine with a wide surface area is perfect for mopping up every last drop of the delightful sauce.
There's nothing not to like about this quick and easy recipe!
Treat yourself to splendid mashed sweet potatoes and you won't believe how easy it is to make this comforting dish!
The sweet potatoes are first boiled until tender before a mix of half-and-half and butter is added to them and then mashed with a hand mixer.
A little salt, pepper, and fresh thyme help to bring the flavor up a notch, and these tasty mashed sweet potatoes make a perfect side dish to complement any main course.
Easy and delicious, just how we like our recipes to be!
Dig into this outstanding Corn and Zucchini Chowder that's superbly tasty and filled with some of our favorite ingredients!
With sweet corn, carrots, bacon, onions, potatoes, cauliflower, zucchini, and other herbs, this chowder is extremely flavorful and loaded with great nutrients.
Every sip is immensely enjoyable and the natural sweetness of the vegetables makes this surprisingly addictive.
It's a hearty soup that might just be your very next favorite comfort food!
For a dish that's easy to whip up and tastes stupendous, you've got to check out this fantastic Gruyère & Butternut Squash Gratin!
It's a lovely marriage of butternut squash, potatoes, and Gruyère cheese, with an amazing cream mixture consisting of half-and-half, garlic, leeks, nutmeg, rosemary, and cayenne pepper providing all the amazing flavors.
Baked until melted cheesy goodness is achieved, this gratin is an absolutely mouthwatering treat that's just irresistible!
This is sure to be a crowd-pleaser with its heavenly combination of flavors and textures!
In what is one of our favorite pasta recipes with half-and-half, Meyer lemons help to elevate classic mac and cheese to a whole new level!
This mac and cheese is a simple combination of pecorino, Parmesan, and mascarpone cheeses with half-and-half, milk, butter, flour, lemon juice, lemon zest, and macaroni to create something truly special.
Baked until fully cooked with awesome melted cheese, this dish is comfort food at its finest.
It tastes incredible and you'll be devouring everything before you even know it because it's just that delicious!
Jazz up your canned cinnamon rolls with this awesome recipe that requires only 2 ingredients to make!
It's ridiculously easy and all you need to do is pour half-and-half over the cinnamon rolls before baking them and topping them with cream cheese icing.
Canned products have never tasted this good and it's definitely a simple recipe that you need to try!
Warm, fluffy, and superbly delicious, this is an easy dessert with half-and-half that makes for a perfect ending to any meal!
Keep it simple with this Pancetta and Pea Pasta that's super easy to whip up and tastes absolutely amazing!
Pancetta, peas, and pasta come together in this dish, coated with a simple sauce that contains garlic, half-and-half, Italian seasoning, and Parmesan cheese.
Ready in under 30 minutes from start to end, this pasta dish is great for an easy weeknight dinner!
You'll be surprised at the amount of delightful flavors present with so few ingredients!
Expand your cooking repertoire with this fabulous dish that's sure to captivate your taste buds!
Butternut squash noodles are combined with Italian sausage and spinach to create a mouthwatering delight that's perfect for an easy but tasty meal.
Garlic, half-and-half, and Parmesan cheese help to create a simple sauce that coats the noodle, adding a burst of flavor to make them superbly delicious.
This is a wonderful dish that you're sure to fall in love with!
Spruce up your next meal with this Chocolate Pudding Cream Pie that's crazy delicious and it doesn't even require any baking!
This pudding cream pie is made with an Oreo pie crust, instant chocolate pudding with half-and-half, cool whip, and shaved chocolates as garnish.
It's a decadent indulgence that tastes absolutely divine and is beloved by both kids and adults alike.
This is one of those dessert recipes with half-and-half that you'll definitely want to keep handy!
Baking with half-and-half is a simple affair and this Classic Bread Pudding is a great starting point to make a delectable dessert!
This dish features bread pieces soaked in a cream mixture and topped with raisins and cinnamon, baked until a custard-like texture is achieved.
All the ingredients play their part really well in creating a palatable dessert that's timeless and perfect any time of the day!
It's a great way to use up any leftover half-and-half or bread!
This pasta recipe with half-and-half is an absolute must-try because it makes such delicious creamy gnocchi!
With garlic, onions, tomatoes, vodka, Italian seasoning, Parmesan cheese, and basil, you're guaranteed plenty of amazing flavors in the sauce that coats the gnocchi.
Half-and-half provides a satisfying creaminess that doesn't overwhelm and will leave you craving more of this wonderful pasta dish.
You'll be making this dish very often because it's so easy and tastes glorious!
Everyone loves a good one-pot recipe and this Creamy Lemon Zucchini Linguine is exactly that!
It's a scrumptious combination of linguine, onions, zucchini, garlic, vegetable stock, lemon juice, lemon zest, herbs, spices, and other ingredients to create an extremely tasty pasta dish.
All you need to do is add all the ingredients to a pot and let everything cook and the flavors meld!
You'll end up with a creamy delight filled with refreshing flavors that everyone will love!
It's one of those easy recipes with half-and-half that you'll want to keep in your cooking repertoire!
Level up your cooking skills with this phenomenal frittata that's sure to blow your mind with its brilliant taste!
The aromatics and vegetables such as garlic, onions, leeks, asparagus, and cherry tomatoes add tons of terrific flavors and textures, and when you add herbs and cheeses into the mix, this frittata is just unbelievably good.
It's a very forgiving dish and you can add any vegetables or even substitute the dairy in this recipe with milk or heavy cream and it will still turn out great!
Give it a try and you'll not be disappointed!
These Pear and Ricotta Spelt Scones are exceptionally delicious and make for an awesome dessert, breakfast, or even as a mid-day snack!
Made with roasted pear chunks, spelt flour, ricotta cheese, vanilla extract, and other lovely ingredients, these scones are topped with half-and-half and a sprinkling of sugar to create a simple glaze and then baked in the oven until they become beautifully golden.
They taste absolutely divine and the pears add a welcome fruity flavor to create an extremely appetizing dish!
Pair it with a cup of Nespresso coffee for maximum enjoyment of these delectable scones!
If you're looking for a vegetarian dish that's superbly tasty, this Wild Mushroom and Butternut Squash Bread Pudding definitely fits the bill!
Featuring sautéed mushrooms, butternut squash, leeks, garlic, bread, and custard mixture, all topped with Gruyère cheese and then baked until the cheese has melted, this is an absolutely mouthwatering bread pudding.
It's really remarkable and every bite is like a party in your mouth with flavors that complement each other extremely well!
Even non-vegetarians will enjoy this amazing bread pudding!
What better way to start your day than tasting the incredible flavors of delectable French toast?
This simple recipe involves coating bread with a mixture of whisked eggs, vanilla extract, almond extract, nutmeg, half-and-half, and sliced almonds before cooking them on a skillet until beautifully golden brown.
Add your favorite toppings to give this dish a personal touch and you'll be enjoying an amazing breakfast or brunch in no time at all!
Fruits, homemade jams, and maple syrup all make great options as awesome toppings!
We have no doubts that this will quickly make its way to your list of favorite recipes with half-and-half!
All chocolate lovers need to give this Silky Salted Dark Chocolate Tart a try because it's mind-blowingly tasty!
With a crumbly tart base, dark chocolate custard filling, and a glossy chocolate glaze, this is food heaven at its finest!
A little sprinkle of sea salt helps to give it a finishing touch that enhances the flavor even further to make it supremely delicious.
This decadent indulgence is extremely addictive so be warned, once you start, you just can't stop!
For a simple soup recipe with half-and-half that's easy to whip up and tastes heavenly, you've got to check out this Creamy Roasted Eggplant Soup!
The soup is a delectable mix of roasted vegetables that include eggplants, tomatoes, bell peppers, and garlic, all blended with stock, cream, paprika, and garlic powder.
It's straightforward to prepare and this luscious soup is definitely going to be a hit with the family because of how tasty it is!
It's also exceptionally comforting and it tastes best on a cold and chilly day!
Discover an excellent side dish with these Garlic Herb Mushrooms that are sure to delight your taste buds!
Cremini mushrooms are cooked in a crockpot or slow cooker along with basil, thyme, oregano, bay leaves, vegetable broth, half-and-half, and butter, infusing tons of depth and complexity to the flavor.
The slow cooker does all the work for you and it's as easy as it can possibly get!
You can go about your usual routine and come back to tasty mushrooms that you can pair with any main course!
Shake things up a little and try out one of the easiest baked pasta recipes with half-and-half that tastes absolutely fantastic!
It's a lovely combination of rigatoni, crumbled Italian sausage, marinara sauce, cream, basil, Parmesan cheese, and mozzarella cheese, all baked until fragrant and delicious.
Every mouthful of this baked pasta is incredibly satisfying and with how easy it is to prepare, it's likely to be one of the favorites in your pasta rotation!
No one can resist the temptation of melted cheese!
On days when you want to cook up a feast, try making this marvelous Pork Masala that's sure to excite your palate!
Dredged in a seasoned flour mixture and then pan-fried until golden and crisp, these pork chops are then paired with a mushroom cream sauce to create an absolutely mouthwatering delight.
With aromatics, chicken broth, and Marsala wine used, the sauce is extremely flavorsome and complements the pork chops really well.
Add a side of mashed potatoes for an easy but wholesome meal!
This Chai Spice Pound Cake is a superb dessert that can satisfy any sweet cravings and it's unbelievably delectable!
Spiced with cinnamon, nutmeg, cloves, ginger, cardamom, and allspice, every bite of this wonderful cake is a symphony of taste that's just unbeatable.
Add a cinnamon glaze into the mix and your satisfaction level will be sent into overdrive instantly!
Make this for your next dessert and your taste buds will thank you!
Waking up to a delicious breakfast is the perfect way to start the day and these Cream Cheese Morning Buns definitely don't disappoint!
With a smooth cream cheese filling and an amazing sweet coffee glaze, these buns taste absolutely out of this world!
You'll be gobbling down bun after bun because they are just that irresistible!
Pair it with a decent cup of coffee for maximum enjoyment of these awesome buns!
At Glorious Recipes, we have our favorite Easy Pumpkin Soup that we find to be absolutely delicious and tastes spectacular! Check out the recipe below!
Yield: 4
Easy Pumpkin Soup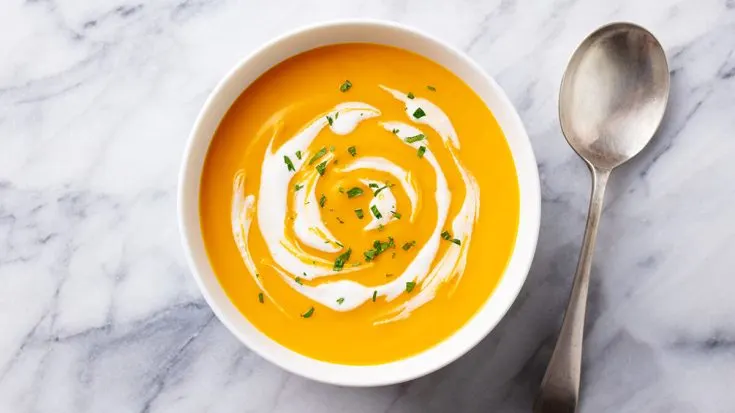 This Pumpkin Soup is classy, delicious, and really easy to prepare! A touch of cream makes it silky smooth and luxurious!
Ingredients
2½ lb pumpkin, unpeeled
3 cups low-sodium vegetable/chicken stock
2 cloves garlic, peeled whole
1 white or yellow onion, sliced
1 cup water
salt and pepper, to taste
½-¾ cup half-and-half
freshly chopped parsley, for garnish (optional)
Instructions
Cut skin off the pumpkin and remove the seeds. You can cut into smaller slices so that it is easier to handle. We want the final chunks of pumpkins to be around 1½-inch.
Add pumpkin chunks, stock, garlic, onion, and water to a large pot. Bring the mixture to a boil before reducing heat to a simmer and let it cook until the pumpkin becomes tender. It should take around 10 minutes.
Remove the pot from heat. Use an immersion blender to purée the mixture until smooth. If you want to transfer the mixture to a regular blender, make sure it's cooled first.
Season with salt and pepper to taste. Stir through half-and-half.
Transfer soup to serving bowls. Drizzle a little half-and-half and garnish with parsley, if using. Enjoy!
Nutrition Information:
Yield:
4
Serving Size:
1
Amount Per Serving:
Calories:

273
Total Fat:

9g
Saturated Fat:

6g
Trans Fat:

0g
Unsaturated Fat:

4g
Cholesterol:

28mg
Sodium:

260mg
Carbohydrates:

40g
Fiber:

10g
Sugar:

15g
Protein:

10g
Nutrition information is only an estimate and can vary depending on ingredients used.
Which of the recipes with half-and-half have you tried so far?
Let us know in the comments below!
For more awesome recipes that you might like, check out the following:
Potato Taco
Venison Burger
Korean Soup
Turkey Tenderloin
Meat Church
Ka'Chava
Sunchoke
Polvoron
Fonio
Grand Marnier Cocktails
Share on your favorite social media platform and tag us @GloriousRecipes – we can't wait to see what you have made!