Asian pears are also known as apple pears because they have a similar crisp texture to apples and they taste absolutely amazing!
They are extremely sweet and juicy, making them ideal for injecting a touch of refreshing fruity flavor into a wide variety of sweet and savory dishes.
From tasty desserts to healthy salads, we've got you covered with some of the best Asian pear recipes that you can easily try at home!
Enjoy a lovely end of your meals with this fantastic dessert that's crazy delicious and incredibly easy to make!
It's a delightful mix of Asian pears and pecans with a hint of cinnamon, topped with a crisp that's made by combining oats, sugar, flour, maple syrup, butter, and other ingredients.
Everything is thrown together and put into the oven to let it bake until nicely golden brown, and it just can't get any simpler than that.
You'll love the well-balanced sweetness and crunchy texture of this dessert!
Discover your new favorite snack with these scones that taste out of this world and are sure to whet your appetite!
With grated Asian pears incorporated into the dough, these scones are slightly moist with a lovely fruity fragrance that make them super appetizing.
Paired with a miso honey butter, this is an absolute treat that's perfect for a tea-time snack or pretty much any time of the day!
You can eat this every day and not get tired of it because it's just that delicious!
These pickled Asian pears are excellent as an appetizer or a useful ingredient to add a dose of sweet, tangy, and fruity flavor to any dish!
Soaked in a brine mixture that's made with mirin, lemon juice, lemon zest, salt, ginger, sugar, and vinegar, these pickled pears taste splendid and are extremely addictive.
They are great in sandwiches, salads, or even on their own as a mid-day snack because of how flavorful they are.
Be warned, once you start, you just can't stop!
In what is one of our favorite Asian pear recipes, the juicy fruit is used to complement pork chops to create a magnificent dish!
It's a tantalizing combination of perfectly pan-seared pork chops, onion, and pears, with ground fennel seed, lemon juice, and parsley added for depth to the flavor.
Everything comes together really quickly and this simple one-pot recipe is perfect for an awesome weeknight meal!
Give it a try and you'll definitely not be disappointed!
Grace your taste buds with the buttery and fruity flavor of this cobbler that makes an exceptional dessert!
Made with butter, cinnamon, Asian pears, milk, flour, sugar, salt, and baking powder, this is a delightful sweet treat that's ridiculously easy to whip up and it tastes fantastic.
Serve it warm with ice cream and you'll be amazed by how awesome this dessert is with the contrast in temperature!
We have no doubts that this will become one of your go-to desserts with how simple it is to make and how delicious it is!
Hand pies are awesome little sweet treats!
Their perfect size makes them ideal as a snack any time of the day and they are great for a tasty breakfast as well.
In this superb recipe, Asian pears help to form the pie filling with other ingredients such as ground ginger, ground cardamom, orange juice, and lemon juice helping to add complexity to the flavor.
These pies are extremely delicious with a super satisfying crust!
This Asian pear recipe is a must-try in our books!
If you're on the lookout for a wonderful salad as a side dish to your main courses, you've got to check out this Asian Pear Cole Slaw!
It's a lovely assortment of cabbage, pears, Manchego cheese, radishes, pumpkin seeds, and other delightful ingredients to create a flavorsome salad that goes well with almost anything.
With sweet, savory, and tangy flavors that are extremely enjoyable, you might just make this your main dish instead!
This Asian Pear slaw is a great way to add a refreshing option to your salad rotation!
Treat yourself to a delicious sweet and savory tarte that's incredibly easy to make and is bound to captivate your taste buds!
It's quick to whip up by using a ready-made puff pastry sheet and then topping it with goat cheese, Asian pears, and pistachios.
Baked in the oven until nicely browned, this is a dessert that's sure to put a smile on your face with its delightful flavors.
Drizzle a little balsamic vinegar and honey to elevate this dessert further!
Skip the potato chips and snack on something healthy with these Baked Asian Pear Chips that are incredibly addictive!
Thinly-sliced pears are sprinkled with a little cinnamon powder before being baked in the oven until they come out dehydrated and crispy, creating a mouthwatering treat.
It's the perfect blend of flavor and texture with their subtle sweetness and crunch, and you'll be craving them after you've finished your first batch!
As a bonus, your house will also be filled with a pleasant fruity aroma!
This is one of those healthy Asian pear recipes that you'll want to keep handy!
Sign us up for this amazing Asian pear dessert that's a mix of sweet and savory!
This galette has a simple filling that's made with a combination of sliced pear, ground cinnamon, cubed butter, maple syrup, sugar, and salt.
Add a flaky crust into the mix and you have yourself a terrific dessert that you'll be devouring before you even know it.
Serve with a scoop of ice cream to make it even more delicious!
Inject a little Asian flair to your next dessert with this comforting sweet soup that's incredibly straightforward to make!
Made simply by boiling a mix of water, Asian pear, and rock sugar, this is a popular dish in Asia that's used to relieve cough and nourish the body.
A sprinkle of osmanthus helps to impart an amazing floral fragrance to the dessert, enhancing it further.
It can be served warm or cold, and it tastes fantastic either way!
Feast on this splendid crisp that's superbly tasty and makes for a perfect ending to any meal!
With Asian pears and rosemary included to make the filling and a variety of delightful ingredients such as apple pie spice, raisins, and rolled oats, you're guaranteed a mouthwatering sweet treat that's sure to satisfy any appetite.
It's a thoroughly enjoyable dessert with delightful flavors and a texture that you'll no doubt love.
Make this for your next family meal and be prepared to be showered with compliments!
Spruce up your next meal with this exceptional Asian Pear salad that's loaded with fresh ingredients and vibrant colors!
It's a welcome medley of pear slices, walnuts, salad greens, and pomegranate arils, topped with a flavorsome vinaigrette dressing that's made by combining olive oil, shallot, mustard, apple cider vinegar, maple syrup, salt, and pepper.
This salad is super appetizing with a great blend of flavors that make this absolutely irresistible, making it one of our favorite Asian pear recipes as well!
Try it soon and you'll definitely fall in love with this wonderful salad!
For another outstanding salad to add to your rotation, check out this delicious Asian Pear Salad with Pecans!
Frisée, pears, and pecans come together in this lovely dish that's tossed in a maple-mustard vinaigrette and topped with crumbled blue cheese.
The flavors complement each other really well with great contrasting textures that make this an incredibly satisfying salad.
It's perfect for a light lunch and as a side dish to pair with any of your favorite main courses!
Level up your dessert game with these beer-battered fritters that are unbelievably delectable!
This dish involves coating pear rings with salt and sugar first before dipping them in the batter and deep-frying until they come out beautifully golden brown and crispy.
They are then tossed in a cinnamon-sugar mixture while still hot to give them an irresistible coating that adds so much delightful flavor to the fritters.
It's a simple dessert but these Asian pear fritters taste absolutely amazing!
If you're looking for a fantastic appetizer to impress, these Blue Cheese and Asian Pear Tartines definitely fit the bill!
Toasted bread slices are spread with blue cheese and topped with Asian pear, fresh thyme, honey, and sea salt to create this simple but tasty dish.
With only a few ingredients required, it's one of the easiest Asian pear recipes that you can try, and it's almost foolproof so even beginner home cooks should have no trouble with it.
Easy to make and delicious, just how we like our recipes to be!
Reward yourself with an excellent dessert that tastes absolutely divine and is sure to be a crowd-pleaser!
This sweet treat features a dense flan-like cake batter that's filled with Asian pears, all baked in the oven until it comes out delicious!
With a fruity flavor and delightful texture, there's nothing not to like about this remarkable dessert that's sure to bring something new to the dinner table.
Give it a try and you'll be pleasantly surprised by how good it tastes!
Take scones to new heights with this superb Asian pear recipe that you definitely don't want to miss out on!
Featuring fluffy crystallized ginger scones with a filling of whipped cream and Asian pear slices that have been poached in a spiced sake mixture, this is an extremely delicious baked good that everyone is sure to love.
It's a refreshing take on classic scones with Chinese five-spice and sake helping to elevate the scones to another level by adding tons of depth and complexity to the flavor of the pears.
You'll be hard-pressed to limit yourself to just one serving because these scones taste incredibly awesome!
Whip up an excellent dessert with this Asian Pear Coffee Cake that's filled with Fall flavors and it's amazingly delicious!
This sweet treat features a moist cake layer that's combined with macerated pears and topped with crumble to create an absolutely mouthwatering delight.
With cinnamon and nutmeg added to spice things up, this cake is extremely tasty with flavors that will feel familiar.
The fragrance of the pears is perfect for enhancing the flavor of the cake, making it an irresistible dessert that you'll want to eat all day long!
This exceptional chutney is one of our favorite Asian Pear recipes because it's so flavorful!
Made simply by boiling a wonderful combination of pears, onions, brown sugar, white wine vinegar, raisins, and dates until the mixture has thickened, this is as easy as it can get.
There's just the right amount of sweetness and tartness that makes it a perfect accompaniment to meats and cheese.
You can even pair it with crackers, toasts, and anything you can think of because it goes really well with everything!
For a creative and tasty appetizer that's super easy to make, you've got to check out this simple recipe!
Pear slices form the base of this fantastic dish that's topped with goat cheese, prosciutto, and radish microgreens.
It's the perfect blend of sweet, savory, and zesty flavors, and the adorable size will make you want to pop a few of these delectable bites into your mouth all at once!
Make this for your next party and it's sure to be a hit with everyone!
This vegan Asian pear salad recipe is healthy, nutritious, and best of all, really easy to whip up!
It's a wonderful assortment of pan-fried tofu, celery, scallion, cucumber, and pear slices, along with cashew nuts to add a satisfying crunch.
This salad has all the protein, fiber, and nutrients that you need to fuel your body and keep your day going smoothly.
Whenever you feel like having a healthy and tasty meal, give this salad a try!
At Glorious Recipes, we have our favorite Asian Pear Chips that we absolutely adore and they taste heavenly! Check out the recipe below!
Yield: 2
Asian Pear Chips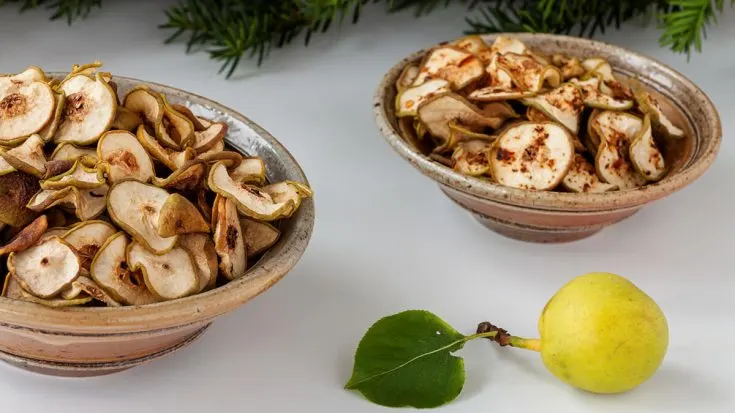 Snack on these healthy and delicious Asian Pear Chips that are incredibly simple to make and they taste so good!
Total Time
4 hours
5 minutes
Ingredients
2 Asian pears, ripened, cored, and thinly sliced
½ tsp ground cinnamon (optional), adjust to taste
Instructions
Preheat oven to 200°F (95°C).
Add the pear slices to baking sheet lined with parchment paper. Sprinkle ground cinnamon over the pear slices on both sides.
Bake for 1 hour, then flip. Bake for another 1 hour, then flip. Bake for another hour again.
Let it cool for an hour before storing or serving. Enjoy!
Nutrition Information:
Yield:
2
Serving Size:
1
Amount Per Serving:
Calories:

53
Total Fat:

0g
Saturated Fat:

0g
Trans Fat:

0g
Unsaturated Fat:

0g
Cholesterol:

0mg
Sodium:

0mg
Carbohydrates:

14g
Fiber:

5g
Sugar:

9g
Protein:

1g
Nutrition information is only an estimate and can vary depending on ingredients used.
Which of the Asian pear recipes have you tried so far?
Let us know in the comments below!
For more awesome recipes that you might like, check out the following:
Prickly Pear
Dried Cherry
Sour Cherry
Entremet
Jello Jigglers
Kohakutou
Sure-Jell
Mini Bundt Cake
Ninja CREAMi
Dash Waffle Maker
Share on your favorite social media platform and tag us @GloriousRecipes – we can't wait to see what you have made!