Sour cherries are little crimson gems that have a mouth-watering tartness perfect for adding a burst of flavor to any dish!
When cooked, the sugars in them become more concentrated without being overly sweet, unlike sweet cherries, making them a prized ingredient for many recipes.
Their unique tangy flavor is perfect for making a wide variety of dishes and drinks that will definitely delight your senses!
From delicious tarts to tasty cocktails, we've got you covered with some of the best sour cherry recipes that you can easily try at home!
Reward yourself with this awesome pie that's incredibly tasty and is sure to tantalize your taste buds!
With a sour cherry pie filling that includes lovely ingredients such as cinnamon, almond extract, and tapioca granules, you're guaranteed plenty of delightful flavors that the whole family can enjoy.
Wrapped in a delicious pie crust and baked in the oven until beautifully golden, this is a sweet treat that you can eat all day long!
This sour cherry pie recipe is definitely a must-add to your dessert rotation!
Discover a nectarous delight with this fantastic cake that's sure to become one of your favorite sour cherry recipes!
It's a delectable marriage of cake and sour cherries that add a perfect burst of flavor and moisture with every bite, making it an incredibly addictive dessert.
This simple cake is completed with a dusting of powdered sugar after it's fully baked, and with how tasty it is, you'll definitely be having more than a slice!
Make this for your next dessert and you'll definitely not be disappointed!
Enjoy a scrumptious dessert with this amazing cobbler that's filled with terrific flavors and textures!
The bottom fruit layer can be made with either fresh or frozen sour cherries, and they are combined with vanilla and almond extract to add depth to the flavor.
Add a biscuit crumble cobbler topping to it and once baked until golden brown, this becomes an irresistible sweet treat for that perfect post-dinner dessert.
Serve with a scoop of ice cream to maximize the enjoyment of this lovely dessert!
For an incredibly easy dessert that anyone can whip up, you've got to check out this brilliant sorbet!
Made by combining frozen sour cherries and syrup in a food processor, the mixture is blended until smooth before being frozen until it sets.
It's ridiculously easy to make but it tastes so good and you'll be gorging yourself with this before you even know it!
You can even top the sorbet with coke or champagne to enjoy a delicious float!
Chocolate and cherries make for an amazing combo and this delectable cake is definitely one of our favorite sour cherry recipes!
It's a lovely combination of chocolate batter, cherries, and crumble bits to create this heavenly dessert with perfect textures and flavors to delight your taste buds.
The crumbles are filled with caramel flavor thanks to brown sugar and every bite of the sour cherries gives a refreshing burst of tart flavor to complement the sweetness.
It's a superbly well-balanced cake that you'll crave the whole year round!
This Sour Cherry Crisp makes for an excellent sweet treat with its satisfying texture and lovely taste!
Sugar is added to bring up the level of sweetness in the cherries while letting the underlying tart flavor remain for a harmonious balance.
Combine that with a topping of oat crumb mixture, and you have a delightful dish that can be made even tastier by serving it with whipped cream or ice cream!
Whether you serve it hot or cold, this delicious crisp is sure to bring a smile to your face!
Level up your baking skills with this excellent pastry that's crazy delicious and is sure to be a hit with the crowd!
There are plenty of delightful flavors with a cherry filling that's made with a combination of sour cherries, cornstarch, sugar, vanilla extract, and butter, ensuring a divine-tasting galette at the end of it all.
Wrapped with a tasty crust folded in and sprinkled with sugar, this is an impeccable sweet treat that everyone will be fighting for seconds.
Serve with ice cream for the ultimate decadent indulgence!
If you're craving some delicious sweet pies, you've got to try out this simple sour cherry recipe!
Using premade pie dough makes this a breeze to whip up and all you need to do is add cherry pie filling between 2 dough slices before sprinkling a little sugar on top and letting it all bake in the oven until browned and crisp.
It's incredibly delectable and super addictive, making it the perfect mid-day snack or dessert whenever the sweet cravings hit!
With how easy it is to make, it's definitely one of our favorite sour cherry recipes as well!
Impress your friends and family with this fantastic tart that looks good and tastes absolutely amazing!
Almonds and cherries form a surprisingly awesome flavor combination and that's exactly what this delicious tart is all about.
With a luscious cherry filling, cookie dough crust, and a superb almond meringue topping, this is a culinary masterpiece that you just can't get enough of.
Be prepared to be showered with compliments because it's just that delicious!
Indulge in these splendid blondies that taste awesome and are so easy to make with only a few main ingredients required!
The blondies are made with a combination of flour, baking powder, butter, brown sugar, egg, and vanilla, with sour cherries stirred in at the end before baking the entire mixture until done.
It's straightforward to make and one baking session is all it takes to create this absolutely delicious sweet delight.
Taking only 40 minutes from start to end, this is one of those quick and easy sour cherry recipes that you definitely want to keep handy!
Recreate the flavors of a Moldovan classic with these exceptional crepes that are easier to make than they look!
In this marvelous dessert, homemade crepes are filled with sour cherries before being stacked in layers with a sour cream mixture applied in between and all over.
Topped with chocolate shavings, this is a mouthwatering sweet treat that's loaded with great flavors and an awesome way to try out a new dessert!
You might just have a new favorite after taking your first bite!
Expand your sour cherry dessert selection with this wonderful torte that's superbly tasty and extremely flavorful!
The delicious filling is a mix of sour cherries, sugar, lemon juice, butter, and cornstarch, wrapped in a crumbly crust made with a batter that includes almond flour, vanilla, lemon zest, and other lovely ingredients.
Serve it warm or at room temperature, or give it an instant upgrade with the addition of a scoop of ice cream!
This excellent dessert is sure to please your senses with its incredible flavor!
Experience a Ukrainian delight with these delicious dumplings or vareniki that are sure to whet your appetite!
These cherry-filled dumplings are perfect for a sweet and savory treat when drizzled with cherry sauce and served with a side of sour cream.
You can turn it into a fun family activity by getting your kids to help with sealing the dumplings before they are boiled to cook through.
It might take a little effort but this dish is really easy to make and super tasty!
Spruce up your next meal with these awesome Belgian Meatballs with Sour Cherries that are a perfect blend of sweet, savory, and tangy flavors!
The meatballs are made with a combination of garlic, shallots, bay leaves, minced meat, and breadcrumbs, with egg yolk used as a binding agent to hold them together, and they are paired with an extremely flavorful cherry sauce and sour cherries to create this outstanding dish.
All the flavors combine really well together and you'll be devouring these meatballs like no tomorrow.
If you haven't tried this sour cherry recipe yet, you don't know what you're missing out on!
Inject a little Persian flair to your next meal with this amazing dish that's crazy delicious and a must-try in our books!
It's a tantalizing mix of basmati rice, chicken, sour cherry syrup, almonds, and pistachio, with incredible flavors complementing each other really well, making this dish a mouthwatering delight.
If you manage to get your hands on saffron threads, this dish can be enhanced further to make it even tastier.
It's a great way to add some cultural richness to your meals and keep things refreshing!
Are you ready for some sour cherry cocktails to refresh your alcoholic options?
This Sour Cherry Bourbon Smash is a tasty blend of bourbon, lemon juice, sugar, and cherries, making it a simple drink that tastes fantastic.
Topped with cherries and lemon slices, this is a cocktail that can be enjoyed all day long and it's so incredibly easy to concoct!
Give it a try for your next relaxing evening and you'll definitely not regret it!
Everyone loves a good margarita and that's exactly what this recipe delivers with a refreshing and palatable cocktail!
It's made by blending a mix of cherries, lime juice, syrup, orange liqueur, and tequila, served in a salt and sugar-rimmed glass with a garnish of sour cherries and lime wheels.
With its bright and vibrant color and taste, this cocktail is sure to be the center of attention!
Make your own sour cherry-infused liqueur with this amazing recipe that you'll definitely want to try!
All you need to do is place pitted cherries, sugar, and brandy in a jar before leaving it out in the sun for around 40 days.
Once strained, you'll have a terrific liqueur that can be served as an aperitif or incorporated into other recipes!
Don't waste the leftover cherries because they can still be used in other desserts!
It's super easy to make but requires some patience but hey, good things come to those who wait!
Quench your thirst with this superb lemonade infused with sour cherries that's incredibly refreshing!
Made by boiling cherries, salt, lemon zest, sugar, and water, plus the addition of lemon juice at the end, this concentrate is a brilliant way to jazz up your regular lemonade.
Combine some concentrate with water for a fruity beverage or add a little alcohol to make a simple cocktail!
With the ability to enjoy the flavors of sour cherries all year round, this is definitely one of our favorite sour cherry recipes!
This Sour Cherry Jam recipe is a wonderful way to extract the delightful flavor of cherries to make a terrific jam!
It's straightforward to make and all you need to do is boil a mixture of cherries, lemon juice, and sugar until the fruits fall apart and reach a gel stage.
You can use a water bath canner for a long-term storage solution but with how delicious it is, you'll probably finish everything up before you even know it!
At Glorious Recipes, we have our favorite Sour Cherry Sorbet that we absolutely adore and it tastes heavenly! Check out the recipe below!
Yield: 6
Sour Cherry Sorbet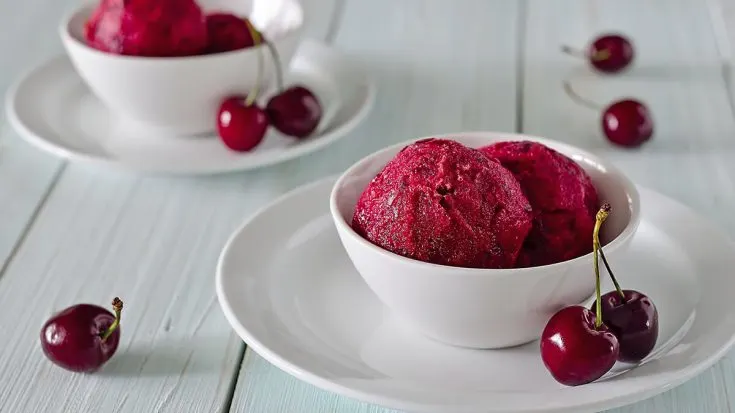 Indulge in an absolutely refreshing Sour Cherry Sorbet that's incredibly addictive!
Ingredients
1 lb frozen or fresh sour cherries
¼ cup sugar
¼ cup water
Instructions
If using frozen cherries, skip this step. If using fresh cherries, place them in a single layer on baking sheet lined with parchment paper and freeze overnight.
Add water and sugar to a saucepan and let it come to a boil. Stir and make sure sugar is fully dissolved. Set aside to cool.
Add frozen cherries and simple syrup to a food processor and process until smooth. Scrape down the sides as you go.
Transfer to a container that's freezer-safe. Freeze for at least 4 hours before serving. Enjoy!
Nutrition Information:
Yield:
6
Serving Size:
1
Amount Per Serving:
Calories:

70
Total Fat:

0g
Saturated Fat:

0g
Trans Fat:

0g
Unsaturated Fat:

0g
Cholesterol:

0mg
Sodium:

3mg
Carbohydrates:

18g
Fiber:

1g
Sugar:

15g
Protein:

1g
Nutrition information is only an estimate and can vary depending on ingredients used.
Which of the sour cherry recipes have you tried so far?
Let us know in the comments below!
For more awesome recipes that you might like, check out the following:
Prickly Pear
Dried Cherry
Asian Pear
Mulberry
Entremet
Jello Jigglers
Mini Bundt Cake
Crepini
Ninja CREAMi
Dash Waffle Maker
Share on your favorite social media platform and tag us @GloriousRecipes – we can't wait to see what you have made!