Dried cherries are great for adding a dose of natural sweetness to enhance your favorite dishes!
Packed with antioxidants, vitamins, and essential minerals, these little gems are perfect for adding a pop of flavor while increasing the nutrient profile of any dish.
With a longer shelf-life than their fresh counterparts, you don't have to worry about them turning bad as well!
From cookies to salads, we've got you covered with some of the best dried cherry recipes that you can easily try at home!
Indulge in amazing crisp thins that are superbly tasty and incredibly addictive!
Made simply with flour, sugar, milk, baking soda, pistachio, and dried cherries, this is a straightforward recipe that churns out cookies with a fantastic texture and flavor.
You'll love how crispy they are and the fruit and nut combination works extremely well to make this a mouthwatering treat.
Be warned, once you start, you just can't stop!
For an excellent side dish that goes really well with any of your favorite proteins, you've got to check out this Braised Cipollini Onions with Dried Cherries!
The onions are slowly cooked to caramelize them and break down all that sugar, then simmered in a mix of dried cherries, cider, balsamic vinegar, and sugar till everything is reduced to a glaze.
They are extremely flavorsome and palatable, and whether you serve them as is or spoon them on top of steaks, you're sure to enjoy their incredible flavor.
It's so simple to make but they taste exceptional, making it one of our favorite dried cherry recipes!
Spice up your parties with these Curry Spiced Nuts with Dried Cherries that are amazingly delicious and super easy to whip up!
It's ridiculously simple to make and all you need to do is toast almonds, pepitas, and cashews with curry powder, salt, and cumin, before adding dried cherries into the mix.
This outstanding appetizer tastes absolutely delightful and everyone will be fighting for seconds with how tasty it is.
Make this for your next party and be prepared to be showered with compliments!
Enjoy a splendid sweet treat with these oatmeal cookies that are sure to captivate your taste buds with how delicious they are!
These soft and chewy cookies have white chocolate chips and dried cherries embedded in them, with oats and other spices adding depth and complexity to the flavor and texture.
Topped with a white chocolate glaze, these cookies taste out of this world and they are sure to satisfy your sweet tooth.
You might just have a new favorite cookie flavor after taking your first bite!
This simple dried cherry salad is a great addition to your salad rotation with how wonderful it tastes!
It's a delightful medley of kale, spinach, candied pecans, pickled red onions, dried cherries, and blue cheese, dressed with a vinaigrette that's made by blending Dijon mustard, red wine vinegar, maple syrup, and other ingredients.
This salad has a fantastic texture and the sweetness from the pecans help to offset the sharp taste of blue cheese, creating a sort of contrast that works really well.
Give this salad a try and you'll not be disappointed!
Treat yourself to these awesome Cherry Chunk Cookies that are amazingly delectable and so easy to make!
These soft cookies are filled with chunks of dark chocolate and dried cherries, and every bite is just so satisfying.
Chocolates and cherries form a classic combination that just can't go wrong so you know you're in for a real treat with these cookies.
Serve after dinner or snack on them any time of the day because they are just that addictive!
Ramp up your high tea by serving this biscotti along with your favorite cup of tea or coffee!
This biscotti has pistachios and dried cherries that add excellent sweet and savory flavors to the already amazing crispy texture.
The biscotti dough itself has plenty of depth as well with almond extract, vanilla extract, orange zest, and lemon zest among some of the ingredients that make it such a mouthwatering delight.
Dip it in your drink to enjoy it the traditional way!
Sign us up for this fabulous homemade granola that's filled with some of our favorite ingredients and it tastes absolutely divine!
Rolled oats, crispy rice cereals, walnuts, coconut flakes, dried cherries, and other lovely ingredients come together to create a granola that's delicious with a satisfying crunch.
Serve it with milk for a power-packed breakfast or bring it on the road for a tasty snack any time of the day!
This is one of those healthy dried cherry recipes that you'll want to keep handy!
Whip up a healthy meal by including this simple slaw that's incredibly easy to make and tastes fantastic!
Featuring an assortment of slaw mix, dried cherries, and smoked almonds, with a dressing that's made by combining apple cider vinegar, oil, Dijon mustard, honey, scallion, and salt, this is a slaw that's vibrant in both color and flavor.
The sweet and tangy dressing helps to lift the slaw to another level and you can turn it into a wholesome meal by serving it as a side dish along with your favorite carbs and protein.
Give this a try and you'll be pleasantly surprised by how good it tastes!
Grace your taste buds with this terrific vegetable side dish that's incredibly delectable and is sure to whet your appetite!
Roasted Brussels sprouts are combined with bacon and dried cherries in this fantastic dish that's tasty enough to be the main star of any meal.
All the ingredients complement each other really well and the resulting flavor is one that you just can't get enough of.
Make sure to add this to your vegetable rotation because it's just that delicious!
Expand your breakfast options with these Dried Cherry Scones that take little effort to make but taste wonderful!
Made with flour, sugar, eggs, butter, half-and-half, dried cherries, and other lovely ingredients, these scones are baked until beautifully golden brown.
They go extremely well with jams, lemon curds, or plain old butter, and make for an amazing breakfast to start your day right.
Simple and delicious, just how we like our recipes to be!
Satisfy your sweet cravings with these Dried Cherry Muffins that are sure to bring a smile to your face with their delightful flavor!
It's a lovely combination of flour, buttermilk, dried cherries, egg, butter, and other ingredients, all baked in the oven until done.
The dried cherries help to impart a burst of fruity flavor and it's thoroughly enjoyable with every bite.
It's a quick and easy dried cherry recipe that you'll definitely want to give a try!
If you're a fan of chocolates, you've got to check out these chocolate cookies that taste absolutely heavenly!
With a mix of semisweet and unsweetened chocolate, the cookie dough is filled with a delightful chocolatey flavor without being overpowering, and it's balanced off with the fruity flavor from dried cherries.
These chocolate and dried cherry cookies are seriously super tasty and incredibly addictive, making them an irresistible sweet treat!
We have no doubts that this will quickly make its way to your list of favorite dried cherry recipes!
Add some cultural richness to your next meal with these Persian Meatballs that are juicy, tender, and extremely delicious!
The meatballs are made with a tantalizing combination of ground lamb, dried cherries, pistachios, breadcrumbs, and a variety of spices that make them extra tasty.
They are coated with a simple mixture of chicken stock and shallots, and they taste incredibly delightful.
Serve with rice or your favorite carbs for an easy but delicious meal any day of the week!
For a quick and easy vegetable side dish that you can serve alongside your main dishes, you've got to check out this Asparagus with Hazelnuts and Dried Cherries!
This dish involves steaming asparagus and then topping it with hazelnuts, dried cherries, and a flavorsome vinaigrette that's made with Dijon mustard, white wine vinegar, salt, pepper, and oil.
The dried cherries help to inject a dose of sweetness that works really well to add depth to the dish and you're sure to enjoy this lovely combination.
It's amazing how something so simple to whip up can taste so good!
At Glorious Recipes, we have our favorite Easy Dried Cherry Muffins that we absolutely adore and they taste heavenly! Check out the recipe below!
Yield: 24
Easy Dried Cherry Muffins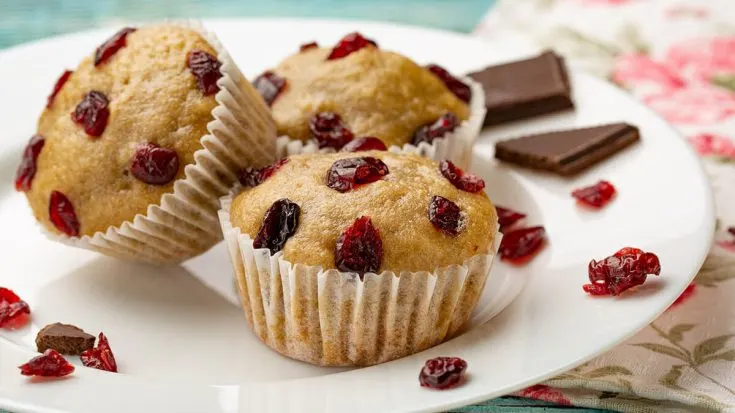 Satisfy your sweet tooth with these fantastic Dried Cherry Muffins that are incredibly delicious and really easy to make!
Ingredients
4 egg whites
1¼ cups water
⅓ cup vegetable oil
1 box white cake mix
1 tsp vanilla extract
3 oz cream cheese
1 cup dried cherries, and additional for topping
1 tbsp all-purpose flour
Instructions
Preheat oven to 350°F (175°C).
Add paper liners to muffin pan.
Add egg whites, water, oil, cake mix, and vanilla extract to a stand mixer bowl and beat on low speed for 30 seconds. Then increase to medium speed and beat for 2 minutes. Add cream cheese and beat until well combined.
Add dried cherries and flour to a small bowl and toss to coat. Then stir the dried cherries into the batter. Fill each of the cups of the muffin pan with the batter until about ⅔ full. It will expand during the baking process.
Bake in the oven for 20-25 minutes or until a toothpick comes out clean when inserted into the center of a muffin.
Remove the muffins from the oven and press dried cherries on the top of the muffins while they are still hot. Let the muffins cool for around 10 minutes before removing them from the muffin pan. Wait till the muffins are completely cooled before serving. Enjoy!
Nutrition Information:
Yield:
24
Serving Size:
1
Amount Per Serving:
Calories:

77
Total Fat:

5g
Saturated Fat:

1g
Trans Fat:

0g
Unsaturated Fat:

3g
Cholesterol:

4mg
Sodium:

32mg
Carbohydrates:

8g
Fiber:

0g
Sugar:

6g
Protein:

1g
Nutrition information is only an estimate and can vary depending on ingredients used.
Which of the dried cherry recipes have you tried so far?
Let us know in the comments below!
For more awesome recipes that you might like, check out the following:
Prickly Pear
Fonio
Grape Tomato
Asian Pear
Mulberry
Jello Jigglers
Kohakutou
Sure-Jell
Mini Bundt Cake
Ninja CREAMi
Share on your favorite social media platform and tag us @GloriousRecipes – we can't wait to see what you have made!