Daikon is a winter radish that has a crisp texture and a mildly sweet flavor that's superbly enjoyable!
It's an incredibly versatile vegetable and can be used to make salads, soups, or even as a component in braised dishes.
No matter how you cook it, you're bound to fall in love with the amazing flavor of daikon.
From daikon chips to tasty slaws, we've got you covered with some of the best daikon recipes that you can easily try at home!
Enjoy a terrific appetizer or side dish with this daikon salad that has great texture and awesome flavors!
Shaved daikon and carrot are mixed with a dressing that's made by combining rice vinegar, sesame oil, ginger, and garlic, creating an incredibly mouthwatering dish.
The crunch from the vegetables, tang from the vinegar, and fragrance from the sesame oil make this a perfect accompaniment to any meal!
You'll love how easy it is to make this wonderful salad!
This Japanese daikon recipe is absolutely amazing and definitely a must-try in our books because it's so delicious!
Featuring daikon rounds that are perfectly pan-seared and simmered in a mixture of sake, mirin, soy sauce, white miso paste, and garlic, this is a dish that's loaded with umami flavors.
It's quick to whip up and works really well as a palate cleanser, making it ideal for pairing with dishes that have rich and bold flavors.
Make this for your next meal and you'll be pleasantly surprised by how good it tastes!
Treat yourself to these fantastic Daikon Cakes that are incredibly tasty and super easy to make!
The cakes are a delightful combination of grated daikon, green onion, flour, egg, pepper, and sesame oil, coated with panko breadcrumbs and pan-fried until beautifully golden brown.
They are really addictive and you can pair them with your favorite dipping sauce to enjoy an awesome dish!
With how delicious it is, this is definitely one of our favorite daikon recipes!
This Korean daikon recipe is perfect for a tasty salad that can be served as an appetizer or side dish!
Made simply by marinating julienned daikon in a mixture of fish sauce, sesame oil, gochugaru, garlic, and salt, this is a flavorful dish that's sure to whet your appetite.
It doesn't take much effort to make and you get to enjoy an incredibly tasty dish at the end of it.
There's nothing not to like about this quick and easy recipe!
This is a variation of daikon cake that's popular in East Asia and it's an amazing treat that you definitely got to try!
Made with a mixture of shredded daikon radish, carrot, and batter, the cake is first steamed to fully cook it and can even be served as is for a tasty steamed version.
The flavor is enhanced with a stir-fry of the cake along with bean sprouts, chives, garlic, chili sauce, and other lovely ingredients.
It's exceptionally tasty and makes for an extremely satisfying meal any day of the week!
If you're looking for an addictive appetizer, you've definitely got to check out this excellent Japanese pickled daikon recipe!
It's ridiculously easy to make and all you need to do is soak daikon slices in a mixture of sugar, salt, and vinegar overnight, before boiling the liquid and pouring back to mix with the vegetable.
The pickled daikon slices are then refrigerated for two weeks to let the flavors meld and then they are ready to be eaten!
You'll be nibbling on them non-stop once you've taken your first bite because of how delectable they are!
Ramp up your next meal with this splendid Simmered Daikon and Fried Tofu that's amazingly delicious and makes for a great side dish!
It's a lovely marriage of daikon, tofu, and ginger, all simmered and cooked in a mixture of dashi stock, mirin, soy sauce, sugar, and sesame oil.
This dish has a light but incredibly enjoyable flavor that makes it perfect for a simple meal and it's so easy to make with only a few ingredients!
Give it a try and you'll definitely not be disappointed!
Indulge in a marvelous dish with these daikon fries that are superbly tasty and incredibly mouthwatering!
It's made simply by tossing daikon slices in a mixture of oil, ginger pulp, soy sauce, chili paste, salt, and sugar before roasting them in the oven until nicely browned and crispy.
Roasting instead of frying makes them a healthier snack as well and you can munch on these addictive fries without feeling too much guilt!
It's one of the easiest daikon recipes that you can try to experience the wonderful flavor of this delightful root vegetable!
Discover an awesome dish with this Daikon Mochi that's sure to captivate your taste buds with how delectable it is!
This dish involves a delightful assortment of shredded daikon, sautéed shrimp, shiitake mushrooms, and spring onion, all combined in a batter that consists of regular and sticky rice flour.
Shaped into flat discs and pan-fried until golden brown, this is a heavenly combination of flavors and textures that make it an impressive dish.
Try making it the next time you feel like having some Asian cuisine!
Spruce up your next meal with this amazing dish that looks fantastic and tastes even better!
Daikon rounds are simmered in konbu-infused water to add a delightful flavor but the highlight of this dish is the flavorsome sauce that's made with lovely ingredients that include sake, dashi, egg yolk, and rice wine.
It has a minimalistic presentation that gives it a clean look and is sure to bring a smile to your face with its awesome taste!
We have no doubts that this will quickly make its way into your list of favorite recipes!
Add some cultural richness to your next meal with this popular Taiwanese street food that you definitely don't want to miss out on!
These buns are filled with a tantalizing combination of daikon, mushrooms, carrots, tofu, and cilantro, plus seasonings such as sugar, soy sauce, and sesame oil.
Pan-fried until golden brown, they are extremely flavorful and delicious!
You'll find yourself craving these buns after trying them because they are just that irresistible!
Expand your cooking repertoire with this Chinese Braised Beef Stew with Daikon that's crazy delicious and is sure to be a crowd-pleaser with its amazing taste!
There's no lack of incredible flavors with ingredients such as oyster sauce, Shaoxing wine, soy sauce, star anise, and other spices to help add tons of aroma to the dish.
With tender beef and daikon braised till extremely flavorful, this is an excellent dish that's sure to satisfy any appetite.
Serve with a bowl of steamed rice to turn it into a wholesome meal!
Skip the store-bought ponzu sauce and make your own with this outstanding recipe!
It's a fantastic combination of shoyu sauce, lemon juice, rice vinegar, lime juice, mirin, kombu, and grated daikon, creating an exceptional sauce that's perfect for almost anything!
Use it as a dipping sauce for your fried tempura or drizzle it over a bowl of rice, it's really up to you because it goes amazingly well with everything!
It's easy to make and incredibly versatile, making it one of those daikon recipes that you'll want to keep handy!
On days when you want to enjoy comfort food that's light, easy to make, and relatively healthy, check out this terrific dish!
Made tasty with a medley of lovely ingredients such as oyster sauce, sake, star anise, and other aromatics, the three main ingredients come together to create a hearty dish that's perfect any day of the week.
You have all the nutrients, protein, and fiber that you need for a fabulous meal and it tastes fantastic as well!
With how tasty and healthy it is, you'll definitely want to add it to your meal rotation!
If you're looking for a tasty and keto-friendly dish, you'll want to check out this superb Scalloped Daikon that's incredibly appetizing!
With daikon slices, bacon, heavy cream, cheddar cheese, and other delightful ingredients, this is an extremely flavorsome dish that tastes as good as scalloped potatoes.
All it takes is a quick bake in the oven for 30 minutes, making it perfect for an awesome weeknight dinner!
Pair it with some ham to enjoy a sumptuous meal!
Sign us up for this fantastic slaw that's amazingly delicious and incredibly easy to whip up!
Cabbage, daikon, parsley, and carrot come together in this salad that's tossed in a simple dressing to make it extra tasty.
The dressing is a wonderful mix of mayonnaise, garlic, Dijon mustard, lemon juice, and salt, ensuring plenty of great flavors that you're sure to love.
This simple salad is perfect for serving as a side dish along with your favorite protein!
Discover your new favorite snack with these radish chips that are superbly addictive and one of our favorite daikon recipes!
Thinly sliced daikon slices are coated with a mix of olive oil, paprika, salt, and pepper, then broiled in the oven until they come out crispy and delicious.
It's super easy to make and you'll be enjoying a healthy and tasty snack in no time at all!
Go low-carb with these chips and indulge in them without having to feel any guilt!
Experience a Korean delight with this excellent Dongchimi that's essentially a water-based kimchi made with radish!
Daikon radish, along with green onion and chilies, is first soaked in a brine made with water, Korean pear, apple, garlic, ginger, onion, and salt to let all the wonderful flavors infuse into the vegetable.
It's extremely appetizing and makes for an incredible starter or side dish!
This dish might take some time to make but it's almost effortless and you'll know it's all worth it once you've taken your first bite!
Enjoy a tasty and healthy light meal with this splendid dish that combines some of our favorite vegetables together!
Daikon, carrots, bell peppers, and shallots are given a basic seasoning of salt and pepper before being roasted in the oven until tender.
They are then drizzled with balsamic vinegar to make an extremely appetizing dish and it can be served as a light lunch or as a vegetable side dish to complement any other main dishes!
It's so easy to make and tastes so good!
This Korean daikon soup is one of those easy daikon recipes that you'll definitely keep coming back to because it's amazingly delectable!
It's a delightful combination of beef, daikon radish, garlic, and seasonings to make a light but extremely flavorsome soup!
A garnish of green onions helps to complete this awesome dish and it's absolutely refreshing to the palate.
This is comfort food at its very best!
Inject a little Chinese flair to your next meal with this amazing pork belly dish that tastes exceptional and is sure to delight your taste buds!
This dish involves a stir-fry of daikon and pork belly cubes with various aromatics and seasonings that include star anise, ginger, garlic, chili bean paste, and rice wine, ensuring plenty of amazing flavors.
All the ingredients come together exceptionally well and every bite is a perfect symphony of taste in the mouth.
Serve with white rice for a simple but wholesome meal!
If you're on the lookout for an easy-to-make and tasty snack, you definitely don't want to miss out on these pancakes!
Made simply by mixing grated daikon with flour and water, then pan-fried until beautifully golden brown with a crispy exterior, this is a yummy treat that's incredibly delicious.
Wasabi and soy sauce are combined to make a dipping sauce that goes fantastically well with these pancakes, which are perfect as a mid-day snack or late-night supper!
Give it a try and you might just fall in love with their awesome taste!
Go healthy with this Boiled Daikon Radish recipe that's exceptionally easy to make with only a few basic ingredients!
It's incredibly straightforward to whip up and all you need to do is boil radish in a pot of water, ginger, oyster sauce, sugar, salt, and pepper.
When the radish is tender, it's ready to be consumed!
It's that easy to make and with no oil involved in this dish, you cut down on all those unwanted excess calories!
If you love rich and bold flavors, you'll love this Daikon Curry that's definitely one of our favorite daikon recipes with how flavorsome it is!
With cumin, turmeric, coriander, carom seeds, red chili powder, aromatics, and other lovely spices, you're guaranteed tons of depth and complexity to the flavor that make this such an awesome dish.
All the flavors meld together extremely well to create an irresistible curry that's sure to tantalize your taste buds!
This will definitely become a mainstay in your meal rotation with how tasty it is!
Get a taste of Vietnamese cuisine with this terrific daikon soup that's loaded with amazing flavors!
Seasoned with a mix of fish sauce, salt, sugar, and pepper, the shrimp are extremely tasty when cooked with onion and chili powder.
They are combined with daikon, chicken stock, and green onion to create a splendid soup that's hearty and comforting.
Serve with a side of white rice for a quick and easy meal that's perfect for those busy weeknights!
At Glorious Recipes, we have our favorite Daikon, Carrot, and Apple Salad that we absolutely adore and it tastes heavenly! Check out the recipe below!
Yield: 4
Daikon, Carrot, And Apple Salad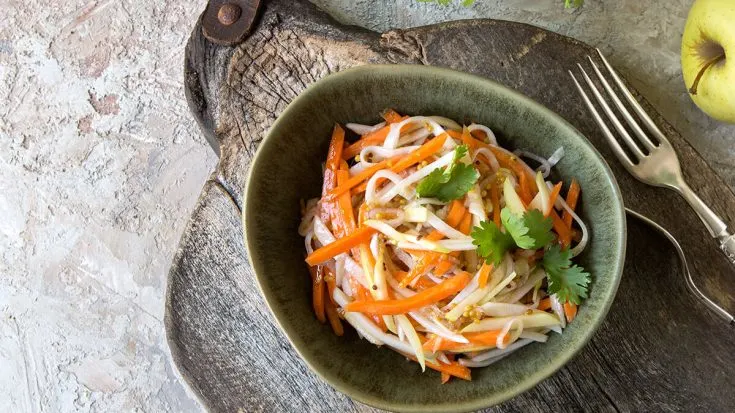 This salad is extremely delicious and it's super easy to whip up! It's the perfect appetizer for any meal!
Ingredients
2 daikon, peeled and julienned/grated
2 carrots, peeled and julienned/grated
1 apple, peeled and julienned/grated
3 tbsp olive oil
1 tbsp lemon juice, freshly squeezed
¼ tsp salt
¼ tsp sugar
ground white pepper, to taste
Instructions
Combine olive oil, lemon juice, salt, sugar, and pepper in a bowl and mix well.
Add daikon, carrot, and apple strips to a salad bowl. Pour dressing over and toss to coat well. Serve and enjoy!
Nutrition Information:
Yield:
4
Serving Size:
1
Amount Per Serving:
Calories:

155
Total Fat:

11g
Saturated Fat:

2g
Trans Fat:

0g
Unsaturated Fat:

9g
Cholesterol:

0mg
Sodium:

183mg
Carbohydrates:

15g
Fiber:

5g
Sugar:

9g
Protein:

2g
Nutrition information is only an estimate and can vary depending on ingredients used.
Which of the daikon recipes have you tried so far?
Let us know in the comments below!
For more awesome vegetable recipes that you might like, check out the following:
Sunchoke
Golden Beet
Baby Eggplant
Roma Tomatoes
Savoy Cabbage
Hominy
Honeynut Squash
Banana Peppers
Japanese Eggplant
Taro
Share on your favorite social media platform and tag us @GloriousRecipes – we can't wait to see what you have made!