Tilapia is a versatile, flaky, and mild-tasting white fish that can be prepared in numerous ways to create tasty dishes that everyone can enjoy!
Cooking whole tilapia is not as daunting as it sounds and it's actually really easy even if it's your first time trying to cook fish!
Whether you like it steamed, grilled, or fried, we've got you covered with some of the best whole tilapia recipes that you can easily try at home!
Enjoy a healthy and delicious dish with this fantastic steamed whole tilapia recipe that you definitely don't want to miss out on!
It's ridiculously easy to make and it's perfect for beginner home cooks who are trying to cook a whole fish for the first time.
All you need to do is stuff the tilapia with scallion and ginger, then scatter more sliced scallion, ginger, and bird's eye chilies on the fish before steaming until done.
It only takes 20 minutes before you get to enjoy a plate of incredibly delicious fish!
Feast on an amazing fish dish with this superb grilled whole tilapia recipe that's absolutely delicious!
Marinated in a mixture of lemon juice, paprika, turmeric, garlic powder, dried parsley, black pepper, and oil, the fish is extremely flavorful when fully cooked.
Once perfectly grilled, the tilapia is ready to be served with a side of carbs and veggies for a wholesome meal!
It's a simple recipe that delivers tasty cooked fish every single time!
Indulge in this crispy fried whole tilapia that's amazingly delicious and just so irresistible!
The fish is made tasty with a variety of common seasonings that include onion powder, garlic powder, ground ginger, mushroom powder, salt, and pepper.
Rubbed with the seasonings and coated with cornstarch, the fish is pan-fried until a beautiful golden brown color is achieved with a crispy exterior.
With a great texture and flavor, this is definitely one of our favorite whole tilapia recipes!
Amplify your next meal with this exceptional Tilapia in Spicy Coconut Milk that's absolutely delectable and mouth-watering!
It's straightforward to make and the rich and bold flavors make this an incredible dish that's super enjoyable and definitely a crowd-pleaser.
Garlic, onion, ginger, and turmeric all help to provide additional depth to the flavor and you'll have a hard time resisting the temptation to slurp up all that coconut milk.
Pair it with fragrant steamed rice for a simple but wholesome meal!
Add a little Cuban flair to your next meal with this fantastic baked whole tilapia that's perfect for an awesome lunch or dinner!
There's no lack of flavor with garlic, oregano, tomato puree, vinegar, and white wine all combining to impart fragrance to the fish, and it's made tastier with an accompaniment of onion and bell peppers.
Baked until fully cooked, this dish is completed with a simple garnish of green onions that help to elevate the dish further.
Serve with a side of carbs to make it a sumptuous meal for the whole family!
Treat yourself to this splendid grilled tilapia that's super easy to make and an absolute must-add to your meal rotation!
The fish is stuffed with a combination of tomatoes, ginger, onion, scallion, garlic powder, and lemon juice, ensuring plenty of delightful flavors once cooked.
It's a simple recipe that involves grilling the stuffed fish until fully cooked before serving it with your favorite dipping sauce to enjoy this wonderful protein.
Give this a try for your next grilling session and you'll definitely not regret it!
Keep things simple with this easy baked whole tilapia recipe that requires only 6 ingredients and can be made in under 15 minutes!
The cavity of the fish is stuffed with garlic cloves and parsley sprigs and the whole fish is coated with a flavorsome mix of mustard, cider vinegar, and dill, ensuring plenty of great flavors that come together really well.
Baked in the oven until fully cooked, this dish is simple yet tasty and a great way to enjoy the taste of fresh fish!
It's incredibly easy to make and definitely a must-try recipe in our books!
If you have a smoker or pellet grill, this terrific smoked whole tilapia recipe is for you!
Stuffed with lime, garlic, onion, Serrano peppers, cilantro, and garlic, plus a coating of flavorful sauce made by combining soy sauce, fish sauce, brown sugar, lime juice, and other delightful ingredients, the fish is grilled until fully cooked.
It's a superb dish that's extremely delicious and will definitely have you coming back for more!
Serve the cooked fish with the remaining sauce for a scrumptious treat any day of the week!
Get a taste of African cuisine with this African-styled grilled tilapia that's spiced to provide incredible flavors!
It's an awesome mix of herbs and spices with African nutmeg, anise seeds, paprika, garlic, ginger, parsley, and other lovely ingredients all combining to provide depth and complexity to the flavor of the fish.
Once the fish is marinated in the mixture, it's grilled until fully cooked before serving with a pepper sauce and veggies to complete a wholesome meal.
This simple recipe is a great way to explore new flavors that you might not have had a chance to experience yet!
For an easy and convenient way of cooking fish, you've got to check out this fantastic Air Fryer Whole Tilapia recipe!
It's super straightforward and all you need to do is stuff the fish with lemon slices, garlic, and herbs that include parsley, thyme, and dill.
Score the fish and rub in oil, salt, pepper, and dill to give flavor to the entire flesh before air-frying until it's perfectly cooked.
You'll love how hassle-free air-frying fish can be and it's one of the easiest whole tilapia recipes so there's a good chance that you'll be making this more than once!
This dish is one of our favorite whole tilapia recipes because it's amazingly delicious and is sure to tantalize your taste buds!
There are loads of lovely flavors with a mixture of sesame oil, ginger, and sugar being used to rub all over the fish and scallions stuffed in the cavity.
Fried until super crispy and paired with an extremely flavorful ginger-scallion sauce, this fish is both addictive and irresistible.
It's a taste explosion in your mouth with every bite and everyone will surely enjoy this fantastic dish!
When you have really fresh fish on hand, you'll want to taste the sweetness of the meat and not muddle the flavor with too many ingredients.
That's where this simple recipe comes in and with only butter and herbs used to bring out the natural flavor of the fish, it's a light dish that can be easily enjoyed by everyone.
It's also really easy to whip up, with the fish's interior spread with a herbed butter mixture before being baked in the oven until fully cooked.
It's a very versatile recipe and you can keep this dish refreshing by varying the herbs used each time!
Savor a fantastic fish with this easy oven-baked whole tilapia that's absolutely delicious and perfect for a great meal!
Thanks to the likes of lemon, cilantro, garlic, paprika, and a whole host of wonderful ingredients, this is a fish that's tender, flaky, and filled with bright flavors that make it an amazing dish.
It's simple to prepare and the oven does all the cooking, making it a great option for a fuss-free weeknight meal that's easy to make and tastes incredible.
Pair with carbs and greens to make it a hearty and wholesome meal!
If you love rich and bold flavors, you've got to check out this splendid Bengali Mustard Fish Curry that'll definitely whet your appetite!
The fish is given a light pan-fry before being simmered in the flavorsome gravy until fully cooked.
It's a mouth-watering delight that's loaded with incredible flavors contributed by turmeric, mustard seeds, green chilies, and poppy seeds.
Pair it with fragrant white rice for an unforgettable meal that'll surely satisfy any craving!
Experience an Asian delight with this Sweet and Sour Tilapia that's perfect for turning a meal from good to great!
The sweetness and tanginess of the sticky sauce are superbly well-balanced and pair amazingly well with the fish to create an extraordinary dish that's just irresistible.
Cooked along with other aromatics, this is a fish that's incredibly fragrant and delicious.
It's a quick and easy recipe that's perfect for a weeknight dinner so make sure to try it soon!
At Glorious Recipes, we have our favorite Steamed Whole Tilapia With Garlic Lime that we absolutely adore and it tastes heavenly! Check out the recipe below!
Yield: 1
Steamed Whole Tilapia With Garlic Lime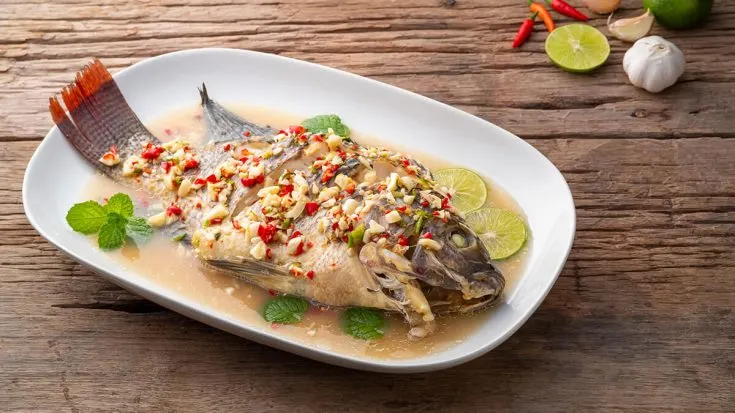 Feast on this incredibly flavorful Steamed Whole Tilapia with Garlic Lime that's absolutely delicious and irresistible!
Ingredients
1 whole tilapia, cleaned and descaled
5 stalks of lemongrass, only using white bottom sections
1 cup chicken stock
2 tbsp sugar
5 tbsp fish sauce
9 tbsp lime juice
2 cloves garlic, minced
1 bird's eye chili, cut
20 sprigs of cilantro, roughly chopped
Instructions
Smash lemongrass with mortar and pestle and roughly chop them. Score fish with 3 incisions on both sides. Stuff chopped lemongrass into the cavity. Steam fish for 15 minutes until fully cooked (timing depends on size of fish).
While fish is steaming, prepare the sauce. Add chicken stock to a saucepan and bring it to a boil. Lower the heat to simmer and add sugar, then stir until fully dissolved. Transfer to separate bowl.
Add lime juice, fish sauce, garlic, chili, and cilantro to sauce mixture and stir well. Give a taste test and adjust accordingly.
Once fish is cooked, transfer to separate plate. Pour sauce over the fish. Pair with white rice for a wholesome meal and enjoy!
Nutrition Information:
Yield:
4
Serving Size:
1
Amount Per Serving:
Calories:

359
Total Fat:

11g
Saturated Fat:

3g
Trans Fat:

0g
Unsaturated Fat:

5g
Cholesterol:

51mg
Sodium:

2385mg
Carbohydrates:

45g
Fiber:

1g
Sugar:

10g
Protein:

25g
Nutrition information is only an estimate and can vary depending on ingredients used.
Which of the whole tilapia recipes have you tried so far?
Let us know in the comments below!
For more awesome fish recipes that you might like, check out the following:
Bluegill
Sablefish
Porgy
Coho Salmon
Albacore Tuna
Salmon Bites
Yellowtail
Tilefish
Blackfish
Smoked Cod
Share on your favorite social media platform and tag us @GloriousRecipes – we can't wait to see what you have made!