Sunchokes, also known as Jerusalem artichokes, are a root vegetable that boasts a tantalizing taste and a delightful crunch!
They have a mild earthy and nutty flavor, and are a great source of vitamins, essential minerals, and fiber, making them perfect for adding a dose of nutrients to your diet.
Whether you prefer them raw, roasted, sautéed, or even puréed into creamy soups, you're bound to love the wonderful flavor of sunchokes.
From soups to salads, we've got you covered with some of the best sunchoke recipes that you can easily try at home!
Enjoy a terrific side dish that tastes fantastic and is super easy to whip up with this simple sunchoke recipe!
Sautéed sunchokes that are beautifully browned and crisp are paired with an extremely flavorsome lemon herb tahini sauce, made simply by blending a mix of tahini, olive oil, chives, parsley, mint, and lemon juice.
It's a simple combination but this side dish is really addictive and you'll be gobbling down everything before you even know it!
This quick and easy recipe is a must-try in our books!
Shake things up a little and try making these brilliant Garlic Smashed Sunchokes that are sure to whet your appetite!
Sunchokes are first boiled before being smashed to expose the interior and allow garlic oil to infuse plenty of amazing flavors into the root vegetables.
They are then topped with garlic cloves and roasted in the oven until golden to create an incredibly appetizing dish.
A simple seasoning of salt and pepper, along with a garnish of chives is sufficient to elevate this dish to another level!
Give this easy roasted sunchoke recipe a try and your taste buds will thank you!
Level up your cooking skills with this sunchoke gnocchi that's handmade from scratch and is sure to impress all your friends and family!
Don't be daunted by making your own pasta because it's way easier than it sounds!
The pasta dough is made by combining olive oil, sunchoke purée, blended ricotta, egg, and flour, then cut into small pieces to form gnocchi.
The gnocchi pieces are given a quick boil and then pan-fried before the dish is finished off with a garnish of lemon juice, parsley, chives, and Parmesan cheese.
This sunchoke pasta is so simple to make and it's definitely one of our favorite sunchoke recipes for an amazing meal!
If you're a pasta lover, you would definitely have eaten your share of Alfredo pasta, which tastes incredible but it's not always the best for your health!
For a healthier alternative to Alfredo sauce, check out this delightful sunchoke sauce that gives the same creamy texture with a nutty flavor to it.
It's a lovely marriage of butter, milk, garlic, cream cheese, mashed sunchokes, nutmeg, lemon zest, and Parmesan cheese, all blended until a creamy consistency is reached.
Add your favorite pasta and toss to enjoy an excellent dish that you just can't get enough of!
Make your next meal a little special with this awesome dish that's loaded with heavenly flavors and textures and takes little effort to make!
Featuring layers of potatoes, sunchokes, and onions, all baked until golden with vegetable stock, milk, and herbs adding depth to the flavor, this is a dish that's just irresistible.
It's superbly tasty and with the oven doing all the cooking for you, this is as easy as it can get!
You'll love how simple it is to make something that tastes this good!
Keep it simple with this roasted sunchoke recipe that's incredibly straightforward to whip up and tastes amazing!
It's ridiculously easy to make and all you need to do is toss sunchoke slices with salt, pepper, and olive oil before roasting them and sprinkling a mix of sage leaves and rosemary to finish them off.
The herbs give them a nice depth that makes this dish thoroughly enjoyable and it's perfect for a delightful side dish or even as a mid-day snack!
There's nothing not to like about this healthy and delectable dish!
Discover an exceptional dish with this Sunchoke Gratin that tastes incredible and is sure to captivate your taste buds!
This gratin is made with a delectable combination of green lentils, black walnuts, sunchokes, cream cheese, Jarlsberg cheese, garlic, and lemon zest, then topped with breadcrumbs and baked until beautifully golden brown.
It's gloriously tasty and every bite is filled with immense flavor that you're bound to fall in love with.
This creative dish is a great way to experience the delightful flavor of sunchokes!
If you're looking for a simple side dish to pair with your favorite protein, these Caramelized Sunchokes With Meyer Lemon Zest & Parsley definitely fit the bill!
Cooked in a mixture of butter, olive oil, and sugar, the sunchokes are caramelized slowly and become tender and amazingly delicious.
They are finished off with a garnish of lemon zest and parsley, creating a mouthwatering delight that's sure to be a crowd-pleaser.
With how easy it is to make, we have no doubts that this will quickly make its way to your list of favorite sunchoke recipes!
Cook up a pot of warm and tasty soup with this easy sunchoke soup recipe that you definitely want to keep handy!
This soup is a blended mix of sunchokes, onions, chicken stock, and heavy cream, and you'll be surprised by how incredible it tastes with only a few ingredients used.
Garnish with herbs such as sage or rosemary to add depth to the flavor and enhance the soup even further!
It's exceptionally delicious and makes for a great addition to your soup rotation!
Give an instant upgrade to sunchokes with this excellent recipe that makes an absolutely delectable side dish!
Roasted sunchokes are paired with an extremely flavorful gremolata that brings the vegetables to life to create an incredibly satisfying treat.
The gremolata is made simply by combining toasted hazelnuts, lemon zest, Italian seasoning, and garlic, adding tons of wonderful flavors to the sunchokes.
It's astonishingly easy to whip up and you'll definitely love their splendid taste!
Jazz up your sunchokes with this fantastic recipe that makes a superbly tasty side dish and it's so easy to whip up!
Coated with a mix of soy sauce, rice wine vinegar, honey, and olive oil, these vegetables are then roasted in the oven until tender and sprinkled with toasted sesame seeds.
Every bite results in a burst of umami flavors that taste out of this world and you'll be devouring everything because they are just that delicious.
There's just something about the combination of honey and soy sauce that makes this one of the best sunchoke recipes!
This terrific Warm Spinach and Sunchoke Salad is a great addition to your salad rotation and it's really easy to prepare!
This dish involves roasting sunchokes and garlic and then adding them to spinach when they come out piping hot from the oven to let the heat wilt the spinach.
Along with apple slices and crumbled cheddar cheese, this is a refreshing salad that'll definitely put a smile on your face with its incredible flavors!
All the ingredients come together really well and you just can't get enough of this wonderful dish!
These pickled sunchokes taste amazing and they all come with a satisfying crunch that adds plenty of texture to any dish!
Soaked in a pickling liquid of apple cider vinegar, sorghum syrup, onion, garlic, turmeric, clove, and other lovely ingredients, these pickles are superbly delectable.
They can be enjoyed as is or added to salads, sandwiches, burgers, and pretty much anything that you can think of!
These palatable pickles make for a refreshing change from pickled cucumbers!
Get ready to indulge in these fried sunchoke chips that you're sure to develop a craving for because they are super addictive!
The sunchokes are cut paper-thin and then fried until super crispy before a combination of salt, rosemary, and lemon zest is sprinkled to make them extra delicious.
With a subtle nuttiness that makes these chips incredibly delightful, you might just ditch the regular potato chips and make this your go-to snack instead!
It's one of those sunchoke recipes that you definitely don't want to miss out on!
Cooking sunchokes is easy with an air fryer and it's incredibly straightforward to prepare so even beginner home cooks should have no trouble with it!
These vegetables are first microwaved to cook them and then smashed to expose the interior before a sprinkle of garlic powder, dried herbs, salt, and pepper is used to add tons of amazing flavors to them.
They are then air-fried to give a nice crisp, resulting in an absolutely delightful treat that's perfect any time of the day!
Whether you use them as a side dish or a mid-day snack, you're sure to enjoy the wonderful flavor of these lovely vegetables!
At Glorious Recipes, we have our favorite Oven-Baked Sunchoke Chips that we absolutely adore and they taste heavenly! Check out the recipe below!
Yield: 4
Oven-Baked Sunchoke Chips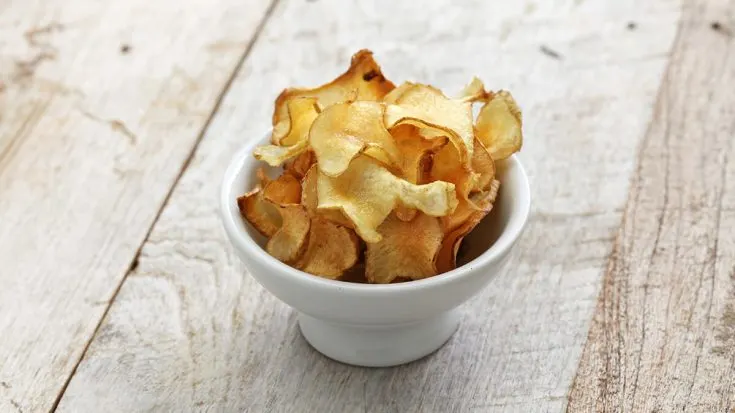 Indulge in these healthy and delicious sunchoke chips that are gloriously tasty and super addictive!
Ingredients
1 lb sunchokes, cut into ⅛-inch slices
1 tbsp garlic oil
¼ tsp salt
¼ tsp smoked paprika
¼ tsp black pepper
Instructions
Preheat oven to 400°F (205°C).
Add all the ingredients to a mixing bowl. Toss to combine well. Add the chips in a single layer to a baking dish lined with foil. Bake for 15 minutes on each side, for a total of 30 minutes, or until the chips are crisp and beautifully golden brown. Serve and enjoy!
Nutrition Information:
Yield:
4
Serving Size:
1
Amount Per Serving:
Calories:

114
Total Fat:

3g
Saturated Fat:

0g
Trans Fat:

0g
Unsaturated Fat:

3g
Cholesterol:

0mg
Sodium:

150mg
Carbohydrates:

20g
Fiber:

2g
Sugar:

11g
Protein:

2g
Nutrition information is only an estimate and can vary depending on ingredients used.
Which of the sunchoke recipes have you tried so far?
Let us know in the comments below!
For more awesome vegetable recipes that you might like, check out the following:
Golden Beet
Black Garlic
Grape Tomato
Mayocoba Beans
Kelp Noodles
Daikon
Baby Eggplant
Savoy Cabbage
Hominy
Honeynut Squash
Share on your favorite social media platform and tag us @GloriousRecipes – we can't wait to see what you have made!