Chuck steak is an economical way to satisfy your beef cravings and it can be used to whip up a wide variety of amazing dishes!
Cut from the shoulder bones, chuck steak contains a high amount of connective tissues but when cooked right, it can become extremely tender and juicy as well!
Whether you prefer it slow-cooked, braised, or grilled, you'll end up with delicious meat every time!
From beef rendang to smoked steaks, we've got you covered with some of the best chuck steak recipes that you can easily try at home!
Enjoy a fantastic meal with this Baked Chuck Steak that's amazingly delicious and so easy to whip up!
The steak is seasoned with a homemade blend of steak seasoning that includes onion powder, garlic powder, smoked paprika, thyme, and rosemary, ensuring plenty of delightful flavors that you're bound to enjoy.
Seared in beef tallow before being baked in the oven, this steak is as simple as it can get and it tastes absolutely terrific.
Pair it with your favorite carbs and veggies to make it a complete meal!
Savor delicious beef with this wonderful braised chuck steak recipe that makes a mouthwatering dish that you won't want to miss out on!
Dredged in a seasoned flour mixture, the steak is then browned in a skillet before being simmered in beef broth along with thyme, potatoes, and carrots until cooked.
The broth is thickened with flour and served over the meat and vegetables, creating a super appetizing dish that's perfect any day of the week.
This is a wholesome meal that's easy to make with great flavors that are sure to bring a smile to your face!
For your next grilling session, you've got to try out one of our favorite grilled chuck steak recipes!
You're guaranteed plenty of incredible flavors with the meat marinated in a mixture of Worcestershire sauce, red wine vinegar, garlic, honey, thyme, and other lovely ingredients.
Once grilled to perfection, the steak is extremely flavorsome and juicy, and we have no doubt that it will quickly become one of your favorite dishes as well!
You'll definitely want to add it to your grilling rotation with how tasty it is!
If you have an immersion circulator, you've got to check out this sous vide chuck steak recipe that makes consistently delectable steaks!
A basic seasoning of salt and pepper is sufficient to bring out the great flavors of the steak and you can make it even tastier by brushing it with a mixture of butter, soy sauce, and Worcestershire sauce, and searing the cooked meat.
Paired with air-fried potatoes, this is a sumptuous meal that you can whip up with little effort and just a little bit of patience!
There's nothing not to like about this steak that's oh-so-yummy!
This set-and-forget slow cooker chuck steak recipe is a must-try in our books because of how easy it is to whip up delicious steaks!
The meat is combined with mushrooms and slow-cooked in a mixture of beef broth and stout until everything becomes tender and extremely flavorful.
Served with egg noodles, this is a lovely dish that's sure to satisfy any cravings!
On cold and chilly days, this might just become one of your favorite comfort food!
This remarkable grilled chuck steak is incredibly simple to make and tastes absolutely fantastic!
Seasoned with a blend of cumin, garlic powder, salt, and pepper, the steak is then grilled until nicely charred and cooked.
It's ridiculously easy to make and you'll love how flavorsome and juicy the steak is.
Taking under 15 minutes from start to end, this is a quick and easy recipe that you definitely want to keep handy!
Spruce up your next meal with this excellent Steak Pizzaiola that's crazy delectable and is sure to tantalize your taste buds!
The chuck steak is braised in the oven with an amazing mix of onion, garlic, tomatoes, anchovies paste, capers, and herbs, rendering plenty of excellent flavors that make this an absolute delight.
With tender, juicy, and extremely flavorsome meat, you'll be devouring this up before you even know it because it's just that tasty!
This Steak Pizzaiola is a great way to add some variety to your meals and it's so easy to make!
Try your hands at making this superb steak that's really delicious and is sure to whet your appetite!
Marinated in a mixture of Italian seasoning, red wine vinegar, brown sugar, garlic, olive oil, and other lovely ingredients, the steak is then grilled to perfection before being served with compound butter infused with garlic, rosemary, and thyme.
It's a heavenly combination and makes for a sumptuous meal that's extremely flavorsome and super satisfying.
Serve with your favorite sides to make it a hearty and wholesome meal!
Expand your cooking repertoire with this smoked chuck steak recipe that makes an exceptionally tasty meal!
Seasoned with garlic powder, salt, and pepper, the meat is smoked to perfection before being seared in a skillet to add extra flavor and texture with a nice crust.
This reverse-seared steak is tender, juicy, and extremely delicious, making this an irresistible dish that you don't want to miss out on.
Give it a try and you'll definitely not regret it!
This Korean Beef Bulgogi is one of our favorite chuck steak recipes and is loaded with tons of incredible flavors!
With a chuck steak marinade made from soy sauce, sesame oil, grated pear, ginger, garlic, sugar, and Korean chili powder, the meat is extremely flavorsome even before it's cooked in a skillet.
Every bite is filled with umami flavors and you'll be craving this regularly because of how incredibly delicious this bulgogi is.
Garnish with freshly chopped green onions to add a touch of color to this wonderful dish!
Cooking chuck steak is easy with an instant pot and this recipe makes an excellent dish that's sure to delight your taste buds!
Given a quick sear to brown the meat in the instant pot, the steak is then cooked under pressure along with onions in a mixture of beer and chicken broth.
That's all it takes to whip up tender fall-apart beef and the best part is that the appliance does all the work for you!
It's the perfect simple dish for an awesome meal any day of the week!
Inject a little Filipino flair to your next meal with this Beef Mechado that's amazingly delicious and extremely flavorsome!
This tomato-based stew involves a sauté of aromatics and beef before they are simmered in tomato sauce and made tasty with laurel leaves, lemon rind, soy sauce, salt, and pepper.
Potatoes are added to make this dish extra wholesome and you end up with a hearty and sumptuous meal that's just irresistible.
Serve with a side of white rice to maximize the enjoyment of this lovely dish!
Recreate the exotic flavors of Indian cuisine with this Beef Vindaloo that tastes absolutely amazing!
This curry is loaded with tons of incredible flavors with ingredients such as garam masala, turmeric, cumin, paprika, cinnamon, and other delightful spices used to add depth and complexity to the flavor of the dish.
The meat is simmered in the curry, infusing plenty of flavors into the meat and at the same time, making it extremely tender.
With such rich and bold flavors on display in this dish, it's definitely one of our favorite chuck steak recipes as well!
Level up your cooking skills with this exceptional stew that's sure to be a hit with the crowd with its outstanding flavors!
Seasoned with a blend of smoked paprika, garlic powder, onion powder, sugar, and salt, the meat is seared and then simmered in beef stock along with carrots, garlic, onion, and tomato paste.
Paired with a homemade scone to mop up all that wonderful sauce, this is a dish that has the perfect combination of flavors and textures to satisfy any appetite.
You'll love how incredibly delicious this beef stew is!
If you love beef and pies, you'll need to check out this terrific Pepper Steak Pie that's absolutely mouthwatering and super tasty!
Pan-fried chuck steak, onion, and garlic are cooked in a mixture of beef stock, Worcestershire sauce, tomato purée, and mixed herbs before being used to fill puff pastries and baked until the pies come out with a beautiful golden brown color.
These pies make for an amazing snack or light meal but you'll probably be gobbling a few of these down because they are incredibly delicious.
Serve with tomato sauce and enjoy these delectable pastries!
Grace your taste buds with this impressive Beef Chili that's superbly tasty and so incredibly comforting!
Cooked low and slow in a slow cooker or crockpot with amazing ingredients that include chipotles, beef broth, aromatics, tomatoes, cacao powder, and other spices, the meat is extremely tender, flavorful, and tastes out of this world.
Chocolate is added to give additional depth and richness to the flavor, and this is a dish that you just can't sleep on.
This is one of those beef chuck steak recipes that you just need to try because of how palatable it is!
Spice up your next meal with this stunning Beef Rendang that's a Southeast Asian delicacy and is sure to excite your palate!
The beef is cooked in a mixture of coconut milk, spice paste, lemongrass, tamarind water, and other lovely ingredients until it becomes extremely tender and flavorful, and is served with white rice to make it a sumptuous meal.
With a blend of spices that includes galangal, bird's eye chili, cumin, turmeric, and shallots, this is a dish that will stimulate your taste buds to the fullest.
If you love bold and rich flavors, this Beef Rendang is the perfect dish for you!
Get ready for Taco Tuesdays with these chuck steak tacos that are super tasty and incredibly satisfying!
Marinated until tenderized and flavorful, the beef is then grilled until perfectly charred and cooked before being used to top toasted corn tortillas along with other classic ingredients such as cilantro, cheese, and onion.
These tacos make for a delightful meal that the whole family will definitely enjoy with their fantastic flavors!
You can also use the grilled steak in a taco salad to shake things up a little!
Sign us up for this fantastic steak that's amazingly delicious with a rich and tasty sauce!
Seasoned simply with garlic, salt, and pepper, the steak is nicely browned before being simmered and roasted in a mixture of beef broth, onion, and bell peppers.
It tastes so good that you won't believe it's just that easy to make!
Everything comes together really quickly and you'll be enjoying a scrumptious meal in no time at all!
Fill your house with an amazing aroma by making this terrific Southwestern Pot Roast that's crazy delectable!
You'll enjoy extremely flavorsome beef that's seasoned with a blend of tantalizing spices that include cumin, paprika, oregano, chili powder, garlic powder, and onion powder, and simmered in a pot of beef broth along with tomatoes, green chilies, cilantro, and other lovely ingredients.
The meat is loaded with tons of great flavors and you'll undoubtedly love this incredible dish!
Reward yourself with an Old Fashioned Beef Stew that tastes absolutely delightful and it's one of the easiest chuck steak recipes that you can try!
It's a delectable combination of beef, carrot, aromatics, and a variety of spices that include cinnamon, paprika, and nutmeg, making it a flavorsome mouthwatering delight.
This beef stew is not only easy to make but also really hearty and comforting.
Serve with mashed potatoes to make it a sumptuous meal that you won't forget!
Ramp up your next meal with this incredible Beef and Butternut Chili that's super delicious and is sure to captivate your taste buds!
Perfectly browned and boneless beef chuck steaks are simmered in a mixture of red wine, tomato paste, kidney beans, bell peppers, and many other delightful ingredients to create this culinary masterpiece that you'll want to add to your meal rotation.
It's superbly tasty and will definitely bring in all the compliments with its exceptional flavors.
This is a satisfying meal that will definitely fill your belly with great-tasting food!
At Glorious Recipes, we have our favorite Easy Grilled Chuck Steak that we absolutely adore and it tastes heavenly! Check out the recipe below!
Yield: 4
Easy Grilled Chuck Steak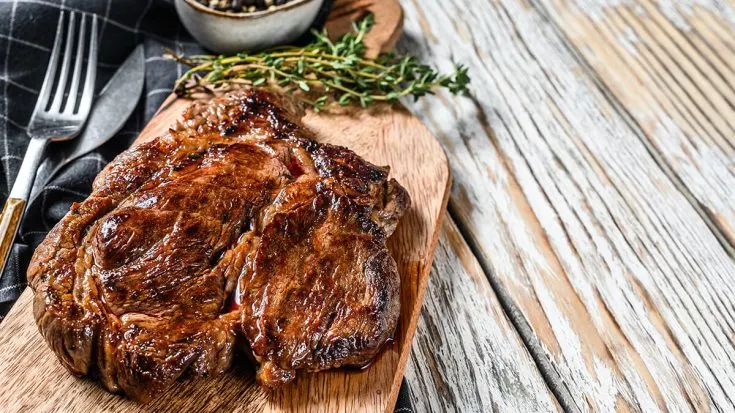 Feast on juicy and tender grilled chuck steaks for an awesome meal any day of the week!
Ingredients
3 lb chuck steaks
4 tsp salt
3 tsp garlic powder
2 tsp black pepper
1 tsp ground cumin
Instructions
Preheat grill to medium-high heat.
Combine salt, pepper, garlic powder, and cumin in a bowl and mix well. Season steaks with the mixed spices on both sides.
Place steaks on the grill for around 10-15 minutes, flipping 2-3 times. Remove when the internal temperature of the thickest part of the meat is at 130°F (55°C). Let the meat rest for around 5 minutes before cutting.
Serve with your favorite sides and dipping sauce. Enjoy!
Nutrition Information:
Yield:
6
Serving Size:
1
Amount Per Serving:
Calories:

632
Total Fat:

41g
Saturated Fat:

16g
Trans Fat:

2g
Unsaturated Fat:

22g
Cholesterol:

218mg
Sodium:

1699mg
Carbohydrates:

2g
Fiber:

0g
Sugar:

0g
Protein:

64g
Nutrition information is only an estimate and can vary depending on ingredients used.
Which of the chuck steak recipes have you tried so far?
Let us know in the comments below!
For more awesome beef recipes that you might like, check out the following:
Steak Tips
Veal Chop
Sirloin Tip Roast
Beef Cube
Bottom Round Steak
Beef Cheek
Steak and Rice
Recipes with Beef Broth
Canned Beef
Shaved Steak
Share on your favorite social media platform and tag us @GloriousRecipes – we can't wait to see what you have made!