Veal chops are perfect when you want delicious, juicy, and tender meat for an amazing meal any day of the week!
They have a milder and more delicate flavor as compared to beef, which makes them an easy crowd-pleaser when cooked right.
It's a whole new level of gourmet delight with succulent veal chops that take on a wide variety of cooking methods and sauces really well.
Whether you prefer them braised, roasted, or pan-seared, we've got you covered with some of the best veal chop recipes that you can easily try at home!
Enjoy a fantastic meal with this pan-seared veal chop recipe that makes a superbly tasty dish and it's sure to whet your appetite!
With a sauce made by combining demi-glace, shallots, garlic, and white wine, you know you're guaranteed incredibly delicious and extremely flavorsome chops.
This dish is completed with a topping of herbed butter that has been mixed with lemon zest and juice, and it fully complements the mouthwatering meat.
You'll love how easy it is to make something this delectable!
Treat yourself to these terrific pan-fried veal chops that taste amazingly delicious and they are so easy to whip up!
Marinated with a mixture of garlic paste, olive oil, thyme, rosemary, and salt, the chops are then perfectly seared in a pan until they are fully cooked.
They are paired with a white wine sauce that combines chicken stock, white wine, butter, and lemon juice to create an absolutely exceptional dish!
With how quick and easy it is to prepare, this dish is perfect for a sumptuous weeknight dinner!
In what is one of our favorite veal chop recipes, tender chops are prepared in classic Milanese style to create something truly special yet simple!
It's ridiculously easy to make for something that tastes this good and it involves dredging the chops in beaten eggs and a mixture of sage and breadcrumbs before being pan-fried until beautifully golden and crisp.
This breaded veal chop Milanese has impeccable flavor and texture, and every bite is super satisfying, thanks to the delightful crunch.
Serve with lemon wedges and enjoy an easy but tasty meal!
Fire up your grill and try making these outstanding veal chops that you definitely don't want to miss out on!
Featuring perfectly grilled chops topped with a wonderful balsamic reduction and a flavorful gremolata that's made by combining parsley, sun-dried tomatoes, garlic, and lemon zest, this dish is just irresistible!
Everything comes together really well to make these chops super yummy and you'll be devouring everything before you even know it.
A little salad on the side is an easy way to enjoy a delicious and wholesome meal!
Jazz up your veal chops with this excellent recipe that brings together some of our favorite ingredients in one dish!
The cooking starts in the pan for the chops to develop a lovely sear and they are finished in the oven, along with grapes mixed with sherry vinegar, butter, sugar, salt, and pepper, to create a sweet and savory delight.
It's incredibly straightforward to make and even beginner home cooks should have no trouble preparing this awesome dish!
Give it a try and you'll be pleasantly surprised by how good these chops taste!
This exceptional grilled veal chop recipe is a must-try in our books because it makes such delicious meat that everyone is sure to love!
The highlight of this dish is the fantastic piccata sauce, which is made with white wine, capers, chicken stock, grilled lemon juice, garlic, shallots, and other lovely ingredients.
It's extremely flavorful and goes really well with the chops that have been grilled to perfection with a super satisfying crust.
Cooking veal chops can be this easy so make sure to give this recipe a try for your next grilling session!
For an impressive dish that's easy to whip up, you've got to check out these superb pan-seared veal chops!
Seared till a beautiful crust is formed, these veal chops are then roasted in the oven until they are cooked to just the right internal temperature.
They are served with excellent truffle butter, which is made simply by combining butter, truffle, and salt.
It's unbelievably simple to prepare and it's the ultimate indulgence for a fancy meal to celebrate any special occasion!
Red wine pairs amazingly with any veal dish and what better way to elevate the meal than using it to create a flavorsome sauce?
In this simple dish, the meat is first marinated in a mixture of olive oil, garlic, and thyme before being cooked to ensure the infusion of plenty of great flavors.
Drizzled with a sauce that's made from a delectable combination of Cabernet Sauvignon, shallots, butter, beef stock, and flour, these chops are just absolutely irresistible!
It's no wonder why this made it to our list of favorite veal chop recipes!
Expand your cooking repertoire with these awesome Roasted Veal Chops and Fennel in Marsala that tastes absolutely incredible!
Roasted meat is paired with a flavorsome sauce that makes use of the cooking juices and combines them with Marsala wine, veal stock, and butter to create a truly exceptional dish.
Fennel is used to impart depth to the flavor and helps to make these chops thoroughly enjoyable.
All the ingredients play their part to create a well-balanced dish that you're bound to fall in love with!
Some people swear by cooking meat along with their bones and if you're one of them, you'll want to check out this amazing recipe!
These succulent bone-in veal chops are first grilled until they become nicely cooked and juicy, then coated with a mix of olive oil, garlic, sage, and rosemary to create an absolutely mouthwatering delight.
The tender meat is incredibly delicious and the herbs impart a complexity that makes this dish really stand out.
Requiring only 6 main ingredients, this is a hassle-free and effortless dish that you simply need to try!
Spruce up your next meal with these Grilled Veal Chops with Pepper Sauce that are sure to delight your taste buds!
Made flavorful by rubbing rosemary, thyme, salt, and pepper before grilling them until they are cooked with beautiful grill marks, these chops have a flavor depth that will make you come back for more.
They are paired with an exceptional sauce that combines grilled peppers, garlic, shallots, balsamic vinegar, basil, cayenne, and oil, resulting in an incredibly scrumptious treat!
We have no doubts that this will quickly make its way to your list of favorite veal chop recipes!
Mushrooms and meat make for a popular combination that ensures you have a tasty meal and you just can't go wrong with it!
This dish features veal chops and portobello mushrooms simmered in a mixture of chicken broth and red wine, with thyme imparting its distinct fragrance to make this a heavenly delight.
It's simple to whip up and you'll be enjoying delicious meat with little effort!
There's no reason not to like this quick and easy recipe that's perfect for a splendid weeknight meal!
This is one of those veal chop recipes that you'll want to keep handy because it makes an impressive dish that tastes absolutely fantastic!
With a marinade made by combining olive oil, garlic, oregano, lavender rosemary salt, and lime juice, you don't have to worry about tasteless meat!
Once marinated, the chops are then grilled and paired with an amazing clementine, red onion, and radicchio salad, drizzled with a simple honey-mustard dressing.
With how delectable they are, these chops make for a great sumptuous feast!
If you have an immersion circulator or sous vide machine, you've got to check out this wonderful veal chop recipe!
These chops are cooked until perfectly medium-rare, seared to achieve a beautiful crust, and paired with a delightful mushroom sauce that adds tons of amazing flavors to the meat.
The sauce is a lovely marriage of chicken stock, mirin, mixed mushrooms, garlic, white miso paste, and heavy cream, and it's one that you'll want to lick every last drop of!
You'll love the divine combination of flavors and textures that make this a remarkable dish!
Savor delicious meat with this terrific recipe that you'll definitely want to add to your meal rotation!
It's a lovely medley of broiled veal chops, caramelized onions, black trumpet mushrooms, and artichokes, with each component playing its part to create a savory sensation.
Heavy cream and white wine are added to create a flavorsome sauce that coats every part of this dish and it's superbly tasty!
This is a great way to experience the delightful flavor of tasty veal chops!
Sign us up for this marvelous dish that's supremely delicious and exceptionally easy to prepare!
Seasoned with a basic combination of salt and pepper, the chops are then seared and simmered in a mixture of white wine, lemon juice, sour cream, and oregano until cooked.
That's all it takes to make this appetizing dish and the chops are extremely flavorful with a tangy cream sauce smothered over them!
It's so good that you just have to try it yourself!
Enjoy a superb meal with this amazing dish that's astonishingly tasty and it's sure to satisfy any appetite!
In this wonderful dish, breaded veal chops are smothered in a flavorsome paprika cream sauce that consists of demi-glace, paprika, thyme, marjoram, flour, and butter.
The paprika sauce helps to bring the chops to life by adding loads of delightful flavors that make the meat extra delicious.
Serve them with your favorite carbs and veggies to turn them into a hearty and wholesome meal!
Reward yourself with this excellent dish that's utterly delicious and incredibly wholesome!
It's a delectable assortment of roasted chops, fried chanterelles, kohlrabi, carrots, mesclun salad, eggs, and other lovely ingredients, marinated and drizzled with a delightful homemade vinaigrette.
Every bite is so satisfying and transports you to culinary heaven in an instant!
It's one of our favorite veal chop recipes and we love how this dish is fancy enough to impress yet casual enough to make!
Indulge in juicy and tender meat that tastes out of this world with this simple grilled veal chop recipe!
Marinated with garlic, shallots, balsamic vinegar, and rosemary, these chops are then seasoned and grilled until those gorgeous grill marks appear.
The marinade for the veal chops is not wasted and is reduced into a flavorsome sauce that's drizzled over the meat to complete this wonderful dish.
It's an irresistible delight that you definitely need to try!
Get ready to be enthralled by this exceptional dish that promises to captivate your palate with its delightful and exquisite blend of ingredients!
There's no lack of amazing flavors with maple syrup, cider vinegar, mustard, salt, and pepper used to marinate the chops until they become extremely flavorful.
Served with a savory fruit relish that's made with mixed berries, rhubarb, garlic, onion, basil, and maple syrup, this is a pairing that works to great effect!
It's a symphony of taste that you just can't get enough of!
At Glorious Recipes, we have our favorite Pan-Seared Veal Chops with Asparagus that we find to be absolutely delicious and taste spectacular! Check out the recipe below!
Yield: 2
Pan-Seared Veal Chops with Asparagus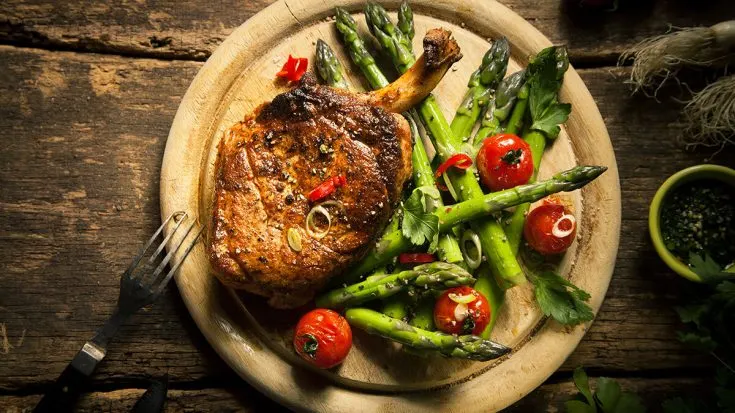 Juicy and tender veal chops are paired with asparagus and cherry tomatoes to create a mouthwatering dish!
Ingredients
2 veal chops, 1½-inch thick, at room temperature
1 tbsp rosemary
1 tbsp salt
¼ cup white wine
2 tsp pepper
2 tbsp butter, unsalted
¼ cup white wine
1 tbsp olive oil
2 cups asparagus, woody ends removed
10 cherry tomatoes
Instructions
Season chops with rosemary, salt, and pepper. Make sure that they have been rested at room temperature for at least 30 minutes to ensure even cooking and searing.
Cook asparagus in salted boiling water for 4 minutes. Once done, rinse the asparagus with cold water and then set aside.
Preheat oven to 375°F (190°C).
Add butter to a skillet over medium-high heat. When it is hot enough, sear the chops for around 3 minutes on each side, flipping only once. Add white wine and place skillet into oven to roast for around 12 minutes or until the internal temperature of the chops reaches 145°F (62.8°C).
Add oil to a separate skillet over medium-high heat. Add asparagus and sauté
for a few minutes. Add cherry tomatoes towards the end to heat them through.
Serve chops with asparagus and tomatoes along with your favorite sauce. Enjoy!
Nutrition Information:
Yield:
2
Serving Size:
1
Amount Per Serving:
Calories:

473
Total Fat:

29g
Saturated Fat:

12g
Trans Fat:

0g
Unsaturated Fat:

14g
Cholesterol:

127mg
Sodium:

3598mg
Carbohydrates:

15g
Fiber:

6g
Sugar:

5g
Protein:

31g
Nutrition information is only an estimate and can vary depending on ingredients used.
Which of the veal chop recipes have you tried so far?
Let us know in the comments below!
For more awesome recipes that you might like, check out the following:
Steak Tips
Ground Veal
Sirloin Tip Roast
Chuck Steak
Beef Cube
Bottom Round Steak
Beef Cheek
Steak and Rice
Recipes with Beef Broth
Canned Beef
Share on your favorite social media platform and tag us @GloriousRecipes – we can't wait to see what you have made!