Sirloin tip roast is a lean and inexpensive cut of beef that can be incredibly tender and delicious when cooked right!
It goes by a few names and you might know it as round tip roast or knuckle roast.
Situated near the hind legs where the muscles are used for movement, it tends to be an overlooked cut of meat that you can make use of to whip up tasty dishes on a budget.
It has a nice beefy flavor and can pair exceptionally well with any of your favorite sides such as potatoes, salads, and noodles.
Whether you like it smoked or slow-cooked, we've got you covered with some of the best sirloin tip roast recipes that you can easily try at home!
Savor an amazing meal with this exceptional sirloin tip roast that's superbly tasty and incredibly easy to make with a crockpot or slow cooker!
It's a delectable mix of baby carrots, baby potatoes, onion, and sirloin tip roast, all cooked in a flavorful sauce that's made with beef stock, Worcestershire sauce, apple cider vinegar, and other spices.
This set-and-forget recipe allows you to go about your daily routine and come back to meltingly tender beef and vegetables that are unbelievably delicious.
You'll love how convenient it is to whip up this hearty dish!
Make your next meal a little special with this fantastic Roast Sirloin Tip and Warm Sherry Vinaigrette that's sure to whet your appetite!
The highlight of this dish is the vinaigrette that's made with a blend of shallots, sherry vinegar, Dijon mustard, lemon juice, oil, salt, and pepper, and it tastes out of this world!
Paired with a juicy and tender roast, this is an excellent dish that you just can't get enough of!
It's an easy way to make your meals sumptuous and definitely one of our favorite sirloin tip roast recipes!
Everyone loves a good one-pan recipe because it's so handy and easy, and that's exactly what this beef sirloin tip recipe is all about!
It's ridiculously simple to whip up and all you need to do is add potatoes, onions, and sirloin tip roast to a skillet, with everything coated in a mixture of olive oil, rosemary, garlic, salt, and pepper.
Place the skillet in the oven and let it do all the cooking for you, and you'll be enjoying a comforting meal in no time at all!
It's a fool-proof recipe that even beginner home cooks will have no trouble with!
If you have a smoker like a Traeger or Pit Boss Smoker, you've got to check out this splendid Smoked Sirloin Tip Roast!
Coated in Worcestershire sauce and rubbed with a wonderful mix of ground coffee, brown sugar, cocoa powder, smoked paprika, oregano, and salt, the roast is then smoked to perfection until extremely tasty.
The meat is juicy, tender, and filled with tons of smokey, bold, and rich flavors that you're sure to fall in love with.
Don't miss out on this easy recipe the next time you fire up your smoker!
Cooking sirloin tip roast is not difficult at all and using an air fryer makes it a breeze to whip up an awesome meal!
It's straightforward and hassle-free to make, and all it takes is a simple coating of olive oil and steak seasoning before popping the roast into the air fryer.
The meat comes out really delicious and you can serve it with your favorite sides to turn it into a wholesome meal.
With only 3 main ingredients required to make this fantastic dish, this is one of the easiest sirloin tip roast recipes that you can try!
This Loin Tip Roast with Brown Gravy is exceptionally delectable and is sure to satisfy your meat cravings any day of the week!
Rubbed with a mix of oregano, basil, parsley, onion powder, and garlic powder, then cooked in the oven until tender, the roast is extremely flavorsome and delightful.
It's topped with a simple brown gravy that's made by combining beef broth, Worcestershire sauce, garlic powder, cornstarch, and other lovely ingredients together.
Everything comes together really well and it makes for a cozy weeknight dinner!
For a simple way to serve an awesome meal for dinner, you definitely don't want to miss out on this easy sirloin tip roast recipe!
It requires only 3 ingredients and involves stuffing garlic cloves into slits made on the roast and then seasoning the meat with black pepper before cooking it in the oven.
The pan drippings make for an easy sauce for the meat or you can serve it with mustard to add a little kick with every bite!
Simple and delicious, just how we like our recipes to be!
Enjoy juicy, tender, and delicious beef with this excellent Red Wine Rosemary Garlic Marinated Sirloin Tip Roast!
With a marinade that consists of red wine, balsamic vinegar, Worcestershire sauce, butter, herbs, and spices, you know you are guaranteed extremely flavorsome meat when it's fully cooked.
It's an absolutely mouthwatering delight and the fragrance will make you salivate once it comes out from the oven.
It makes for an amazing holiday meal but with how tasty it is, you'll be making it a lot more throughout the year!
In what is one of our favorite sirloin tip roast recipes, you get to feast on absolutely delicious beef that's super easy to whip up!
Marinated in a mix of soy sauce, lemon juice, Worcestershire sauce, mustard, garlic, oil, and pepper, the roast is incredibly flavorsome and tasty.
Serve it with any of your favorite carbs and veggies to turn it into a complete meal that will surely bring a smile to your face.
You'll definitely want to keep this recipe handy with how easy it is to make a succulent roast!
Fire up your grill and try making this outstanding Balsamic Sirloin Tip Roast that's sure to captivate your taste buds with its exceptional taste!
The meat is first brushed with a combination of balsamic vinegar, oil, garlic powder, oregano, rosemary, thyme, salt, and pepper before being placed on the grill to cook until done.
It's moist, tender, and extremely flavorful, and it's sure to be a crowd-pleaser with how delicious it is!
Give it a try and you'll not be disappointed by its incredible flavor!
Sign us up for this quick and easy recipe that uses the Instant Pot to create a hearty and delicious meal with little effort!
This dish features a combination of juicy beef, potatoes, and carrots, all covered with an exceptional mushroom gravy that works extremely well to enhance the flavor of everything it touches.
It's a fuss-free one-pot recipe that's super handy for those busy days, making it perfect for an awesome weeknight dinner.
There's nothing not to like about this simple but tasty dish!
Grace your taste buds with this Herb Rubbed Sirloin Tip Roast that's superbly delectable and it's so easy to make!
Rubbed with a blend of oil, thyme, paprika, cayenne pepper, garlic powder, and other lovely spices, the meat is roasted in the oven until cooked.
It's an absolute treat with how delicious it is and it'll likely be your go-to recipe for roasting all kinds of meat!
Serve with a side of your favorite carbs and veggies for a sumptuous meal any day of the week!
For consistently tender meat every time, you just can't beat cooking using the sous vide method!
Seasoned with a blend of herbs and cooked in the immersion circulator for 6 hours, the sirloin tip roast is delightfully juicy and delicious.
The meat is given a nice sear before serving to enhance the flavor and texture, making it absolutely irresistible.
With a tasty herb crust and moist interior, we have no doubts that this will quickly become one of your favorite sirloin tip roast recipes!
Expand your cooking repertoire with this fantastic dish that's amazingly delicious and is sure to satisfy any appetite!
This dish is a lovely medley of Dijon-glazed beef, tender potatoes, carrots, and extremely flavorsome mushrooms sautéed in brown butter.
Everything combines really well together and you end up with a terrific dish that's sure to be a hit with the crowd!
This roast is an absolutely mouthwatering treat that you need to try soon!
Discover an exceptional dish with this simple recipe that you definitely don't want to miss out on!
Marinated in a mix of red wine, Worcestershire sauce, red wine vinegar, soy sauce, garlic, salt, and pepper, the roast is loaded with tons of incredible flavors when grilled.
It's paired with roasted vegetables that are topped with grated cheese and it's remarkably scrumptious for how easy it is to make.
You'll be devouring everything before you even know it because it's just that delicious!
At Glorious Recipes, we have our favorite Teriyaki Grilled Sirloin Tip Roast that we absolutely adore and it tastes heavenly! Check out the recipe below!
Yield: 1
Teriyaki Grilled Sirloin Tip Roast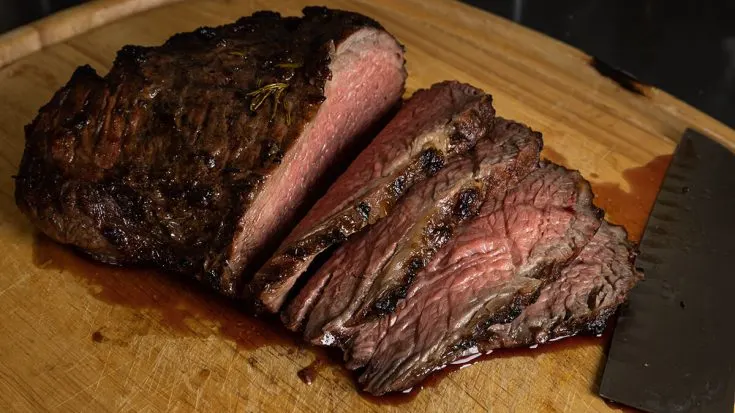 Feast on this delicious Teriyaki Grilled Sirloin Tip Roast that's juicy, tender, and just irresistible!
Cook Time
1 hour
15 minutes
Total Time
9 hours
20 minutes
Ingredients
1⁄2 cup teriyaki marinade
1⁄2 cup olive oil
2 tbsp liquid smoke
6 cloves garlic, crushed
4 lb sirloin tip roast, fat trimmed
Instructions
Add teriyaki marinade, oil, liquid smoke, and crushed garlic into a sealable bag. Shake to combine them well. Add sirloin tip roast into the bag and make sure to coat it fully. Seal and marinate in the refrigerator for around 8 hours, flipping occasionally.
1 hour before grilling, take the beef out of the refrigerator and drain the marinade. Let the meat come up to room temperature so that it will cook evenly.
Preheat the grill in the meantime. Add the meat to the grill rack over medium heat or around 350°F (175°C). Grill for about 45 minutes with the lid down. Flip and grill for another 30 minutes.
Remove from grill and wait for 10 minutes before slicing to let the juices redistribute. Serve and enjoy!
Nutrition Information:
Yield:
10
Serving Size:
1
Amount Per Serving:
Calories:

552
Total Fat:

37g
Saturated Fat:

12g
Trans Fat:

0g
Unsaturated Fat:

21g
Cholesterol:

167mg
Sodium:

659mg
Carbohydrates:

3g
Fiber:

0g
Sugar:

2g
Protein:

50g
Nutrition information is only an estimate and can vary depending on ingredients used.
Which of the sirloin tip roast recipes have you tried so far?
Let us know in the comments below!
For more awesome beef recipes that you might like, check out the following:
Steak Tips
Veal Chop
Chuck Steak
Beef Cube
Bottom Round Steak
Beef Cheek
Steak and Rice
Recipes with Beef Broth
Canned Beef
Shaved Steak
Share on your favorite social media platform and tag us @GloriousRecipes – we can't wait to see what you have made!