Steak tips often come from sirloin, tenderloin, or other cuts of beef and they can be an absolutely valuable ingredient for whipping up a variety of tasty dishes!
They can be prepared in many different ways and take up sauces really well to create juicy and tender meat that everyone can enjoy.
Whether you prefer them grilled or sautéed, you're sure to love the delightful flavor and texture of the amazing steak tips!
From teriyaki to honey bourbon dishes, we've got you covered with some of the best steak tip recipes that you can easily try at home!
Enjoy tender and extremely flavorful steak tips with this fantastic recipe that you definitely don't want to miss out on!
With a marinade that consists of beer, Worcestershire sauce, soy sauce, brown sugar, garlic powder, paprika, and other lovely ingredients, you're guaranteed tons of incredible flavors that you're sure to love.
Grilling the steak tips until nicely charred creates a mouthwatering dish that's superbly tasty and extremely flavorsome!
Serve these beer teriyaki steak tips with your favorite carbs and veggies to turn them into a complete meal!
Savor delicious meat with this easy steak tip recipe that brings together beef and mushrooms in a single dish!
The steak tips are marinated in a mixture of balsamic vinegar, soy sauce, Dijon mustard, sugar, and other ingredients, ensuring plenty of flavor once they are fully cooked.
Pan-seared to perfection and paired with sautéed cremini mushrooms, this is a simple dish that takes minimal effort to whip up but comes with maximum flavor!
It's amazing how something so delectable can be so easy to prepare!
This is one of those steak tip recipes you'll want to keep handy because it makes such delicious and flavorful meat!
Honey, bourbon, Worcestershire sauce, soy sauce, and garlic make up the awesome marinade for the steak tips and they add plenty of complexity to the flavor of the dish.
They are then pan-seared in olive oil and butter, adding even more wonderful texture and flavor to make the steak tips extra tasty!
It's a terrific dish with a symphony of flavors that you're sure to love!
Discover an exceptional dish with these Steak Tips with Caramelized Onions that you definitely want to add to your meal rotation!
To make the sirloin steak tips tasty, they are placed in a marinade of ketchup, Worcestershire sauce, red wine vinegar, A1 sauce, olive oil, and sugar to let all the wonderful flavors infuse into the meat.
They are then grilled and served with caramelized onions that have been cooked low and slow to bring out all that natural sweetness and add depth to the dish!
You'll love this delightful combination and it's perfect for a sumptuous treat!
Cooking steak tips is a breeze when you use an air fryer and let the appliance do all the heavy lifting for you!
Coated with a mix of onion powder, garlic powder, Montreal seasoning, cayenne pepper, and olive oil, the steak tips are then air-fried along with asparagus to create a palatable dish that can be made in under 15 minutes from start to end!
It's great for those busy weeknights when you're pinched for time and still want to put quality food on the table.
This might just become your go-to dish with how quick and easy it is to prepare!
Dig into this splendid dish that's amazingly delectable and it's such a simple recipe complete with a flavorsome steak tip marinade you need to try!
The marinade consists of red wine vinegar, Dijon mustard, garlic, honey, Italian seasoning, olive oil, salt, and pepper, and it makes the meat extremely tender and flavorful.
Once grilled to the desired doneness, the beef steak tips can be paired with rice or mashed potatoes for an easy but tasty meal!
Give this recipe a try and you'll definitely not be disappointed with the incredible taste!
Try your hands at making these excellent Miso Marinated Steak Tips that are sure to captivate your taste buds!
This dish features a steak tip marinade consisting of white miso paste, garlic, mirin, ginger paste, soy sauce, sugar, and sesame oil, ensuring plenty of umami flavor with every bite.
It's perfect for a heavenly meal and you'll easily develop a craving for the remarkable taste of these steak tips!
With how delectable this dish is, we've no doubts that this will quickly become one of your favorite steak tip recipes!
Amplify your next meal with these Pineapple Teriyaki Steak Tips that are crazy delicious and super easy to whip up!
The highlight of the dish is the pineapple teriyaki sauce that's loaded with amazing flavors and it adds so much depth and complexity to the meat.
Made with grated ginger, garlic paste, crushed pineapples, honey, and many other lovely ingredients, this sauce is one that you definitely need to try!
Everyone will be fighting for seconds with how tasty the meat is!
Treat yourself to an extraordinary meal with this brilliant dish that's loaded with incredible flavors and you're sure to love it!
Steak tips marinated in a delectable mixture of Montreal steak seasoning, soy sauce, garlic, brown sugar, and green onions are given a sauté and combined with cremini mushrooms and onions, with heavy cream added to create a simple sauce that ties everything together.
This dish is extremely tasty and goes really well with rice or mashed potatoes for a satisfying meal that's perfect any day of the week!
You'll be enjoying restaurant-quality food right in the comfort of your home!
Cooking steak tips in a crockpot or slow cooker provides you with extremely tender, juicy, and flavorful meat, and it's so easy with this simple recipe!
All you need to do is add pan-seared steak tips into a slow cooker along with onions, garlic, beef stock, butter, and au just gravy, then it's just a matter of letting the appliance do all the cooking for you.
You can go about your daily routine and come back to a pot of aromatic steak tips and gravy waiting for you!
It's that easy to whip up this tasty dish for a fantastic meal!
In what is one of the easiest steak tip recipes, you get to enjoy tender and delicious meat with just 4 main ingredients!
Pan-seared until nicely browned, the steak bites are then combined with garlic and butter to add tons of incredible flavors to the meat.
Taking only 10 minutes to whip up, this is a quick and easy dish that even beginner home cooks should have no trouble with!
It's a no-brainer to add to your cooking repertoire so make sure to give this a try!
If you feel like cooking up a treat, then you've got to check out this amazing dish that's superbly tasty and sure to whet your appetite!
Featuring a marinade made with bourbon, hot sauce, soy sauce, brown sugar, red wine vinegar, Dijon mustard, and other lovely ingredients, this is a dish that has extremely flavorsome meat!
The marinated sirloin steak tips are given a nice sear on the skillet and it's an absolutely scrumptious treat filled with delightful flavors.
It's unbelievable how easy it is to whip up this excellent dish!
Satisfy your meat cravings with this splendid steak tip recipe that makes an incredible dish you absolutely need to try!
This dish features a delectable assortment of sautéed bell peppers, onions, and steak marinated in a mixture of teriyaki sauce, olive oil, brown sugar, garlic, parsley, and red pepper flakes.
It's a divine combination of textures and flavors that work really well to create a mouthwatering dish that's just irresistible!
It doesn't take long to cook and is perfect for a sumptuous weeknight meal!
Sign us up for these terrific sirloin steak tips that taste exceptional with a simple gravy that elevates the entire dish to another level!
Seasoned only with salt and pepper, the beef tips are nicely browned before combining with cremini mushrooms, onions, beef broth, Worcestershire sauce, soy sauce, and flour to create a palatable delight!
The mushroom sauce adds so much wonderful flavors to the meat and you get to enjoy a wholesome meal when you pair this dish with mashed potatoes.
If you're looking for delicious comfort food, this is definitely a top contender in our books!
Get ready to be amazed by this hearty dish that's gloriously tasty and you'll be surprised by how easy it is to make!
Marinated in a mixture of balsamic vinegar, soy sauce, rosemary, sugar, garlic, olive oil, and red pepper, the meat is then pan-seared to perfection with all the wonderful flavors locked in.
Add sautéed honeynut squash and Brussels sprouts into the mix, and you'll have a phenomenal dish to enjoy!
It's no wonder why this is one of our favorite steak tip recipes!
Garlic and butter make for an awesome combo and it's made better with the addition of Italian seasoning in this outstanding steak tip recipe!
This dish is ridiculously easy to prepare and all you need to do is pan-sear the steak until nicely browned before adding butter, garlic, and Italian seasoning at the end to coat the meat and impart all that delightful flavor.
It's a 10-minute recipe that's straightforward to make, perfect for a quick and fuss-free weeknight dinner that tastes exceptional!
You're sure to enjoy the rich flavor of these Garlic Butter & Herb Sirloin Tips!
Grab your bottle of cola and try making these marvelous steak tips that require only 5 ingredients and taste out of this world!
The meat is marinated in a surprising combination of cola, cranberry juice cocktail, chili sauce, and Italian dressing but it works to great effect!
All the ingredients play their part to infuse the meat with tons of amazing flavors and the steak tips taste great whether grilled or sautéed.
If you want a fun and creative option, make sure to give this recipe a try!
Grace your taste buds with these superb braised steak tips that are amazingly delicious and extremely flavorful!
This dish involves a lovely combination of tenderloin tips, Worcestershire sauce, onions, tomato paste, beef broth, and onion soup mix, all simmered together until the flavors meld.
What you end up with is tender meat smothered in a tasty braising sauce that's just irresistible and a joy to eat!
This is an easy crowd-pleaser that hits all the right spots for a wonderful meal!
This is one of our favorite roasted steak tip recipes because it's so effortless to make and the beef tastes absolutely divine!
The star of this dish is the marinade that consists of olive oil, garlic, onion powder, red chili flakes, dried herbs, and other spices as all the ingredients add so much incredible flavors to the meat.
Cooking the steak tips in the oven makes it a breeze to prepare and all you need is a little patience to enjoy tender and flavorsome beef!
This dish is sure to satisfy any appetite with how delicious it is!
Fire up your grill and try making these impressive Spicy Honey Bourbon Steak Tips that are astonishingly tasty!
There is no lack of flavor as the meat is marinated in a mixture of sriracha sauce, soy sauce, Worcestershire sauce, honey, bourbon, marjoram, and garlic, guaranteeing a scrumptious treat.
Grilled until cooked and delicious, this is an outstanding dish that's a definite show-stopper with all those superb flavors!
There is an addictive kick with every bite and you'll find it hard to limit yourself to just one serving!
At Glorious Recipes, we have our favorite Honey Bourbon Steak Tips With Mushrooms that we absolutely adore and they taste heavenly! Check out the recipe below!
Yield: 4
Honey Bourbon Steak Tips With Mushrooms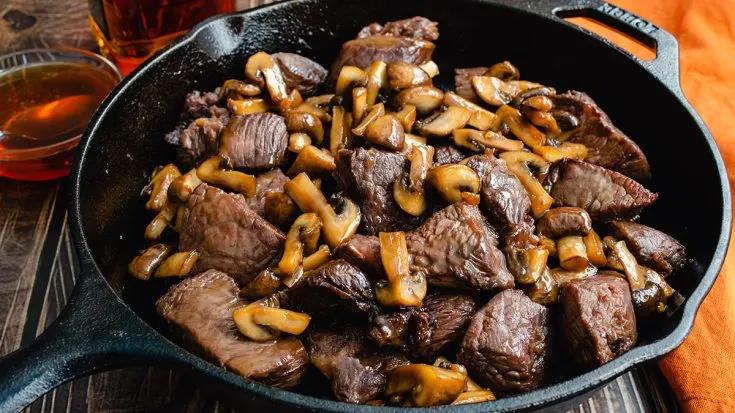 Enjoy a sumptuous feast with these Honey Bourbon Steak Tips with Mushrooms that are exceptionally delicious and full of wonderful flavors!
Total Time
2 hours
25 minutes
Ingredients
2 lbs sirloin steak, chopped into 1-inch pieces
2 tbsp vegetable oil
3 tbsp butter, divided
6 oz mushrooms, quartered (cremini, shiitake, or any of your favorites)
salt and pepper, to taste
Marinade
⅓ cup honey
⅓ cup bourbon
¼ cup Worcestershire sauce
¼ cup light brown sugar
¼ cup soy sauce
2 cloves garlic, minced
½ tsp red pepper flakes
Instructions
Add marinade ingredients (honey, bourbon, Worcestershire sauce, sugar, soy sauce, garlic, red pepper flakes) to a mixing bowl and combine well until all the sugar has dissolved. Pour marinade into a ziplock bag, then add the steak tips. Make sure the meat is well-coated with the marinade. Leave the ziplock bag in the refrigerator for at least 2 hours.
Add 2 tbsp of butter and vegetable oil to a skillet over medium-high heat. Add the steak tips to the skillet and sear each side for a few minutes until nicely browned on all sides. Cook to desired doneness, then transfer to a plate. Don't crowd the skillet so that you can get a nice sear. Cook in batches if required.
Add the remaining 1 tbsp of butter to the skillet, then add the mushrooms once the butter has melted. Cook until the mushrooms are tender and have released their liquids. Season with salt and pepper to taste. Add the steak tips back to the skillet to heat them through and toss with mushrooms. Serve and enjoy!
Nutrition Information:
Yield:
4
Serving Size:
1
Amount Per Serving:
Calories:

853
Total Fat:

48g
Saturated Fat:

19g
Trans Fat:

1g
Unsaturated Fat:

23g
Cholesterol:

232mg
Sodium:

1319mg
Carbohydrates:

41g
Fiber:

1g
Sugar:

37g
Protein:

64g
Nutrition information is only an estimate and can vary depending on ingredients used.
Which of the steak tip recipes have you tried so far?
Let us know in the comments below!
For more awesome beef recipes that you might like, check out the following:
Sirloin Tip Roast
Veal Chop
Chuck Steak
Beef Cube
Bottom Round Steak
Beef Cheek
Steak and Rice
Recipes with Beef Broth
Canned Beef
Shaved Steak
Share on your favorite social media platform and tag us @GloriousRecipes – we can't wait to see what you have made!