Smoked duck is a lovely addition to any meal with its tender meat and smoky flavor!
The duck's natural flavor is infused with an alluring smokiness that makes it irresistible when you combine crisp skin and juicy meat together.
Whether you serve it on its own or pair it with other ingredients, you're sure to enjoy the incredible depth that smoked duck brings.
From pasta to sandwiches, we've got you covered with some of the best smoked duck recipes that you can easily try at home!
Spice up your next meal with this fantastic Sichuan Tea-Smoked Duck that's amazingly delicious and tastes out of this world!
Marinated in a mixture of Shaoxing wine, Sichuan peppercorns, and black peppercorns, the duck breasts are then smoked with tea, rice, star anise, and brown sugar until cooked.
They are combined with sautéed mushrooms, bok choy, chilies, and a flavorsome sauce that helps to tie everything together.
It's a lovely dish that's superbly tasty and a must-try in our books!
Enjoy an outstanding dish with these duck breasts that taste absolutely divine and are sure to whet your appetite!
It's a delightful combination of smoked duck breasts, apples, and an excellent apple-brandy caramel that's drizzled over for a wonderful finish.
The sweetness of the sauce fully complements the smokiness of the meat, creating a mind-blowing dish that definitely has a place in any meal.
With how delicious it is, this is certainly one of our favorite smoked duck recipes!
If you don't have a smoker but would like to enjoy some tasty smoked duck, you've got to check out this simple recipe that uses a skillet instead!
Featuring duck breasts that have been marinated in a mixture of hoisin sauce, ground cinnamon, salt, and pepper, you are guaranteed tons of lovely flavors even before smoking the meat.
Rice, cloves, sugar, and black tea are used to smoke the duck breasts and they are paired with a green mango slaw that's super appetizing.
It's an easy smoked duck recipe that's especially handy if you don't have access to a smoker on hand!
East meets West in this terrific smoked duck dish that combines aspects of both culinary worlds to create something truly amazing!
Rubbed with a blend of spices that include five-spice powder, cinnamon, coriander, and sugar, the duck is then smoked with a mix of cherry wood smoking chips, rice, cinnamon sticks, star anises, black tea, and other lovely ingredients.
The smoked duck is tender, juicy, succulent, and incredibly flavorful, making it perfect for an awesome meal any day of the week.
Paired with a tasty hoisin barbecue sauce, this duck is extremely delicious and just irresistible!
Try your hands at making this gumbo that's exceptionally tasty and is sure to satisfy any appetite with its wonderful flavor!
It's a delectable mix of smoked duck and andouille sausage, simmered in an extremely flavorsome stew that's made tasty with aromatics such as paprika, onion, garlic, and bell pepper.
This gumbo is super easy to make and you get to enjoy a wholesome meal when you serve it with rice to get all the carbs and protein that you need.
Give it a try and you'll not be disappointed!
Smoked meat and sweet fruity flavors form an awesome combination and that's exactly what this fantastic recipe is all about!
The highlight of this dish is the cherry compote that's made with a combination of white wine, fresh cherries, sugar, thyme, red wine vinegar, and red currant jelly.
It adds tons of incredible flavors to the dish and goes extremely well with the applewood-smoked duck breasts.
Serve with a side of mashed potatoes or your favorite carbs for a simple but tasty meal!
Keep it simple with this easy smoked duck recipe that you definitely don't want to miss out on!
A spice blend made with garlic powder, cinnamon, clove, pepper, and star anise is used to rub a whole duck with onion and garlic placed inside the cavity.
The duck is then smoked and basted with a flavorsome orange-brandy glaze that gives it loads of incredible flavors that make it oh-so-yummy.
With how easy it is to whip up, this definitely makes it to our list of favorite smoked duck recipes as well!
This Tea-Smoked Duck is smoked in a wok and is perfect for those that don't own a smoker!
A mix of jasmine rice, jasmine tea leaves, and brown sugar is used to smoke the duck until a nice smoky flavor is infused into the meat, after which the duck is steamed until fully cooked.
It's then deep-fried until crispy and served with a delightful tamarind and plum sauce that elevates the duck to another level.
Served with a side of egg noodles, this is a tasty and sumptuous meal that you'll definitely keep coming back to!
Grace your taste buds with this marvelous dish that's superbly delectable and a great addition to your meal rotation!
There's no lack of flavor in the duck with a marinade that's made with a mix of fish sauce, soy sauce, sesame oil, and black pepper.
The duck is then smoked with green tea leaves, cassia bark, rice, and other ingredients to infuse tons of lovely flavors that you're bound to fall in love with.
Moist, juicy, and tender with a smoky finish, this is a duck that you just can't get enough of!
Fire up your smoker and try making these smoked duck breasts that are incredibly delicious and super easy to whip up!
Placed in a brine mixture of apple juice, balsamic vinegar, honey, and other delightful ingredients, the duck breasts are marinated to make them extra flavorful before smoking.
They are then smoked and cooked before being served with a maple bourbon glaze that's extremely tasty and helps to round off the dish.
Simple and delicious, just how we like our recipes to be!
Take smoked duck to new heights with this awesome recipe that makes an absolutely mouthwatering delight!
The duck is first rubbed with a simple mixture of cumin, cinnamon, salt, sugar, and pepper before being smoked with cherry wood until fully cooked.
It's then served with a chipotle-cherry barbecue sauce that tastes heavenly and makes for the perfect pairing with this cherry-smoked duck.
You'll love the incredible flavors from both the duck and the sauce!
If you're looking for a way to smoke duck using your grill, you've got to check out this wonderful recipe!
Apple, orange, orange juice, and rosemary are added to the grill along with seasoned duck breasts and everything is smoked until the flavors meld together.
The sweet and smoky flavors combine really well to create an outstanding dish that's sure to please with its amazing taste.
We have no doubts that this will quickly make its way to your list of favorite smoked duck recipes!
Level up your cooking skill with this brilliant dish that's amazingly delectable and tastes absolutely superb!
Smoked with hickory chips and then braised in duck stock with thyme to add depth to the flavor, this smoked duck is just irresistible.
Pearl onions, green garlic, and scallions are cooked in an orange-sorghum glaze and then added to the duck to complete this terrific dish.
It's incredibly hearty and delicious, and your taste buds will definitely thank you for it!
Inject a little Asian flair to your next meal with this fantastic duck that's easy to make and is sure to captivate your taste buds!
Smoked with a mix of star anise, cinnamon stick, clove, rice, tea leaves, and sugar, the duck is then paired with a salad that consists of cabbage, beans, chilies, carrot, apples, and other lovely ingredients with a simple sweet, savory, and tangy dressing.
It makes for an awesome meal and you can add your favorite carbs to turn it into a wholesome meal that has all the nutrients you need.
Give this a try and you'll be pleasantly surprised by how good it tastes!
In what is one of our favorite smoked duck recipes, a Chinese classic dish is given a simple twist and it's one that you'll definitely want to give a try!
Smoked duck breasts coated with five-spice powder and cooked in sesame oil are wrapped in thin pancakes along with spring onions, cucumber slices, and hoisin sauce to create an extremely tasty bite that you just can't get enough of.
Every bite is bursting with umami flavor and you'll find it difficult to stop yourself from devouring another pancake.
Traditionally served with Peking duck, this simple change is refreshing and tastes as good as the original!
Expand your cooking repertoire with this excellent dish that's filled with vibrant colors and refreshing flavors!
Duck smoked with orange rind, black tea leaves, star anise, brown sugar, and cinnamon stick is topped with an extremely flavorsome orange sauce and combined with beetroot, pickled radishes, orange segments, coriander, and mint leaves to create a stunning delight.
The richness of the duck is balanced with the sweet and tangy flavors of the other ingredients, and it's thoroughly enjoyable.
Your family will definitely love the superb flavors in this dish!
This smoked duck breast recipe makes an absolutely mouthwatering dish with smoky, savory, sweet, and tart flavors that combine really well together!
The duck breasts are first cured with a mixture of juniper berries, thyme, salt, pepper, and sugar before being smoked until the desired doneness.
They are then combined with pickled grapes, frisée salad, and toasted walnuts, with flavors and textures that are incredibly satisfying.
It's a light yet rich dish that makes for an exceptional meal any time of the day!
Everyone loves a good sandwich and this Smoked Duck BBQ Sandwich is a flavor bomb that you definitely need to check out!
It's a lovely assembly of toasted brioche buns with smoked duck breasts, caramelized onions, pickles, and BBQ sauce layered in between them.
Every bite is incredibly satisfying and you'll be gobbling this down like no tomorrow because it's just that tasty.
With how flavorful it is, this is definitely one of our favorite smoked duck recipes!
This smoked duck pasta is a mouthwatering delight and a must-try if you love pasta!
It's ridiculously easy to make for something that tastes this good and all you need to do is toss cooked pasta into a skillet with garlic, chilies, shallots, tomatoes, and other lovely ingredients to coat them well.
Add smoked duck breasts to the mix and you have an amazing pasta dish that will make you salivate with its fragrance alone.
There's nothing not to like about this delicious and simple smoked duck pasta recipe!
For a refreshing light brunch or side dish, you've got to check out this superb smoked duck salad!
It's a wonderful marriage of grilled pears, rockets, smoked duck, walnuts, fennel, and green beans, with a ginger-cherry purée serving as a dressing to add plenty of depth to the flavor.
This salad is a heavenly combination of flavors and textures that make it such an appetizing dish and it'll surely satisfy any palate.
With its simple flavors, this salad is perfect for any occasion!
At Glorious Recipes, we have our favorite Easy Smoked Duck Salad that we absolutely adore and it tastes heavenly! Check out the recipe below!
Yield: 4
Easy Smoked Duck Salad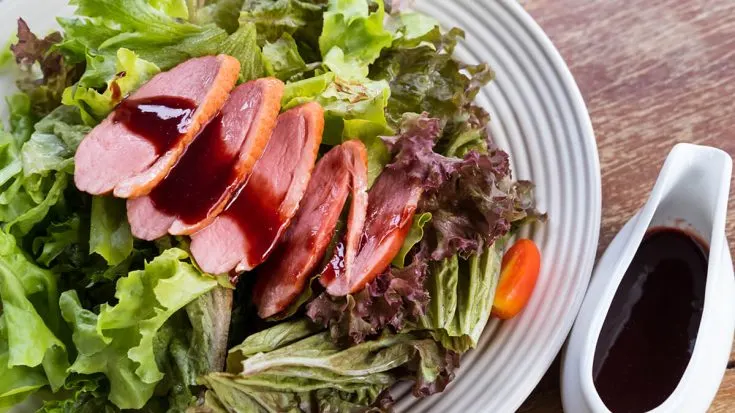 This Easy Smoked Duck Salad is incredibly tasty and super easy to whip up! It's perfect for an awesome brunch or side dish!
Ingredients
½ lb smoked duck breasts, sliced
4 cups mixed greens (double it if serving as a main course)
2 cups cherry tomatoes
½ cup walnuts (optional)
balsamic vinegar glaze (for dressing)
Instructions
Add mixed greens, cherry tomatoes, and walnuts (if using) to serving plates. Add sliced duck breasts on top. Drizzle balsamic vinegar glaze and serve. Enjoy!
Nutrition Information:
Yield:
4
Serving Size:
1
Amount Per Serving:
Calories:

252
Total Fat:

15g
Saturated Fat:

3g
Trans Fat:

0g
Unsaturated Fat:

11g
Cholesterol:

77mg
Sodium:

64mg
Carbohydrates:

14g
Fiber:

2g
Sugar:

10g
Protein:

17g
Nutrition information is only an estimate and can vary depending on ingredients used.
Which of the smoked duck recipes have you tried so far?
Let us know in the comments below!
For more awesome recipes that you might like, check out the following:
Ooni
Neck Bones
Turkey Chop
Dove
Pheasant
Goose Breast
Pit Boss Smoker
Blackstone Chicken
CanCooker
Sandwich Maker
Share on your favorite social media platform and tag us @GloriousRecipes – we can't wait to see what you have made!