Porgy, also known as sea bream, is a delicious white fish with a subtle sweetness and delicate but flaky flesh.
It's high in omega-3 fatty acids, which help to support heart health, and it's also a great source of B vitamins that are essential for the body.
It takes on well to a variety of cooking methods and seasonings, making it easy to whip up delectable dishes with little effort!
Whether you prefer it grilled, baked, or fried, we've got you covered with some of the best porgy recipes that you can easily try at home!
Cooking whole porgy fish is not difficult and even if it's your first time trying to cook fish, this simple recipe will make it a breeze!
Seasoned with oil, salt, and pepper, and stuffed with fresh herbs, the porgies are placed on top of a bed of lemon slices with shishito peppers and cherry tomatoes arranged around them before being broiled in the oven until fully cooked.
They are drizzled with an extremely flavorful garlic oil that adds tons of depth to the fish, creating a mouthwatering delight.
You won't believe how good they taste with how easy it is to make!
In what is one of the easiest porgy recipes that you can try, the fish is given a simple upgrade with a mixture of ingredients that make it extra tasty!
Garlic, soy sauce, lemon juice, cilantro, ginger, green onions, and other lovely ingredients are combined together to form a flavorsome mixture that's used to season the porgy before it's baked in the oven until cooked.
It's extremely delicious and the mix of ingredients helps to give plenty of depth and complexity to the mild-tasting fish.
There's nothing not to like about this quick and easy recipe!
Treat yourself to an amazing meal with this fantastic fried porgy recipe that makes a superbly tasty dish!
Coated with buttermilk, flour, cornmeal, seafood seasoning, salt, and pepper, the porgies are deep-fried until beautifully golden brown and crispy.
They have a satisfying crunch with every bite and they taste absolutely exceptional.
Pair with your favorite dipping sauce or try the excellent Tiger sauce or Bitchin' sauce for something different!
For a light and refreshing dish, you've got to check out this Broiled Porgy with Lime that's really easy to whip up!
Porgy fillets are topped with a mix of shallots, garlic, lime juice, sesame oil, and sesame seeds before being broiled in the oven until cooked.
That's all it takes to make this flavorsome dish and you're sure to fall in love with the remarkable taste of porgies!
Serve with a side of your favorite carbs and veggies to turn it into a wholesome meal!
Level up your cooking skills with this Grilled Porgy with Salsa Verde that's incredibly delicious and is sure to whet your appetite!
Stuffed with garlic, lemon slices, and parsley, the fish is grilled until nicely charred before being served with an extremely flavorsome salsa verde and braised carrots.
The herbaceous flavor of the salsa verde helps to elevate the dish to another level and everything comes together really well to create a culinary masterpiece.
Make this for your next meal and be prepared to be showered with loads of compliments!
Savor a tasty and excellent fish with this easy recipe that you definitely don't want to miss out on!
Topped with a mixture of grated potato, lemon zest, lemon juice, paprika, and parsley, the porgy is baked until cooked and a fantastic potato crust is formed.
The crust helps to enhance the fish and makes it extremely delicious and satisfying, and you'll love how great it pairs with your favorite carbs!
Give it a try and you'll definitely not be disappointed by how good it tastes!
Grace your taste buds with this Porgy with Herb Salsa that's amazingly delicious and one of our favorite porgy recipes!
With a salsa that's made with cherry tomatoes, olives, lemon juice, cilantro, and basil, you're guaranteed plenty of incredible flavors that are extremely enjoyable.
Topped with perfectly pan-seared porgy fillets, this is a delectable dish that's just irresistible!
This dish is a great way to experience the awesome flavor of porgies!
This Air-Fried Porgy Fish is incredibly easy to make with the air fryer doing all the work for you!
Coated with a mix of lemon pepper, onion powder, garlic powder, paprika, basil, parsley, and other ingredients, the fish is air-fried until nicely browned and crispy.
It's ridiculously easy to make for something that tastes this good and you'll be enjoying a flavorful fish with little hassle.
With how delicious it is, this simple air-fried porgy fish recipe is a must-try in our books!
Amplify your next meal with this outstanding fish that's crazy delectable and is sure to delight your senses!
The porgy is first grilled to give it a smoky flavor and crisp texture before being poached in a wonderful mixture of onion, garlic, tomatoes, white wine, and other lovely ingredients.
When fully cooked with all the flavors infused into the meat, the fish is exceptionally tasty and makes for an amazing treat any day of the week.
Serve this for your next meal and your taste buds will thank you for it!
Spruce up your meals with this splendid dish that's sure to impress with both its looks and taste!
It's a delectable combination of pan-seared porgy and a salad mixture that consists of grilled corn, tomatoes, cucumber, onion, and bell pepper.
With a dressing that's made with mashed garlic, buttermilk, mayonnaise, sour cream, and other delightful ingredients, this is a dish that's superbly tasty.
The bright and vibrant flavors in this dish make it perfect for a fabulous meal any time of the day!
Discover a terrific dish with this simple porgy recipe that you'll definitely want to give a try because it makes such delicious fish!
Perfectly pan-seared porgy is topped with a mix of lemon zest, parsley, and breadcrumbs that have been cooked in butter until they become extremely crispy and fragrant.
It's so easy to make but it tastes absolutely fantastic and it's a great dish to whip up if you want something casual yet impressive.
This tasty porgy dish is sure to be a crowd-pleaser with its wonderful flavor!
Expand your dinner options with this oven-baked porgy that's super delicious and really easy to make!
The oven does all the cooking for you and all you need to do is some prep work to add potatoes, fish, tomatoes, black peppercorns, parsley, and white wine to a baking dish.
You'll come back to an amazing meal that's incredibly tasty, hearty, and wholesome!
This excellent dish is a great way to add some delicate fish to make your meals sumptuous!
At Glorious Recipes, we have our favorite Easy Baked Porgy (Sea Bream) that we absolutely adore and it tastes heavenly! Check out the recipe below!
Yield: 2
Easy Baked Porgy (Sea Bream)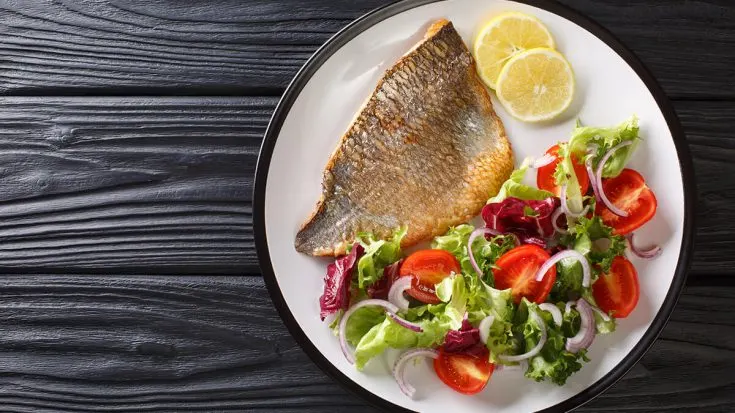 Make your next meal a little special with this Easy Baked Porgy that tastes incredible and takes little effort to whip up!
Ingredients
2 porgy fillets
2 tbsp salt
1 tbsp olive oil
1 tbsp lemon pepper seasoning
1 tbsp dried parsley flakes
1 tbsp garlic powder
2 tsp paprika
1 tsp dried basil leaves
1 tsp onion powder
Instructions
Preheat oven to 400°F (205°C).
Add fillets to a large bowl along with the other ingredients. Toss to coat well. Line a baking sheet with parchment paper. Add porgy fillets to the baking sheet and bake for 20 minutes.
Serve with a side of salad and enjoy!
Nutrition Information:
Yield:
2
Serving Size:
1
Amount Per Serving:
Calories:

137
Total Fat:

8g
Saturated Fat:

1g
Trans Fat:

0g
Unsaturated Fat:

6g
Cholesterol:

32mg
Sodium:

8371mg
Carbohydrates:

8g
Fiber:

2g
Sugar:

1g
Protein:

11g
Nutrition information is only an estimate and can vary depending on ingredients used.
Which of the porgy recipes have you tried so far?
Let us know in the comments below!
For more awesome fish recipes that you might like, check out the following:
Wahoo
Sablefish
Coho Salmon
Albacore Tuna
Whole Tilapia
Salmon Bites
Yellowtail
Tilefish
Cobia
Blackfish
Share on your favorite social media platform and tag us @GloriousRecipes – we can't wait to see what you have made!