Savoy cabbage is a beautiful vegetable that has a milder and sweeter flavor than regular green cabbage.
It's incredibly versatile and can be used to make a wide variety of tasty dishes that include soups, salads, and even rolls.
Packed with vitamins and essential minerals, savoy cabbage is a nutritional powerhouse that can help to enrich any meal.
Whether you like it roasted, braised, or stir-fried, we've got you covered with some of the best savoy cabbage recipes that you can easily try at home!
Cook up a pot of this fantastic soup that's amazingly delicious and incredibly comforting, perfect on a cold and chilly day!
It's a delectable combination of ground meat, bacon, cabbage, and potatoes, cooked and simmered in beef broth with onion, paprika, and chives imparting their fragrance to make this soup exceptionally tasty.
There are plenty of delightful flavors that combine really well together and you'll definitely enjoy this hearty soup that'll warm you right up!
With how flavorful it is, you'll be sipping every last drop of this terrific soup!
Savor superbly tasty roasted cabbage with this simple recipe that you definitely don't want to miss out on!
Cabbage wedges are tossed in olive oil before being roasted in the oven until slightly charred on the outside with a tender interior, and they are topped with garlic and anchovy-infused oil, Parmesan cheese, and breadcrumbs.
Given a quick toast until the top is nicely browned, these cabbage wedges taste out of this world and make for an amazing side dish.
Be warned, they are dangerously addictive!
Inject a little Japanese flair to your next meal with this excellent okonomiyaki recipe that makes an incredibly delicious savory pancake!
The batter is made with a combination of flour, cabbage, zucchini, eggs, green onions, broth, and soy sauce, and it's cooked until nicely browned.
Topped with a mixture of sriracha and mayonnaise, as well as a blend of Worcestershire sauce, ketchup, and soy sauce, plus green onions and sesame seeds, this is a mouthwatering delight that's sure to satisfy any appetite.
It's super tasty and definitely one of our favorite savoy cabbage recipes!
If you're looking for a simple vegetable side dish, you've got to check out this wonderful Sautéed Savoy Cabbage!
It's ridiculously easy to make and all you need to do is sauté garlic and red pepper flakes in butter before adding cabbage and stock to cook until the vegetable becomes tender.
It's finished off with the addition of cilantro and sour cream to add a burst of refreshing flavors to the dish, making it even tastier.
With how easy it is to whip up, this savory cabbage recipe is an absolute must-try for your next meal!
Go healthy with this splendid salad that's super yummy and incredibly easy to whip up!
It's a fantastic combination of shredded savoy cabbage, peas, and corn, coated in a dressing of yogurt, garlic, vinegar, dill, onion powder, salt, and pepper.
This salad is packed with tons of nutrients and the light dressing helps to add loads of delightful flavors to make it extremely delicious.
You'll definitely want to add this to your salad rotation!
Expand your cooking repertoire with this remarkable casserole that's made with simple ingredients but tastes oh-so-yummy!
Savoy cabbage is combined with a batter that consists of flour, eggs, mayonnaise, sour cream, and other ingredients, before being topped with mozzarella cheese and baked in the oven until cooked.
Green onion, dill, chives, and thyme all help to add some depth to the flavor and make this casserole an absolute delight.
It's an awesome side dish that can be served alongside your favorite protein to turn it into a wholesome meal!
This is one of our favorite braised savoy cabbage recipes and it makes an absolutely tasty dish that's sure to tantalize your taste buds!
Cabbage, dried porcini mushrooms, fresh mushrooms, aromatics, bacon, and other lovely ingredients are braised in vegetable stock until they are cooked and infused with great flavors.
The earthy flavors of the mushrooms and the fragrance from the herbs add so much complexity to the overall flavor of the dish, making it an excellent side dish or even as a main dish if you prefer.
Give it a try and you'll definitely not be disappointed!
Add a little Oriental flair to your next meal with this simple savoy cabbage stir-fry that's sure to whet your appetite!
Ginger, garlic, and red chili are cooked over high heat before cabbage is added and given a quick stir-fry in this quick and easy dish that can help to add some variety to your meals.
It's completed with a sprinkle of sesame seeds and salt, and its superb flavor makes it perfect for pairing with other main dishes.
The fragrance of this stir-fry will make you salivate even before you've had your first bite!
Enjoy a fantastic side dish with this delicious Buttered Cabbage that's super easy to make!
Cooked and coated with butter, the cabbage is full of lovely flavors and everything can be made in under 15 minutes, perfect for an awesome weeknight meal!
The addition of garlic and bacon bits helps to add additional layers of flavor and texture to enhance this side dish further.
It's straightforward to make and a great way to add some greens to your meals!
Grace your taste buds with these exceptional Asian Cabbage Rolls that are sure to excite your senses with their outstanding taste!
Filled with ground pork, aromatics, cauliflower rice, carrot, green onions, and other lovely ingredients, these savoy cabbage rolls are then baked in the oven until they turn golden.
Served with a dipping sauce made from sesame oil, cilantro, coconut aminos, lime juice, and red pepper flakes, this is a dish that tastes heavenly.
It's flavorful, wholesome, and definitely makes it to our list of favorite stuffed savoy cabbage recipes!
Treat yourself to a hearty and nutritious meal with this superb dish that you definitely need to give a try!
It's a tantalizing mix of cannellini beans, chorizo, onion, rice, and cabbage, all cooked and simmered in chicken stock and tomato paste.
Bay leaf, parsley, sweet paprika, and other aromatics help to enhance the taste of this incredible dish further, making it an absolute delight.
Pair it with your favorite meat for a wholesome meal or enjoy it as is because it's already very tasty!
Reward yourself with these brilliant cabbage pancakes that are incredibly delicious and make for an amazing side dish!
It's a simple combination of fragrant shallots, breadcrumbs, and savory cabbage, with eggs used as a binding agent and paprika used to enhance the flavor of these pancakes.
Cooked in a skillet until golden brown, these pancakes can be served with your favorite dipping sauce to make it a superbly tasty treat!
With how delicious these pancakes are, you'll be devouring them before you even know it!
Discover a terrific dish with this simple savoy cabbage slaw that's wonderfully tasty and pairs amazingly well with any protein!
It's a lovely marriage of cabbage, scallion, carrot, radish, bell pepper, and cilantro, tossed in a flavorsome dressing that contains lime juice, mayonnaise, Dijon mustard, and other spices.
The bright and vibrant flavors of this coleslaw make this a really satisfying dish that definitely has a place in any meal.
Serve with grilled meat and enjoy an awesome feast!
For an amazing grilled savoy cabbage recipe, you've got to check out this exceptional Savoy Cabbage Wedges with Buttermilk Dressing!
Beautifully charred cabbage wedges are paired with a flavorsome dressing made by combining grilled jalapeños, buttermilk, mayonnaise, yogurt, chives, and lemon juice.
It's extremely delicious and makes for a terrific salad any day of the week!
Top with blue cheese to add even more complex flavors to this wonderful dish!
Dig into this fantastic cabbage gratin that's super comforting and really easy to make with only a few ingredients required!
Cabbage and scallion are sautéed in butter and simmered in chicken broth before being baked in the oven until tender and fully cooked.
Cheese is added at the end and baked some more till melted cheesy goodness is achieved and the result is a savory gratin that's really tasty and satisfying.
With the oven doing most of the cooking for you, this is one of the easiest savoy cabbage recipes that you can try!
Make an Irish classic with this fantastic savoy cabbage recipe that you definitely want to keep handy because this Colcannon is absolutely delicious!
It's a lovely combination of mashed potatoes, cabbage, leeks, and garlic, all cooked in milk and cream to create this delightful dish that's super tasty.
Top with scallion and chives to enhance the flavor of this dish further and you'll be craving it every now and then!
It's a favorite on St. Patrick's Day but you can enjoy this wonderful dish any day of the year!
This awesome baked savory cabbage recipe is a must-try in our books because it makes such an appetizing dish that's super delicious!
Blanched cabbage wedges are seasoned with salt, pepper, and nutmeg, and topped with Emmental cheese, double cream, breadcrumbs, and Parmesan cheese before being baked in the oven until a beautiful golden brown top is achieved.
It's extremely flavorsome and every bite is incredibly satisfying and comforting.
You'll love how easy it is to whip this up with so little hassle!
If you're looking for your next healthy salad, you've got to check out this amazing recipe that combines some of our favorite ingredients into one lovely dish!
It's a delectable combination of cabbage, avocado, blood oranges, dried currants, and cilantro, tossed in a flavorful dressing of Dijon mustard, honey, lemon juice, and other lovely ingredients.
We love the simplicity of this salad and it's incredibly quick and easy to make, perfect for a light meal any time of the day!
You can also easily add your favorite toppings such as toasted nuts or other vegetables to keep this dish refreshing!
Impress your friends and family with this splendid stuffed savoy cabbage recipe that makes a tasty and mouthwatering delight!
The cabbage leaves are stuffed with a filling of ground meat, rice, chopped vegetables, lemon rind, dill, cheese, and other ingredients before being baked in the oven with tomato sauce until fully cooked.
It's extremely delectable with great flavors all around, making it a fantastic option to keep your meals interesting.
There's nothing not to like about this delicious stuffed cabbage!
Ramp up your next meal with this hearty gratin that's amazingly tasty and loaded with fantastic ingredients!
Potatoes, cabbage, leek, and bacon are combined with a variety of aromatics and seasonings before being topped with grated cheese and baked in the oven until nicely browned.
It's a sumptuous dish that's sure to whet your appetite and the lovely flavors meld extremely well together.
Try it soon and you'll definitely not regret it!
Another one of our favorite stuffed savoy cabbage recipes, this Cabbage Cake is an absolute treat that you need to add to your meal rotation!
Stuffed with a filling of garlic, onion, apple, carrot, and cabbage strips, these cabbage cakes have an extremely satisfying texture with amazing flavors.
Placed in a springform pan and baked in the oven, the cabbage cake keeps its shape well with a beautiful presentation.
This vegan savoy cabbage recipe makes a hearty dish that's perfect for those cold months!
Savoy cabbage and corned beef make for an excellent combo and you definitely need to try out this fantastic recipe!
Tender corned brisket cooked with a variety of herbs and aromatics is combined with potatoes, cabbage, turnips, carrots, beets, parsnips, and olives, creating an extremely flavorsome and tasty dish.
It's super wholesome and makes for a scrumptious meal that's loaded with tons of nutrition.
This mouthwatering delight is sure to captivate your taste buds with its fantastic taste!
At Glorious Recipes, we have our favorite Savoy Cabbage and Mashed Potatoes (Colcannon) that we absolutely adore and it tastes heavenly! Check out the recipe below!
Yield: 2
Savoy Cabbage and Mashed Potatoes (Colcannon)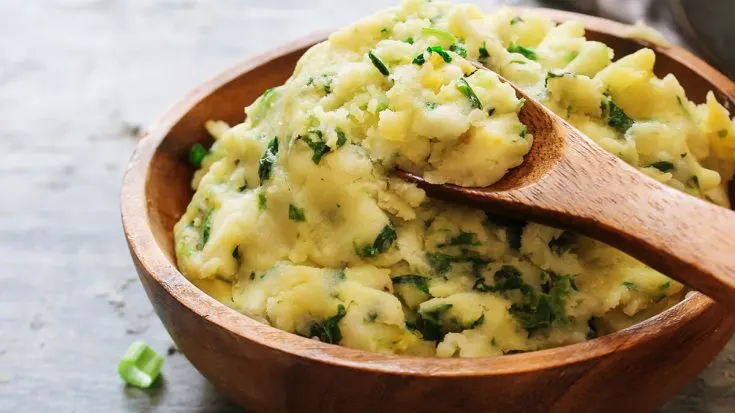 Discover an Irish classic with this Savoy Cabbage and Mashed Potatoes (Colcannon) recipe that's super delicious!
Ingredients
2½ medium Russet potatoes
salt
3 tbsp butter (unsalted), divided
1 leek, light green and white parts only, thinly sliced
1 clove garlic, thinly sliced
1 cup shredded savoy cabbage, divided
¼ cup heavy cream
⅝ cup milk
black pepper
½ scallion, thinly sliced
Instructions
Add potatoes to a pot and cover with salted water over medium-high heat. Let it come to a boil, then lower the heat to a simmer and let them cook for around 30 minutes or until fork-tender.
Meanwhile, add 2 tablespoons of butter to a skillet over medium heat and let it melt. Sauté leeks until fragrant, then add garlic and do the same. When leeks start to brown, add cabbage and cook until wilted.
Once the potatoes are done cooking, drain the water and return the potatoes to the pot. Add cream and milk. Mash with a potato masher. Season with salt and pepper.
Fold in the cabbage mixture into the mashed potatoes. Transfer to serving bowls and top with remaining butter and scallion. Enjoy!
Nutrition Information:
Yield:
2
Serving Size:
1
Amount Per Serving:
Calories:

544
Total Fat:

30g
Saturated Fat:

19g
Trans Fat:

1g
Unsaturated Fat:

9g
Cholesterol:

85mg
Sodium:

526mg
Carbohydrates:

61g
Fiber:

8g
Sugar:

8g
Protein:

11g
Nutrition information is only an estimate and can vary depending on ingredients used.
Which of the savoy cabbage recipes have you tried so far?
Let us know in the comments below!
For more awesome vegetable recipes that you might like, check out the following:
Baby Eggplant
Roma Tomato
Hominy
Honeynut Squash
Banana Peppers
Japanese Eggplant
Taro
Canned Spinach
Frozen Green Beans
Frozen Cauliflower
Share on your favorite social media platform and tag us @GloriousRecipes – we can't wait to see what you have made!