German sausages are renowned for their exceptional quality and flavor, with unique blends of herbs and spices that make them incredibly delicious!
Boasting a wide selection, the different types of sausages showcase various cultural significance and variations that make each of them special.
Don't wait till Oktoberfest to enjoy the incredible flavor of delectable German sausages!
From spicy currywurst to beer-basted sausages, we've got you covered with some of the best German sausage recipes that you can easily try at home!
Enjoy a Berlin classic with this terrific German Currywurst that's crazy delicious and is sure to tantalize your taste buds!
The highlight of this dish is the superb tomato sauce that's spiced with smoked paprika, curry powder, cayenne, and onion powder, along with Worcestershire sauce and beef stock added to give even more depth to the flavor.
Smothered onto bratwursts, this currywurst is best enjoyed with bread rolls or a side of fries for an awesome meal that you'll never forget!
You'll love how incredible it tastes for something so simple to make!
German sausage and sauerkraut is a classic combination that just can't go wrong and this simple recipe makes an absolutely mouthwatering delight!
It's a delectable combination of sliced apples, onions, garlic, sauerkraut, bratwursts, and other spices, all simmered in chicken broth until the flavors meld and they become extremely flavorful.
The tangy flavor of the sauerkraut is balanced by the sweetness of apples and they help to make this dish super addictive.
This is definitely one of our favorite German sausage recipes with how delicious it is!
Serve with hotdog buns to enjoy a simple but tasty snack!
Whip up an outstanding meal with this German Skillet with Mustard Cream Sauce that's sure to be a family favorite!
This dish features a mix of sliced potatoes, onion, German sausages, and sauerkraut, with an exceptional mustard cream sauce to tie everything together.
It's tangy and savory, and thoroughly enjoyable with its blend of incredible flavors.
It's simple to make and delicious, just how we like our recipes to be!
Dig into this fantastic dish that's amazingly delicious, easy to whip up, and sure to whet your appetite!
Featuring a pickled mix of bell pepper, hot pepper, and onion, this dish is exceptionally appetizing and the vegetables go extremely well with the German sausages.
They are roasted in the oven with lager beer and red wine vinegar to add complexity to the flavor and they are just oh-so-yummy!
These beer-basted sausages are one of the best that you'll have ever tasted!
Keep things simple with this easy German sausage recipe that combines some of our favorite ingredients in one dish!
It's a combination of perfectly browned sausages and a medley of sauerkraut, apple slices, and onion mixed with apple cider vinegar.
It has a lovely blend of tangy, sweet, and savory flavors that come together really well and it's extremely satisfying.
This dish is comfort food at its very best!
Grace your taste buds with this splendid Beer and Honey Glazed Bratwurst that tastes absolutely heavenly!
With a sauce that's made with beer, honey, mustard, garlic purée, brown sugar, and thyme, you know you're guaranteed an extremely flavorsome dish.
Coated with this awesome sauce, the bratwurst is superbly tasty and it makes for a terrific party appetizer or side dish!
You'll be gobbling everything down before you even know it because this dish is just that delectable!
Inject a little German flair to your next meal and serve this hearty and delicious Frankfurter Roll with New Potato and Bierwurst Salad!
Bread rolls topped with frankfurters and rockets leaves are paired with an amazing salad that consists of potatoes, bierwurst, apples, gherkins, radishes, and other lovely ingredients, all tossed in a super flavorsome mustard-mayo dressing.
They make for a wholesome meal that's sure to fill your belly right up and you can make it even more satisfying with a pint of German beer!
This is a great way to freshen up your dinner rotation and it's so easy to make!
Feast on a power-packed dish that traditionally uses leftover food and is perfect any time of the day!
It's a delightful combination of grilled German sausages, potatoes, bell peppers, tomatoes, eggs, cheese, and other ingredients that are sure to bring a smile to your face with their fantastic taste.
It's a versatile recipe and you can easily include any leftover veggies from the previous night's dinner if you want to keep to the classic way of preparing this dish!
With this recipe, you no longer have to fret over your leftovers!
This German Sausage Lentil Soup is unbelievably hearty and comforting, and a must-try in our books!
With a blend of lentils, carrots, celery, leek, potatoes, and vegetable broth among other lovely ingredients, this soup is exceptionally delicious and nutritious.
Add some German sausages into the mix and you have a mouthwatering dish that you just can't get enough of!
We have no doubts that this will quickly make its way to your list of favorite German sausage recipes with how delicious it is!
Discover an exceptional dish with this excellent German sausage recipe that gives a simple upgrade to the usual sausage and sauerkraut combination!
Caramelized onions are combined with sauerkraut, riesling wine, apples, bay leaves, juniper berries, and other seasonings before being simmered until the flavors meld and the apples become extremely tender.
The sweetness from the wine and sugar helps to offset the tangy flavor of the sauerkraut and the other ingredients add tons of depth to this dish.
Served with German sausages and crisp bacon on top of the sauerkraut mixture, this is a dish that's just irresistible!
Everyone loves a good sheet pan recipe because it's so easy and convenient, and that's exactly what this recipe is all about!
It's incredibly simple to whip up and all you need to do is add potatoes, cabbage, and German sausages to a sheet pan and roast them until done.
Paired with a special mustard sauce that's made by combining Dijon mustard, red wine vinegar, maple syrup, olive oil, salt, and pepper, this is a mouthwatering dish that's sure to satisfy any appetite.
It's a no-brainer to add this to your meal rotation!
This German Beer Sausage and Potatoes is a one-pan recipe that's also super handy to keep because it's so easy to whip up a delicious meal!
It's a lovely mix of potatoes, German sausages, apples, bacon, and aromatics, all simmered in a wonderful combination of beer and beef stock.
Fresh herbs help to impart their fragrance to give depth to the flavor of this dish and make everything taste extremely good.
This wholesome dish can be made in under an hour, perfect for an awesome weeknight meal!
Expand your cooking repertoire with this German Bratwurst Strata that you definitely don't want to miss out on!
Bratwurst simmered in caraway and beer is combined with pretzel rolls, sauerkraut, mustard, eggs, cheese, and other delightful ingredients to create a scrumptious dish that's sure to make you salivate at the thought of it.
Everything is baked in the oven and you get to enjoy an amazing meal with little hassle!
The beautiful golden brown color and fantastic aroma will make you want to devour this awesome dish!
For tasty comfort food that's really easy to make, you've got to check out this German Onion Soup!
The soup base is made with a mix of beer, beef stock, caramelized onions, brown sugar, bay leaves, flour, and nutmeg, ensuring tons of incredible flavors that you're sure to love.
Topped with sausages, pretzel croutons, and Swiss cheese, this is a soup that's amazingly delicious and just irresistible.
With how delectable it is, this definitely makes it to our list of favorite German sausage recipes!
Make your next meal a little special with this brilliant German Spaghetti that's superbly tasty and is sure to delight your senses!
Smoked German sausages and al dente spaghetti are smothered in an extremely flavorsome sauce that's made with beer, mustard, milk, apple cider vinegar, sour cream, and other lovely ingredients.
It's completed with a simple garnish of chives and parsley that helps to enhance the pasta and make it incredibly delicious.
This is an absolutely mouthwatering delight and a great way to expand your pasta options!
At Glorious Recipes, we have our favorite Currywurst that we absolutely adore and it tastes heavenly! Check out the recipe below!
Yield: 4
Currywurst (German Sausage With Curry Ketchup)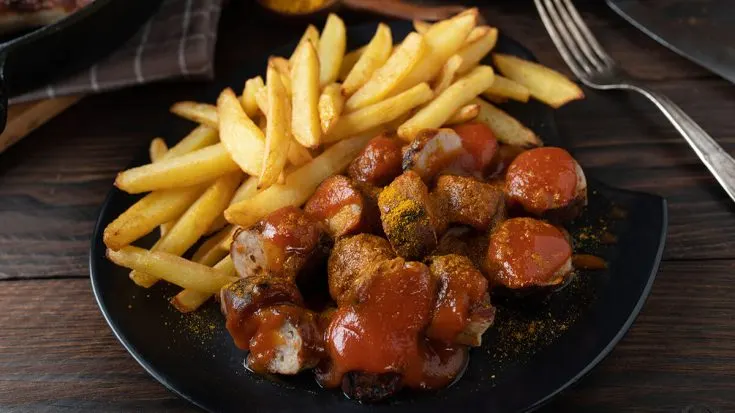 Enjoy a German classic with this fantastic Currywurst that's sure to become your new favorite comfort food!
Ingredients
German Sausage
4 links German sausage (bratwurst, knockwurst, etc), pre-cooked
neutral oil (optional, for cooking if uncooked)
Curry Ketchup
1 tbsp neutral oil
1 onion, diced
2 cloves garlic, minced
2 tbsp curry powder (plus additional for garnish)
1 cup ketchup
½ cup dark brown sugar
3 tbsp white wine vinegar
2 tsp paprika
2 tsp Worcestershire sauce
2 tsp salt
1 tsp mustard powder
Instructions
Add 1 tablespoon of oil to a saucepan over medium heat. Add onion and sauté for a few minutes until translucent. Lower the heat to low-medium, then add garlic and curry powder. Sauté for 1 minute.
Add ketchup to the saucepan and keep stirring until a gentle simmer. It might splatter as the ketchup is thick. Add the remaining ingredients for the curry ketchup and stir to mix well. Let it cook for a few minutes for the flavors to meld and for the sauce to reduce a little.
Remove the saucepan from heat and use an immersion blender to
blend. Alternatively, transfer to a blender to process. The resulting curry ketchup should still be quite thick.
Warm sausages on a skillet or cook them if they come uncooked. Cut the sausages and top with curry ketchup, plus a dusting of curry powder. Serve and enjoy!
Nutrition Information:
Yield:
4
Serving Size:
1
Amount Per Serving:
Calories:

372
Total Fat:

20g
Saturated Fat:

4g
Trans Fat:

0g
Unsaturated Fat:

13g
Cholesterol:

26mg
Sodium:

2092mg
Carbohydrates:

45g
Fiber:

3g
Sugar:

37g
Protein:

7g
Nutrition information is only an estimate and can vary depending on ingredients used.
Which of the German sausage recipes have you tried so far?
Let us know in the comments below!
For more awesome recipes that you might like, check out the following:
Lamb Breasts
Grape Tomato
Sauerkraut Recipes with Meat
Ring Bologna
Turkey Kielbasa
Chuck Steak
Calamari Steak
Korean Soup
Smoked Duck
Black Garlic
Share on your favorite social media platform and tag us @GloriousRecipes – we can't wait to see what you have made!