Colossal shrimp are magnificent crustaceans promising a taste adventure that's as impressive as they are delectable!
While there are no official guidelines on the classification of shrimp size labels, colossal shrimp usually refers to very large shrimp that range from 8 to 12 shrimp per pound and are sometimes indicated as U-8 to U-12 on the package.
With their meaty flesh, colossal shrimp are perfect for whipping up a variety of tasty dishes and are sure to bring joy to all seafood lovers!
Whether you like them stuffed, grilled, or baked, we've got you covered with some of the best colossal shrimp recipes that you can easily try at home!
Fire up your grill and try making these terrific Colossal Coconut and Rum Shrimp that are superbly tasty and sure to delight your taste buds!
Marinated in a combination of rum, coconut milk, lime juice, lime zest, and sugar, these shrimp are extremely delectable with rich flavors that you'll love.
The marinade is not wasted and is used as a glaze to brush on the shrimp before grilling to ensure even more wonderful flavors are infused into the meat.
Completed with a topping of toasted coconut flakes, these shrimp are definitely a must-try in our books!
If you love rich and bold flavors, then you've definitely got to check out this exceptional grilled colossal shrimp recipe!
With a harissa marinade, there's no lack of wonderful flavors thanks to all the chili peppers, oil, and spices so you know you're guaranteed an awesome meal with divine-tasting shrimp.
Once marinated for a couple of hours, the shrimp are grilled to perfection and you'll be salivating at the lovely aroma of nicely cooked and charred shrimp!
Everyone is going to be fighting for seconds with how delectable these shrimp are!
Enjoy an amazing feast with these fantastic Prosecco Butter Poached Shrimp that look incredible and taste out of this world!
These colossal shrimp are poached in a mixture of prosecco, butter, garlic, parsley, lemon juice, and lemon slices, rendering plenty of great flavors that'll elevate your dining experience.
Serve with crusty homemade bread for an impressive appetizer or use them as a seafood centerpiece to pair with your favorite carbs such as rice or pasta.
With how delicious they are, this is definitely one of our favorite colossal shrimp recipes!
Keep it simple with this Garlic Pepper Shrimp Scampi that's super easy to make and tastes amazingly delicious!
Garlic pepper is used to season the shrimp before they are cooked on a grill with melted butter, parsley, and garlic, creating a fragrant and incredibly appetizing dish.
These shrimp are extremely flavorsome and they can be paired with a side of carbs and vegetables to turn them into a wholesome meal!
Give it a try and you'll definitely not be disappointed!
Cooking colossal shrimp is incredibly easy despite their size so don't be daunted by them even if you've never tried cooking shrimp before!
This simple baked colossal shrimp recipe involves pouring a mixture of butter, minced garlic, and lemon juice over the shrimp before letting the oven do all the cooking for you.
It's pretty much foolproof so even beginner home cooks should have no problems whipping up this fabulous seafood dish!
You'll end up with perfectly cooked and flavorsome shrimp to enjoy!
Savor a delicious seafood boil with this easy recipe that makes a marvelous dish and it's sure to whet your appetite!
It's a lovely medley of potatoes, corn, bell peppers, and colossal shrimp, all spiced with Cajun seasoning and then baked until fragrant and delectable.
This simple sheet pan recipe is perfect for an excellent weeknight meal that comes with maximum flavor but with minimal clean-up required!
You're sure to love how convenient it is to make this fantastic dish!
Jazz up your colossal shrimp with this quick and easy recipe that makes an incredibly tasty dish!
It's ridiculously simple to prepare and all you need is 4 main ingredients to get going!
Featuring shrimp tossed in a mixture of olive oil, Italian seasoning, and garlic, these shrimp are superbly delicious when roasted.
It takes only around 10 minutes in the oven for them to be fully cooked, making them perfect for when you are pinched for time and still want to put quality seafood on the table!
In what is one of our favorite stuffed colossal shrimp recipes, the impressive crustacean is combined with a variety of lovely ingredients to create something extraordinary!
Stuffed with a delectable combination of crab meat, mayonnaise, lemon juice, breadcrumbs, and other spices, the shrimp are then cooked in garlic-infused oil, white wine, and clam juice before being baked in the oven.
When served with al dente pasta, it becomes an extremely satisfying meal with tons of amazing flavors that are sure to bring a smile to your face!
Everyone will definitely be craving this seafood delight after trying it!
If you need a new salad to freshen up your meal options, make sure to check out this splendid Colossal Shrimp, Mango, and Cucumber Salad!
This dish features a delightful assortment of mangoes, cucumbers, jicamas, peppers, and shrimp marinated in a mixture of rice vinegar, ginger, garlic, and cilantro.
It strikes a great balance between sweet, savory, and tangy flavors without any individual flavor overpowering another.
With its refreshing flavors, you'll definitely want to add this salad to your meal rotation!
Indulge in an awesome meal with this fantastic dish that's crazy delicious and so easy to make!
Colossal shrimp seasoned with garlic, salt, and Old Bay seasoning are grilled to perfection and paired with an extremely flavorsome garlic aioli, creating an absolutely mouthwatering delight.
The garlic aioli is made simply by mixing olive oil, egg yolk, garlic, and lemon zest, and it complements the shrimp really well!
Make this for your next meal and be prepared for plenty of compliments because it's just that good!
Spice up your next meal with these colossal shrimp that are incredibly tasty and sure to tantalize your taste buds!
The highlight of this dish is the spicy sauce made with garlic, tomatoes, jalapeños, passata, capers, rosemary, and olives.
It goes extremely well with the shrimp and adds complexity to the flavor, which makes this dish thoroughly enjoyable.
If you love spicy food, make sure to give this excellent colossal shrimp recipe a try!
Spruce up your meals with this terrific Shrimp Francese that's superbly tasty with a heavenly combination of texture and flavor!
Featuring egg-battered colossal shrimp pan-fried until crispy and then smothered in an extremely flavorsome sauce made with garlic, white wine, chicken stock, and lemon juice, this is a dish that's an absolute treat!
A squeeze of lemon and a sprinkle of freshly chopped parsley help to make the shrimp taste exceptionally refreshing and they can be served with crusty bread or pasta for a hearty meal.
You're sure to fall in love with the remarkable flavor of this dish!
It's not difficult to add delectable seafood to your meals when you use an air fryer because cooking is a breeze with minimal work required!
This dish involves dipping shrimp into a mix of melted butter, garlic powder, and parsley before air frying them until cooked, with a brush of lemon juice in between to impart a refreshing flavor.
This is one of the easiest colossal shrimp recipes that makes delicious seafood in mere minutes so make sure to give it a try!
You won't believe how fantastic they taste for something so simple to make!
Get ready to be amazed by these Ginger-Mint Grilled Shrimp that are filled with outstanding flavors everyone is sure to love!
Marinated in a lovely mixture of fresh mint, ginger, olive oil, butter, garlic, lime juice, and soy sauce, the shrimp are then grilled until cooked while being basted with the same flavorful marinade.
It's a seafood dish that has a divine combination of well-balanced flavors, making it really delicious and enjoyable!
Pair these shrimp with your favorite carbs and veggies to enjoy a wholesome meal!
Introduce a new appetizer at your next gathering with this Colossal Shrimp Cocktail that's super yummy and an easy crowd-pleaser!
Cooked in a broth of white wine, water, aromatics, garlic, lemon slices, peppercorns, and other herbs, the shrimp are then cold-shocked to chill them.
They are served with a splendid cocktail sauce that fully complements the shrimp to create an impressive appetizer!
These delightful shrimp will be flying off the plates because they are just that delicious!
This fried colossal shrimp recipe is a must-try in our books because it makes such delectable Shrimp Tempura!
Battered shrimp fried until crispy and beautifully golden brown are paired with a simple spicy mayonnaise sauce to create a mouthwatering combination that works extremely well.
These tempura are incredibly addictive and you'll be devouring everything before you even know it!
They are so simple to whip up and so tasty!
At Glorious Recipes, we have our favorite Easy Roasted Colossal Shrimp that we absolutely adore and they taste heavenly! Check out the recipe below!
Yield: 4
Easy Roasted Colossal Shrimp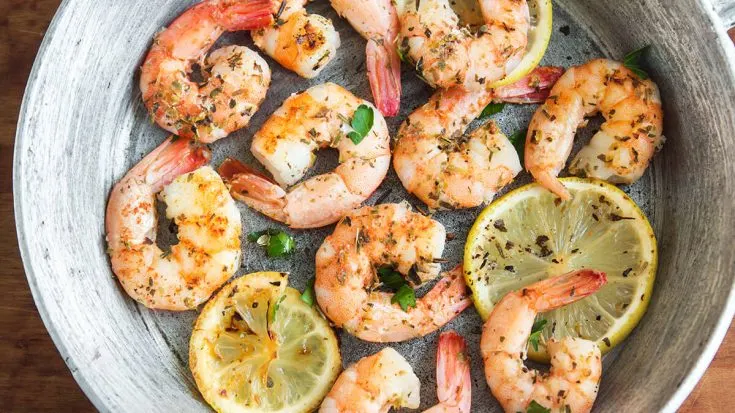 Roasting colossal shrimp can't get any easier with this simple recipe! Filled with great flavors, these shrimp are an easy seafood delight!
Ingredients
1 lb colossal shrimp, peeled and deveined
2 tbsp olive oil
1 tbsp minced garlic
1 tsp Italian seasoning
pinch of smoked paprika
salt, to taste
black pepper, to taste
lemon slices (for garnish)
Instructions
Preheat oven to 400°F (205°C). Line a baking sheet with foil and brush olive oil or spray non-stick spray.
Add oil, garlic, smoked paprika, and Italian seasoning to a bowl and mix well. Add shrimp and toss to coat.
Add shrimp to baking dish without overlapping. Season with salt and black peppers to taste, then bake for around 10 minutes, or until shrimp turn opaque and pink. Cooking time depends on the size of your shrimp so give a close watch so as not to overcook your shrimp.
Garnish with lemon slices. Enjoy them as is or serve with your favorite carbs for an easy meal!
Nutrition Information:
Yield:
4
Serving Size:
1
Amount Per Serving:
Calories:

200
Total Fat:

9g
Saturated Fat:

2g
Trans Fat:

0g
Unsaturated Fat:

7g
Cholesterol:

239mg
Sodium:

1220mg
Carbohydrates:

3g
Fiber:

0g
Sugar:

0g
Protein:

26g
Nutrition information is only an estimate and can vary depending on ingredients used.
Which of the colossal shrimp recipes have you tried so far?
Let us know in the comments below!
For more awesome seafood recipes that you might like, check out the following:
Rock Shrimp
Argentine Red Shrimp
Calamari Steak
Bay Scallop
Razor Clam
Shrimp Ramen
Langostino
Albacore Tuna
Whole Tilapia
Share on your favorite social media platform and tag us @GloriousRecipes – we can't wait to see what you have made!