Baby eggplants, also known as Indian eggplants, are small adorable variations of nightshades that are as delicious as their regular counterparts!
Their petite size makes them perfect for a wide variety of awesome dishes that are sure to whet your appetite!
Whether you prefer them grilled or roasted, you're sure to enjoy the great flavor of baby eggplants!
From stuffed eggplants to pan-fried dishes, we've got you covered with some of the best baby eggplant recipes that you can easily try at home!
Treat yourself to an awesome dish with this incredible Mini Stuffed Eggplant Parmesan that's amazingly delicious and really easy to make!
Baby eggplants are stuffed with a mix of ground beef, sautéed eggplant flesh, bread, milk, cheese, and a variety of seasonings that make them a mouthwatering delight.
Baked in the oven until fully cooked and tender with melted cheesy goodness, this is a dish that's perfect as an appetizer, side dish, or even as a main course!
There's nothing not to like about this stuffed baby eggplant recipe with how simple it is and how good it tastes!
Keep it simple with this fantastic roasted baby eggplant recipe that you definitely don't want to miss out on!
It's incredibly simple to make and all you need to do is to put the petite eggplants into the oven and brown them until they are fully cooked.
Topped with an extremely flavorsome Italian-style salsa that's made with a mix of olive oil, garlic, shallot, parsley, basil, and pine nuts, this is an appetizer that's perfect any day of the week!
With refreshing flavors that are sure to please everyone, this is definitely one of our favorite baby eggplant recipes!
Enjoy a terrific meal with this coconut curry that's crazy delectable and is sure to tantalize your taste buds!
Marinated with a mix of coconut cream, garlic, ginger, paprika, cumin, turmeric, and salt, the eggplants are already extremely flavorful on their own but when cooked in a curry made tasty with a variety of spices, this is a dish that's just irresistible.
All the wonderful flavors meld together really well and it's a curry that's sure to hit all the right spots with its amazing taste.
If you love rich and bold flavors, this coconut curry is definitely right for you!
Grace your taste buds with this impressive Grilled Baby Eggplant Agrodolce that's super appetizing and tastes absolutely amazing!
Grilled until beautiful charred marks form on the flesh, the eggplants are then coated with an extremely tasty sauce made with honey, red wine vinegar, olive oil, garlic, raisins, and crushed red pepper.
It's a perfect blend of sweet and sour flavors that make this such an addictive and heavenly-tasting dish!
Give it a try and you'll definitely not be disappointed!
Dig into this exceptional dish that's superbly tasty with vibrant flavors and colors you're sure to enjoy!
Featuring roasted baby eggplant halves topped with a combination of cashew yogurt, ancho chili oil, pomegranate, cucumber, and mint, this is a flavorsome dish that's as beautiful as it is delicious.
There is an addictive kick with every bite thanks to the chili oil and it definitely elevates this dish to another level.
With great flavors and fresh ingredients, this is a recipe you'll want to keep handy!
This Baked Baby Eggplant Caprese is one of the easiest baby eggplant recipes and it makes for an excellent appetizer with its amazing flavor!
Eggplant halves are topped with a combination of tomatoes, basil, goat cheese, and breadcrumbs before being baked in the oven until cooked with the cheese softened.
Every bite is bursting with refreshing flavors that make this such a delightful treat and everyone will definitely be fighting for seconds with how tasty it is!
Serve it for your next meal and be prepared to be showered with plenty of compliments!
Inject a little Middle Eastern flair to your next meal with this fantastic Roasted Eggplant with Tahini and Za'atar that's absolutely delicious!
Roasted until tender and nicely browned, the baby eggplants are then drizzled with an extremely flavorsome tahini sauce that's made with a blend of garlic, lemon juice, tahini, oil, salt, and pepper.
The eggplants are finished off with a sprinkle of Za'atar, paprika, cilantro, and other lovely ingredients, creating a mouthwatering delight.
It's super satisfying and you'll develop a craving for it once you've taken your first bite!
For a stunning side dish or appetizer, you've got to check out this simple recipe that makes a terrific dish!
Thinly sliced baby eggplants are pan-fried until cooked and they are brushed with an extremely tasty gremolata to create an absolutely palatable dish.
The gremolata is made by infusing olive oil with the flavors of parsley, garlic, lemon zest, and chili flakes, and it's exceptionally flavorful.
With how delicious these pan-fried baby eggplants are, this dish definitely has a place in any meal!
If you're looking for a quick and easy side dish that tastes awesome, this simple recipe definitely fits the bill!
It's ridiculously easy to make and all you need to do is to brush eggplant halves with olive oil and sprinkle minced garlic on top before letting the oven do all the cooking for you.
You'll come back to a fantastic dish that tastes wonderful and it's made with so little effort!
Serve it as an appetizer or side dish, or treat it as a mid-day snack!
Ramp up your next meal with this splendid dish that's one of our favorite baby eggplant recipes because it's just incredibly delectable!
Brushed with a mix of olive oil, honey, salt, pepper, and chili powder, the eggplants are roasted until tender before they are given a quick stir-fry with an amazing sauce.
The sauce is a lovely combination of soy sauce, sriracha, red wine vinegar, brown sugar, and other ingredients that make it extremely flavorsome.
The resulting dish is one that you just can't get enough of because it's super yummy!
Level up your cooking skills with this excellent Fattet Makdous that's amazingly delicious and it's a visual treat to boot!
It's essentially a dish that consists of different layers with the bottom being toasted pita bread, topped with layers of tomato sauce, yogurt-tahini sauce, baby eggplants stuffed with ground beef mixture, and a garnish of cilantro and pine nuts.
This is a culinary masterpiece that looks stunning and tastes even better, making it a must-try baby eggplant recipe!
Everyone will definitely be impressed by how delicious this exceptional dish is!
Savory delicious stuffed baby eggplants with this simple recipe that makes an absolutely terrific dish!
This exceptional dish involves roasted eggplants stuffed with a mix of goat cheese and sun-dried tomatoes, topped with pine nuts, balsamic vinegar, honey, and freshly chopped parsley.
It's elegantly simple but these eggplants taste out of this world!
These eggplants are ideal as an awesome appetizer and you'll be popping these tasty bites like there's no tomorrow!
These Spiced Stuffed Baby Eggplants are loaded with bold flavors that make them extremely tasty and irresistible!
Stuffed with a spice mixture of cumin, lentils, fenugreek seeds, red chiles, and curry leaves, these eggplants are practically flavor bombs that taste incredible.
They are pan-fried until cooked and tender, creating a divine-tasting dish that's super easy to make.
You can also cook them in an instant pot if you have one at home!
If you have a sweet tooth, you've got to check out this marvelous Candied Baby Eggplant that's superbly tasty for something so easy to make!
It features boiled eggplants that are cooked in a syrup mixture that's made with sugar, water, ground cinnamon, ginger, cinnamon sticks, ground clove, and lemon juice.
This excellent dish makes for an amazing and unique dessert that's sure to impress everyone.
Try it yourself and you'll be pleasantly surprised by how good it tastes!
Delight your taste buds with this awesome dish that's loaded with strong flavors that'll satisfy any appetite!
There are plenty of incredible flavors with a grounded blend of cumin, coriander seeds, peanuts, fennel seeds, sesame seeds, and chilies imparting their fragrance to the eggplants, ensuring a dish that's extremely delicious.
You'll be experiencing a symphony of taste in your mouth with every bite because it's just that tasty!
At Glorious Recipes, we have our favorite Simple Roasted Baby Eggplants that we absolutely adore and they taste heavenly! Check out the recipe below!
Yield: 6
Simple Roasted Baby Eggplants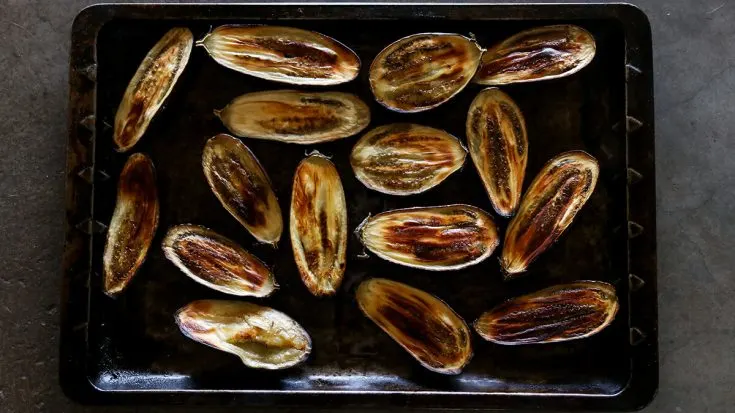 These Roasted Baby Eggplants are extremely delicious and super easy to make! You'll be devouring them before you even know it!
Ingredients
12 baby eggplants
2 tbsp olive oil
1 tsp salt
black pepper, to taste
2 lemons, quartered
2 tbsp parsley, freshly chopped
Instructions
Preheat oven to 400°F (205°C). Rinse and pat dry baby eggplants with paper towels. Cut the eggplants lengthwise into halves and place them on a baking sheet with parchment paper. The cut side should be facing up.
Brush the surface of the eggplants with olive oil and season with salt and pepper. Flip them so that the cut side is facing down.
Roast for around 25 minutes or until the eggplants become tender.
Garnish with freshly chopped parsley and serve with lemons on the side. Enjoy!
Notes
You can easily add any of your favorite seasonings such as paprika before roasting.
Nutrition Information:
Yield:
6
Serving Size:
1
Amount Per Serving:
Calories:

446
Total Fat:

7g
Saturated Fat:

1g
Trans Fat:

0g
Unsaturated Fat:

5g
Cholesterol:

0mg
Sodium:

400mg
Carbohydrates:

102g
Fiber:

29g
Sugar:

37g
Protein:

10g
Nutrition information is only an estimate and can vary depending on ingredients used.
Which of the baby eggplant recipes have you tried so far?
Let us know in the comments below!
For more awesome vegetable recipes that you might like, check out the following:
Sunchoke
Golden Beet
Roma Tomatoes
Savoy Cabbage
Hominy
Honeynut Squash
Banana Peppers
Japanese Eggplant
Canned Spinach
Frozen Green Beans
Share on your favorite social media platform and tag us @GloriousRecipes – we can't wait to see what you have made!