Oaxaca cheese, also known as quesillo or queso de hebra, is a Mexican cheese that has a similar stringy texture to the more popular Mozzarella cheese.
It's very versatile and is used in many Mexican dishes to add some cheesy goodness that helps to elevate the food to the next level!
From tasty quesadillas to delicious pizzas, we've got you covered with some of the best Oaxaca cheese recipes that you can easily try at home!
Enjoy delicious comfort food with this fantastic Oaxaca cheese quesadilla recipe that's absolutely delicious!
With a filling of mushrooms, garlic, green onions, arugula, cilantro, Oaxaca cheese, and a seasoning of paprika, salt, and pepper, these quesadillas are a flavor bomb and super addictive.
It's incredibly easy to make and you'll be enjoying a tasty meal in under 30 minutes from start to finish!
Serve with a side of salsa for maximum flavor and savor these delectable quesadillas!
Try your hands at making Queso Fundido for an amazing appetizer or side dish that's perfect for any meal!
Layers of cooked chorizo sausage, homemade salsa, and a mixture of Chihuahua and Oaxaca cheese are baked in the oven until a bowl of melted cheesy goodness is achieved.
It's essential melted cheese with chorizo and it's so delicious!
Garnish with a sprinkle of green onions and enjoy this delightful appetizer that's just irresistible!
For a superb appetizer that'll impress at any party, you've got to check out these Oaxaca cheese and beef tamale bites!
Cornbread and juicy shredded beef make an awesome combination and they are baked until the cornbread is cooked before a final topping of cheese and cilantro completes this lovely dish.
They make great finger food and have so much flavor that everyone will have a hard time stopping themselves at just one serving!
Serve with lime wedges to make these tasty bites even more refreshing!
This Chorizo Queso is one of our favorite Oaxaca cheese recipes because it's so easy to make and tastes absolutely wonderful!
Flour tortilla shells are given a quick fry before pairing them with a bowl of melted Oaxaca cheese topped with cooked chorizo.
It's such a simple dish that's big on flavor and is the perfect snack to eat while watching a game or movie!
Try it once and you'll develop a craving for it soon enough!
Inject a little Salvadoran flair to your next meal with this fantastic pupusa with chorizo dish that's just mouth-watering!
These pupusas are similar to flatbreads and they are stuffed with shredded Oaxaca cheese and Mexican chorizo that combine really well together to deliver an amazing taste.
Pair them with a homemade slaw for a wholesome meal that's super enjoyable and it's a great way of adding some variety to your meals!
These gooey pupusas are best served hot for maximum enjoyment!
Shake things up and give a twist to your regular stuffed peppers with this lovely recipe that makes a delightful dish!
Stuffed with black beans, sweet corn, chorizo, and Oaxaca cheese, these peppers are loaded with wonderful flavors that are sure to please.
They are baked in the oven along with a flavorsome tomato sauce and even more cheese, creating a tasty dish that's perfect for a hearty meal any time of the day!
If you love stuffed peppers and melted cheese, you'll love these fantastic Chorizo Stuffed Poblano Peppers!
This Oaxaca cheese enchiladas dish is hearty and comforting, perfect for enjoying on a cold and chilly day!
Made with a combination of shredded chicken, chicken broth, sour cream, green chilies, tortillas, and of course, Oaxaca cheese, this Mexican dish is bound to put a smile on your face with how delicious it is.
Baked until all the cheese has melted and topped with a garnish of green onions and cilantro, it's the kind of meal that'll brighten up your day after the first bite.
Add this to your meal rotation and you'll definitely not regret it!
Expand your cooking skills with this amazing Birria Pizza that's mind-blowingly delicious and a flavor bomb with every bite!
The meat is juicy and extremely flavorful with all the spices and herbs adding so much complexity to the flavor, and it's superbly tasty on its own.
Pair that with pizza dough and a topping of Oaxaca cheese and mozzarella cheese, and you have a heavenly combination that'll definitely whet your appetite!
It's one of the best-tasting Oaxaca cheese recipes and you definitely got to try it!
Give classic grilled cheese a simple twist by using Oaxaca cheese instead for an awesome new experience!
A sprinkle of garlic powder and chili powder on the bread slices adds so much depth to the flavor and when you top it with bacon and cheese, you get a fantastic grilled cheese that's absolutely delicious.
Pair it with a homemade chipotle crema and you'll have a spicy delight that's super addictive!
This grilled cheese is the perfect comfort food on a chilly evening!
Get ready for Taco Tuesday with these incredible Birria Tacos that'll surely impress your friends and family!
Tender shredded beef that has been slow-cooked in a rich adobo sauce combines with melted cheese in tortillas to create an incredible dish that'll get you hooked after the first bite.
There are loads of wonderful flavors complementing each other and you end up with delicious tacos that are perfect for a wholesome meal.
Serve with consommé, plus diced onions, cilantro, and lime wedges to add a more refreshing flavor!
Savor a flavorful mix of green chili and cheese hominy casserole with this amazing Oaxaca cheese recipe that's perfect for a hearty and comforting meal!
With a combination of jalapeños, poblano pepper, hominy, hatch chilies, and a variety of wonderful spices, you are guaranteed an extremely flavorful dish that's super delicious.
Topped with Oaxaca and Cotija cheese, the mixture is baked in the oven until the cheeses have melted and you end up with a beautiful casserole that everyone will be fighting over!
Serve with freshly chopped cilantro and enjoy this fantastic dish!
Use your leftover tortillas and make this smashing Migas that's hearty, wholesome, and absolutely delicious!
It's a simple one-pan recipe that combines wonderful ingredients together and with tortilla strips, onions, bell peppers, eggs, and cheese, you know it's going to be a delightful and flavorsome breakfast.
This dish is made even better with a topping of avocado, Cotija cheese, and salsa, giving loads of extra flavor that makes it super tasty!
With how delicious this is, it'll definitely be your go-to dish whenever you have spare tortillas!
Whip up an awesome meal with these fantastic Bean and Cheese Molletes, which are open-faced sandwiches topped with wonderful ingredients!
They have familiar Mexican flavors with bread rolls baked until crispy and a topping of refried beans, shredded cheese, and pico de gallo.
It's ridiculously easy to make and even beginner home cooks can make these tasty bites with little effort!
For something so simple that tastes so good, it's a must-try for everyone!
Spruce up your next meal with these amazing quesadillas that are filled with summer squash blossoms, onions, garlic, and Oaxaca cheese!
These simple ingredients combine really well together to create a delightful flavor that's super easy to enjoy and these quesadillas are perfect for a light meal any time of the day!
For maximum enjoyment, serve them with salsa, black beans, avocado, freshly chopped cilantro, and Mexican queso crema!
You'll definitely love how tasty these wonderful bites are!
Treat yourself to these divine puff pastry bites that taste heavenly and are perfect for an awesome appetizer or mid-day snack!
Topped with a lovely combination of shredded Oaxaca cheese, crushed pistachios, and hot honey, these babies are baked in the oven until the puff pastry has a nice golden brown color.
The sweet and savory flavors mix so well together and you'll be popping these tasty bites one after another because they are just that delicious!
This Oaxaca cheese recipe is perfect for your next party, just be prepared to be showered with compliments!
Enjoy a tasty meal with this delicious Chicken Alambre that'll definitely tantalize your taste buds!
There's no lack of flavor here as the chicken is marinated in a mixture of garlic, spices, lime juice, and olive oil, rendering it extremely flavorful when cooked.
It's combined with bacon, chorizo, and vegetables to create an awesome mix that's served in tortillas with a topping of Oaxaca cheese.
Everything comes together really nicely and you'll love this delightful dish that's super tasty!
Amp up your next sandwich with this fantastic Oaxaca cheese recipe that makes a delicious Eggplant Tortas Milanesa!
Eggplant takes center stage here in place of meat, and it's breaded and pan-fried until golden brown and crispy.
The texture and flavor of the eggplant are absolutely delightful and when you add chipotle mayo, cheese, onion, avocado, jalapeños, and cilantro into the sandwich, you end up with a superb dish that's filled with great flavors.
It's super tasty and is a great way to add some variety to your sandwiches to mix things up a little!
If you crave meat in your sandwiches and you want something that's absolutely delectable, check out this pork carnitas sandwich that's one of our favorite Oaxaca cheese recipes!
The sandwich is filled with jalapeños, pickled onions, Oaxaca cheese, salsa, pork carnitas, and beans before being wrapped and pressed to flatten it.
It's made possible by removing part of the bread interior so that there's a hollow space to fill with the wonderful ingredients.
With all the well-balanced fillings intact, the sandwich is toasted until the cheese has melted and an awesome meal can be served!
Ready-made pizza dough can't be compared to homemade versions, and if you want to level up your cooking skills, check out this incredible grilled Mexican pizza that's absolutely irresistible!
The dough is topped with so many delightful ingredients, such as salsa verde, cheeses, chorizo, and tomatoes, creating a fantastic pizza with great flavors.
The pizza is grilled until a nice brown crust is achieved before an additional topping of queso fresco, green onion, and cilantro helps to elevate the dish to the next level.
It's super yummy and you'll be hard-pressed to stop at one slice of this delicious pizza!
These tasty Brazilian Cheese Puffs will definitely end up as one of your favorite Oaxaca cheese recipes because they are incredibly delicious and really easy to make!
A mixture of milk, oil, tapioca flour, egg, salt, and cheese is blended before they are used to fill a muffin tin and baked until golden brown.
They are so addictive and you'll have a hard time stopping yourself after the first bite!
Serve these as a side dish or snack on them any time of the day!
At Glorious Recipes, we have our favorite Oaxaca Cheese Quesadillas with Squash Blossoms that we absolutely adore and it tastes heavenly! Check out the recipe below!
Yield: 6
Oaxaca Cheese Quesadillas with Squash Blossoms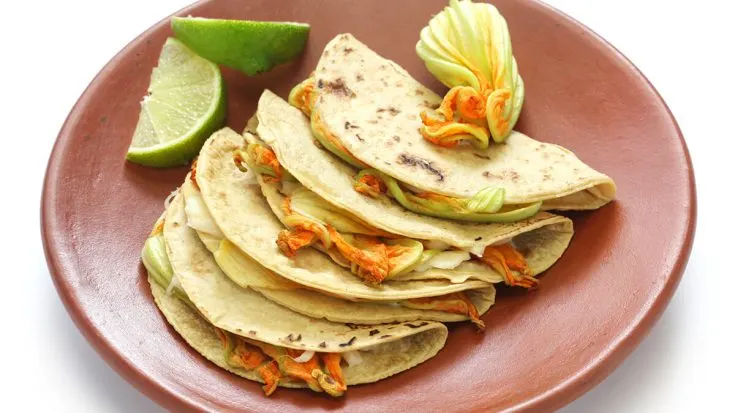 This Oaxaca Cheese Quesadillas with Squash Blossoms is a fantastic dish that tastes divine and it's really easy to make!
Ingredients
1 tbsp olive oil, extra virgin
½ cup onion, diced
3 garlic cloves, minced
15 squash blossoms, chopped
½ tsp butter
6 tortillas
4 oz Oaxaca cheese
freshly chopped cilantro
Instructions
Add oil to skillet over medium-high heat and sauté onion until translucent. Add garlic and continue to cook for about an additional minute.
Add squash blossoms to skillet and cook for 1-2 minutes until they are starting to wilt. Transfer mixture to separate plate.
Wipe skillet, then add butter to coat. Add tortilla to heat up, then add a little cheese on one half of the tortilla. Top with cooked squash blossom, onion, and garlic. Fold the other half of the tortilla over then give a light press, and cook until cheese has melted. Remove once tortilla is slightly browned and repeat for the remaining tortillas.
Garnish with freshly chopped cilantro and serve quesadillas with salsa. Enjoy!
Nutrition Information:
Yield:
3
Serving Size:
1
Amount Per Serving:
Calories:

745
Total Fat:

28g
Saturated Fat:

10g
Trans Fat:

0g
Unsaturated Fat:

14g
Cholesterol:

39mg
Sodium:

732mg
Carbohydrates:

95g
Fiber:

14g
Sugar:

24g
Protein:

27g
Nutrition information is only an estimate and can vary depending on ingredients used.
Which of the Oaxaca cheese recipes have you tried so far?
Let us know in the comments below!
For more awesome recipes, check out the following:
Whipped Cottage Cheese
Protein Bowl
Neck Bones
Triscuit
Chicken Breakfast
Ring Bologna
Shin Ramen
Canned Potatoes
Dash Waffle Maker
Vitamix Soup
Share on your favorite social media platform and tag us @GloriousRecipes – we can't wait to see what you have made!