Argentine red shrimp, known for their distinctive bright red color, are sourced from the pristine waters of the South Atlantic, located off the coast of Argentina, as their name suggests.
They boast a fresh and sweet flavor that's a true delight for all seafood lovers and are perfect for a delectable treat!
Whether you prefer them grilled, baked, or sautéed, you're sure to enjoy the wonderful flavor of the amazing Argentine red shrimp!
From tasty tacos to flavorful pasta, we've got you covered with some of the best Argentine red shrimp recipes that you can easily try at home!
Cooking Argentine red shrimp is super easy and convenient when you use an air fryer to do all the work for you!
All you need to do is coat the shrimp with a combination of olive oil, smoked paprika, garlic powder, parsley, salt, and pepper before air frying to fully cook them.
They will come out beautifully crisp and extremely delicious, thanks to all the seasonings used to add depth to the flavor.
There's nothing not to like about this quick and easy Argentine red shrimp recipe!
Enjoy a wonderful meal with this Teriyaki Shrimp and Veggie Rice Bowl that's superbly tasty and takes little effort to prepare!
This dish features a delectable mix of shrimp and vegetables that include snow peas, celery, carrots, and cauliflower, all cooked in a tantalizing honey-soy sauce.
Everything comes together really well and both the shrimp and vegetables are extremely flavorful, making this a terrific dish that's perfect any day of the week.
Serve over rice to make it a wholesome and complete meal!
This is one of the easiest Argentine red shrimp recipes that you definitely don't want to miss out on because the shrimp are so delicious!
These shrimp are coated with a simple mix of olive oil and smoked paprika before being grilled until they are fully cooked and then sprinkled with almonds to complete this lovely dish.
The natural sweetness of these grilled Argentine red shrimp is complemented by the smoky flavor of paprika, creating an absolutely mouthwatering treat!
It's amazing how something so delectable can be so easy to whip!
If you need a seafood centerpiece for an impressive meal, this fantastic dish will definitely be a top contender for that role!
This dish pairs grilled Argentine red shrimp skewers with an extremely flavorsome chimichurri, which is made with a combination of jalapeños, garlic, parsley, red wine vinegar, and other lovely ingredients.
Along with zucchini ribbons to provide a refreshing crunch, this is essentially culinary heaven at its very best!
You'll be gobbling everything up before you even know it because they are just too delicious!
For an exceptional starter that's amazingly delectable, you've got to check out these Baked Shrimp Tortilla Bites!
This remarkable dish uses wild Argentine red shrimp and coats them with a mix of sautéed garlic, chili, tortilla crumbs, and citrus zest before baking until they are fully cooked.
These flavorsome shrimp are then placed on top of tortillas with avocado crema, then topped with cilantro and pomegranate arils.
Every bite is immensely enjoyable and everyone will be fighting for seconds with how delicious these bites are!
Discover an excellent dish with this extraordinary seafood stew that's sure to be your next comfort food!
With seafood stock, aromatics, tomatoes, corn kernels, paprika, and a mix of dried herbs, you know you're guaranteed an incredibly flavorful and superbly tasty stew.
Simmered until all the flavors meld and with the addition of our beloved shrimp, this stew tastes absolutely out of this world!
This is definitely an Argentina red shrimp recipe that you need to try!
Expand your cooking repertoire with this superb dish that's easy to whip up and perfect for an awesome meal!
Argentine red shrimp are sautéed with garlic, cherry tomatoes, oregano, and white wine, creating an absolutely mouthwatering delight loaded with incredible flavors.
The sauce tastes fantastic and you'll be slurping every last drop of it because it's just that good!
White rice is served with the sautéed shrimp to complete a hearty meal you're sure to love!
Get ready for Taco Tuesday with one of our favorite Argentine red shrimp recipes that you absolutely must try!
Featuring lime black rice, grilled shrimp seasoned with onion powder, garlic powder, paprika, and oregano, as well as an extremely flavorsome chimichurri sauce, these tacos are just irresistible!
The herbaceous flavor of chimichurri brings this dish up a notch and is a wonderful blend of parsley, oregano, red chili pepper, garlic, lemon juice, and olive oil.
Add a squeeze of lime before serving for maximum enjoyment of this lovely dish!
Feast on these outstanding Grilled Shrimp Tostadas with a divine combination of flavors and textures that everyone will surely love!
Tostada flats are topped with refried beans, marinated grilled shrimp, guacamole, pico de gallo, cotija cheese, and cilantro in this amazing recipe that you definitely want to keep handy.
All the ingredients impart their distinctive characteristic and the flavors meld together extremely well, creating an incredibly satisfying dish.
Ready in 30 minutes from start to end, these tostadas are perfect for an excellent weeknight dinner!
Ramp up your next meal with these Argentine red shrimp rolls that are amazingly delicious and sure to whet your appetite!
Poached shrimp are mixed with mayonnaise, celery, chives, Old Bay seasoning, and lemon juice to form the filling for toasted brioche buns and the combination is just fabulous.
There's so much flavor in every bite and you'll find it difficult to limit yourself to just one serving!
Serve with chips on the side for an easy but scrumptious meal!
Inject a little Asian flair to your meals with this marvelous recipe that makes exceptionally tasty shrimp loaded with incredible flavors!
The highlight of this dish is the flavorsome sauce, made by combining butter, honey, soy sauce, garlic, ginger, lime juice, and lime zest, and it's used both as a marinade and a dipping sauce.
Once the shrimp are marinated, they are then grilled until fully cooked and served with the dipping sauce to complete this amazing dish.
It's quick and easy to whip up, and a great way to add tasty seafood to any meal!
Satisfy your seafood craving with this Spicy Shrimp in Tomato Sauce that's sure to tantalize your taste buds!
The shrimp are smothered in a mix of tomato sauce, capers, onions, garlic, and red pepper flakes, topped with parsley and they are absolutely delectable.
It's ridiculous how something so tasty can be so unbelievably simple to make!
With how delicious it is, we have no doubts that this will quickly make its way to your list of favorite Argentine red shrimp recipes!
Taking only 15 minutes to whip up, you can serve it with your favorite carbs for a quick and easy meal any day of the week!
This Fettuccine Alfredo is one of the best Argentine red shrimp pasta recipes and it's a must-add to your pasta rotation!
Grilled shrimp seasoned with ancho chili powder, smoked paprika, cayenne pepper, and other lovely ingredients are combined with baby bella mushrooms, asparagus, and fettuccine with a creamy Alfredo sauce that's exceptionally delicious.
This mouthwatering delight is an absolute treat and makes for an amazingly palatable pasta dish that's sure to be a hit with the crowd.
It's remarkably wholesome and you'll love all the splendid flavors present in this wonderful dish!
Fire up your grill and try this awesome recipe that makes great-tasting shrimp complete with a flavorful dipping sauce!
This simple dish features shrimp brushed with shrimp oil that combines shrimp shells, garlic, shallots, paprika, and other ingredients, then grilled until fully cooked.
Paired with a terrific tartar sauce that's made with a mix of Dijon mustard, capers, garlic, shrimp oil, lemon juice, and egg yolk, these shrimp are just mind-blowingly tasty.
This recipe is an easy way to spice up grilled shrimp to keep things refreshing!
Sign us up for this fantastic pasta dish that's gloriously delicious and super easy to whip up!
This awesome dish is a lovely marriage of al dente pappardelle, pan-seared shrimp, butter, and a delightful chimichurri sauce to create something truly amazing.
The sauce adds tons of incredible flavors to the pasta and everything comes together extremely well, making this an easy crowd-pleaser.
Along with the natural sweetness of Argentine red shrimp, this is a thoroughly enjoyable dish that everyone has to try at least once!
At Glorious Recipes, we have our favorite Smoked Paprika Grilled Argentine Red Shrimp that we absolutely adore and they taste heavenly! Check out the recipe below!
Yield: 4
Smoked Paprika Grilled Argentine Red Shrimp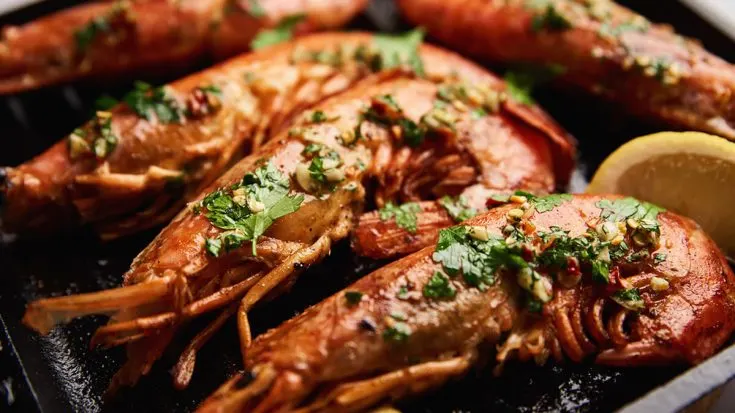 These Grilled Argentine Red Shrimp are filled with smoky goodness and they are so delicious!
Ingredients
2 lb Argentine red shrimp, with shell on
2 tbsp olive oil
1 tbsp smoked paprika
salt to taste
Instructions
Add olive oil and smoked paprika to a small bowl, and mix well. Place the shrimp into the bowl to coat.
Prepare grill for direct high heat. Once hot, grill the shrimp for about 2 minutes on each side or until they turn opaque and cooked through. Take care not to overcook.
Serve and enjoy!
Notes
Grilling with the shell on adds more flavor and prevents the flesh from drying out.
Nutrition Information:
Yield:
4
Serving Size:
1
Amount Per Serving:
Calories:

376
Total Fat:

11g
Saturated Fat:

2g
Trans Fat:

0g
Unsaturated Fat:

8g
Cholesterol:

479mg
Sodium:

2295mg
Carbohydrates:

12g
Fiber:

1g
Sugar:

0g
Protein:

53g
Nutrition information is only an estimate and can vary depending on ingredients used.
Which of the Argentine red shrimp recipes have you tried so far?
Let us know in the comments below!
For more awesome seafood recipes that you might like, check out the following:
Colossal Shrimp
Rock Shrimp
Calamari Steak
Bay Scallop
Razor Clam
Shrimp Ramen
Langostino
Albacore Tuna
Whole Tilapia
Share on your favorite social media platform and tag us @GloriousRecipes – we can't wait to see what you have made!