Coho salmon, also known as silver salmon, has a delicate flavor with semi-firm flesh that's perfect for making all kinds of tasty dishes!
It has a moderate amount of fat, which adds tons of flavor when cooked but doesn't overwhelm, unlike other types of fatty fish.
As with most salmon, coho salmon is nutrient-dense with high amounts of vitamins and minerals, and it's also a great source of omega-3 fatty acids!
From pan-seared dishes to enchiladas, we've got you covered with some of the best coho salmon recipes that you can easily try at home!
Whip up an awesome meal with this fantastic Saffron Risotto with Coho Salmon that's amazingly delicious and is sure to whet your appetite!
Arborio rice is cooked with white wine and chicken stock, with saffron threads added to provide depth to the flavor, and it's a superbly tasty risotto that you'll definitely enjoy.
Paired with pan-seared salmon, this is a luxurious and decadent dish that's incredibly easy to make and a must-add to your dinner rotation.
Give it a try and you'll definitely not be disappointed!
Cooking coho salmon is not difficult and this Grilled Coho Salmon recipe is perfect for everyone, even if you're trying to cook fish for the first time!
It's ridiculously easy to make and all you need to do is season the filets with any of your favorite seafood rubs before grilling the meat.
The trick is to let the filets cook untouched and only flipping once in order to develop a nice sear and consistently cooked meat.
Serve alongside your favorite carbs and greens to turn it into a complete meal!
Enjoy a fantastic meal with this Miso-Maple Broiled Coho Salmon that's crazy delectable and it's so easy to make!
Marinated in a mixture of miso paste, tamari sauce, mirin, sesame oil, ginger, and maple syrup, the salmon is loaded with incredible flavors even before it's cooked.
Roasted in the oven until perfectly cooked and garnished with sesame seeds and scallions before serving, this is a dish that's just irresistible.
With how flavorsome this simple dish is, it's definitely one of our favorite coho salmon recipes!
Savor tasty fish with this simple pan-seared coho salmon recipe that makes an absolutely wonderful dish!
There are plenty of great flavors with cherry tomatoes marinated in a mixture of balsamic vinegar, honey, scallion, olive oil, salt, and pepper to create a flavorsome tomato scallion salsa.
It's used to top salmon filets that have been nicely seared in a skillet, and the resulting dish is sure to tantalize your taste buds.
Taking only 20 minutes from start to end, this is a dish that's perfect for an awesome weeknight dinner!
If you're looking to refresh your pasta rotation, you've got to check out this excellent Coho Salmon Rigatoni!
Pan-seared salmon, spinach, and rigatoni are combined in this wonderful pasta dish that's made flavorful with coconut cream, dill, shallots, and garlic.
Everything comes together really quickly and it's a hearty dish with all the carbs, protein, and veggies you need for a wholesome meal.
It's incredibly delicious and the family will definitely love it!
Try your hands at making this amazing glazed salmon that's superbly tasty and incredibly easy to whip up!
Coho salmon is brushed with a glaze that's made of hoisin sauce, soy sauce, honey, and rice vinegar before being broiled in the oven until fully cooked.
It's paired with bok choy sautéed with garlic and soy sauce, then served on top of a bed of white rice to complete this simple but delectable dish.
There's nothing not to like about this coho salmon recipe that takes minimal effort!
Fish and citrus make for an awesome combo and this terrific dish is an absolute must-try in our books because it's so delicious!
It's one of the easiest baked coho salmon recipes with the oven doing all the cooking for you, making it perfect for a hassle-free weeknight meal.
Slices of tangerine, blood orange, and lemon are placed on top of the fish filet along with some herbs and olive oil before everything is baked until nicely cooked.
It's extremely flavorsome and the citrusy flavors work really well to create a splendid dish!
Treat yourself to an exceptional meal with this grilled coho salmon that's sure to tantalize your taste buds!
Seasoned with ancho chili rub and grilled until nicely charred, the meat is incredibly tasty on its own but it's made even better with the addition of a flavorful poblano pesto.
The pesto is made by blending a mix of poblano chilies, garlic, cilantro, lime, oil, and Parmesan cheese.
It's the perfect taste sensation with great flavors that come together really well, making it an irresistible dish that you definitely don't want to miss out on!
Give this a try for your next grilling session and you might just have a new favorite dish!
Keep it simple with this Dijon-Dill Crusted Coho Salmon that's super delicious and only requires 3 ingredients to make!
Dijon mustard is spread over the coho salmon filet and dried dill is sprinkled over to create an awesome crust before the fish is baked until cooked.
It's that easy to make and you'll end up with an extremely delectable fish that you can pair with your favorite carbs and veggies!
Squeeze a lemon over the fish before serving to add a delightful zing that you'll definitely enjoy!
This Baked Honey Mustard Coho Salmon is another incredibly easy-to-make dish that even beginner home cooks will have no trouble with and it's so tasty!
Coated with a mix of honey, Dijon mustard, lemon juice, and sea salt, the salmon filet is then baked in the oven until fully cooked.
It takes under 20 minutes from start to end, making it an ideal dish to whip up for an awesome weeknight dinner!
You'll love how quick and easy this recipe is for something that tastes so good!
Enjoy a hearty and wholesome meal with this fantastic dish that's loaded with tons of great flavors and nutrition!
There's no lack of flavor with thyme, cumin, paprika, and other seasonings adding depth to the favor of the vegetables, and it's easy to tweak the recipe and throw in whatever you have on hand.
The vegetables are paired with a salmon filet and a dollop of butter before being wrapped in foil and baked in the oven.
It's really simple to make and you'll be devouring this tasty dish in no time at all!
Spruce up your next meal with these fantastic stacked salmon enchiladas that are crazy delicious and it's sure to captivate your taste buds!
Baked salmon is combined with black beans, enchilada sauce, jalapeño juice, corn, lime juice, and cream cheese to create an extremely flavorsome mixture that's layered with flour tortillas, more enchilada sauce, and cheese before everything is baked until a beautiful golden brown top is achieved.
It's a heavenly combination of flavors and textures that make it an absolutely mouthwatering delight!
Top with sour cream, pico de gallo, and cilantro before serving for maximum enjoyment of this amazing dish!
Shake things up a little and make an awesome salmon melt for an exceptionally tasty meal!
It's a delectable combination of sourdough bread, cheddar cheese, and a salmon spread that's made tasty with garlic powder, onion powder, mustard, mayonnaise, and other lovely ingredients.
Cooked on a pan until nicely browned, this is a sandwich that's perfect for brunch or enjoy it any time of the day because it's just that tasty!
With how simple it is to make and how delicious it tastes, this is definitely one of our favorite coho salmon recipes as well!
Niçoise salad is given a simple twist with coho salmon replacing tuna in this classic dish that's sure to satisfy your appetite!
Oven-baked salmon is surrounded by a medley of ingredients that include cherry tomatoes, zucchini, lettuce, asparagus, and pretty much any of your favorite greens.
The salmon is marinated in a mix of mustard, lemon juice, garlic, and olive oil to give it additional complexity in flavor, and with a honey mustard vinaigrette serving as the salad dressing, this is an extremely flavorsome dish that you're bound to love.
Add it to your salad rotation and enjoy this French-styled salad!
On days when you want a quick and easy meal that's super simple to prepare with minimal clean-up required, you've got to try out this Foil Packet Grilled Coho Salmon!
It's unbelievably straightforward to make and all you need to do is coat the salmon filet with salt, thyme, chives, and oil before wrapping it in foil and baking until fully cooked.
This can be prepared in under 10 minutes, making it an ideal option for a fantastic weeknight meal!
You'll be pleasantly surprised by how good it tastes for something so easy to make!
Ramp up your next meal with this exceptional dish that's elegant and tastes absolutely wonderful!
Marinated in a brine made with cider, salt, tarragon, and pepper, the salmon filet is then broiled until cooked and flaky, and it's drizzled with an extremely flavorful mustard cream to complete this awesome dish.
The sauce adds plenty of delightful flavors to the dish with white wine, Dijon mustard, whipping cream, butter, and other lovely ingredients imparting their distinct aroma.
It's a simple dish that's sure to impress with its splendid taste!
Cook up a pot of warm salmon chowder with this outstanding recipe that makes such a tasty soup!
It's a delightful combination of smoked coho salmon, potatoes, onion, coriander, and cream to create a flavorsome chowder that's super comforting and hearty.
This chowder is made even tastier with a dollop of herbed butter that adds tons of depth and complexity to the flavor, making it super yummy!
Make this on a cold and chilly day and you'll be addicted to it right after your very first sip!
You can never get enough of great-tasting pasta and this simple recipe definitely makes an extremely delicious pasta dish!
It's a fantastic combination of pan-seared salmon with sautéed mushrooms, shallots, and angel hair pasta, with a flavorsome pumpkin sauce that ties everything together.
This dish is incredibly delicious and with flavors that are easy to enjoy, it's bound to be a hit with the crowd!
We have no doubts that this will quickly make its way into your list of favorite coho salmon recipes!
For an amazing appetizer that's supremely delicious, you've got to check out this simple ceviche recipe!
Cured in a mixture of lime and orange juices, the salmon cubes are then mixed with garlic, jalapeño, tomato, shallot, cilantro, and other lovely ingredients.
It's super easy to make with great flavors that are sure to put a smile on your face!
Serve with tortilla chips to enjoy a simple but tasty dish!
Jazz up your salmon with a mixed herb pesto that adds so much depth to the flavor, creating an irresistible delight!
The herbaceous flavor of the pesto is contributed by a mix of basil, parsley, tarragon, cilantro, and other ingredients, which help to make the salmon extremely delicious.
This combination creates a symphony of flavors that are super enjoyable, and you'll be devouring the fish before you even know it!
It's the kind of dish that you just can't get enough of with its excellent taste!
At Glorious Recipes, we have our favorite Baked Coho Salmon with Herb Butter that we absolutely adore and it tastes heavenly! Check out the recipe below!
Yield: 6
Baked Coho Salmon with Herb Butter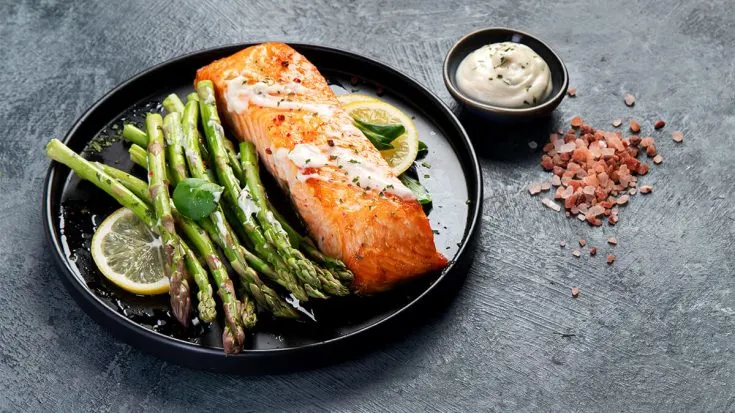 Indulge in this incredibly delicious baked coho salmon and asparagus with herb butter that makes everything extra flavorful!
Ingredients
Coho Salmon and Asparagus:
2 lbs coho salmon filet, evenly cut into 6 portions
2 lbs asparagus
salt and black pepper
1 tbsp olive oil
1 lemon, sliced into 6 (for garnish)
Herb Butter:
6 tbsp unsalted butter
2 tbsp lemon juice, freshly squeezed
2 garlic cloves, minced
2 tbsp parsley, freshly chopped
1 tsp salt
¼ tsp black pepper
Instructions
Preheat oven to 450˚F (230˚C).
In a small bowl, add the ingredients for the herb butter. Mash everything with a fork until nicely combined.
Add salmon filets to a baking sheet in a row in the middle. Add asparagus to the top and bottom of the salmon filets. Drizzle oil over the filets, flipping them to coat. Season both filets and asparagus with salt and pepper.
Spread ¾ of herb butter onto salmon filets. Dot asparagus with remaining ¼ herb butter. Place a slice of lemon on each of the salmon filets. Bake uncovered for 10 minutes (12 minutes if thicker), then broil for another 2 minutes. The salmon is fully cooked when it can easily be flaked with a fork.
Serve and enjoy!
Nutrition Information:
Yield:
6
Serving Size:
1
Amount Per Serving:
Calories:

475
Total Fat:

33g
Saturated Fat:

11g
Trans Fat:

0g
Unsaturated Fat:

19g
Cholesterol:

126mg
Sodium:

602mg
Carbohydrates:

9g
Fiber:

4g
Sugar:

2g
Protein:

37g
Nutrition information is only an estimate and can vary depending on ingredients used.
Which of the coho salmon recipes have you tried so far?
Let us know in the comments below!
For more awesome fish recipes that you might like, check out the following:
Sablefish
Porgy
Albacore Tuna
Whole Tilapia
Salmon Bites
Yellowtail
Tilefish
Cobia
Blackfish
Smoked Cod
Share on your favorite social media platform and tag us @GloriousRecipes – we can't wait to see what you have made!