With a long shelf life and the benefit of being easy to purchase whole year round, canned oysters are perfect for whipping up tasty meals when the cravings hit!
They are surprisingly versatile and you can easily use them to make a whole variety of dishes that everyone will definitely enjoy.
From seafood pasta to oyster soups, we've got you covered with some of the best canned oyster recipes that you can easily try at home!
For a simple spread or dip that will capture any seafood lover's heart, you've got to check out this delightful Smoked Oyster Spread!
It's super easy to make and you really only need 4 ingredients to create this tasty spread.
Made by combining canned smoked oysters, cream cheese, Worcestershire sauce, and cayenne pepper, this spread is filled with wonderful flavors that blend well together.
Serve with crackers or cucumber slices for an awesome appetizer!
This oyster stew made with canned oysters is the perfect comfort food for warming you right up on a cold and chilly day!
There is no lack of flavor here as oysters are simmered in a tasty soup base made with a whole host of aromatics, vegetables, herbs, and seasonings.
Hot sauce is added to give an addictive kick with every sip and really makes this stew stand out with its spicy flavor.
Serve it with some crackers for maximum enjoyment!
Enjoy a delicious plate of linguine with this fantastic canned oyster pasta recipe that makes for an awesome weeknight meal!
Garlic and fennel seeds help to give the oysters depth in flavor and this pasta is made wholesome with the addition of spinach to add some green to the dish.
Topped with Parmesan cheese, parsley, and lemon juice, everything combines really well to create a delectable pasta!
With how easy it is to make this tasty pasta dish, it's a must-add to your meal rotation!
Grab some canned clams along with canned oysters the next time you go grocery shopping as the two can be combined to create a superb clam chowder!
In this amazing recipe, the chowder is made with seafood stock, white wine, and herbs, among other wonderful ingredients, making it extremely flavorful.
The clam chowder is incredibly tasty and you'll love how rich and creamy it is, plus it can be made in under half an hour so you can whip this up easily whenever the craving hits!
Try this comforting dish for your next meal and you'll definitely fall in love with it!
Mix things up a little and whip up these terrific scalloped oysters that are a must-try for any oyster lover!
Oysters flavored with Worcestershire sauce combine with cracker crumbs to create a tasty dish that has an addictive texture with buttery undertones.
It's an easy baked dish that uses simple ingredients so you can make this even if you're a beginner home cook!
Add some lemon zest before serving to enhance the flavor further!
Treat yourself to an exceptional plate of seafood pasta that's super delicious and easy to make!
The sauce base is made with a mixture of garlic, onion, white wine, and heavy cream, ensuring plenty of delightful flavors that go really well with the seafood.
Shrimps and oysters provide the protein in this recipe and when combined with the tasty sauce and al dente pasta, it becomes a sumptuous meal that's absolutely enjoyable.
It's a great dish to serve for a quick and tasty meal!
If you need a gorgeous appetizer for your next party, look no further because these smoked oyster cracker bites are awesome!
Cream cheese on crackers topped with oysters, hot pepper jelly, and fresh dill make a surprisingly delicious combination and they are just irresistible.
It's simple to make and there's no cooking required, making this a breeze to prepare for a large crowd.
These bites are elegant and classy, and easily one of our favorite canned oyster recipes!
Utilize your air fryer and cook up these oysters that make an awesome snack or side dish!
Dredged in eggwash and a panko mixture that includes garlic powder, parsley, salt, and pepper, the oysters are air-fried until golden and crispy.
They are absolutely delicious and when you add a squeeze of lemon juice, they turn into a heavenly treat!
Serve with your favorite dipping sauce or try out the fantastic Tiger sauce or Bitchin' sauce to go along with these tasty bites!
Bacon and oysters might seem like an unlikely combo but they make a great pair and are absolutely delicious together!
Oysters are wrapped with bacon slices before they are placed on a baking dish with a soy garlic sauce that adds so much wonderful flavor to these little bites.
They are baked in the oven until the bacon becomes crispy with the sauce thickened, creating an amazing canned oyster appetizer or side dish that you can serve alongside other main dishes.
It's incredibly tasty and is sure to be a crowd-pleaser!
This smoked oyster dressing is a must-try in our books because it tastes amazing and makes a great holiday dish!
With aromatics, chicken liver, mushrooms, stock, and seasonings, this dish is loaded with delightful flavors that combine really well together.
The dressing is crisp, moist, and extremely flavorful, making it super delicious and you just can't stop after the first bite.
Serve this for your next dinner and enjoy a wholesome meal!
Indulge in these exceptional Southern Fried Oysters for an unforgettable side dish that's amazingly delicious!
Dredged in a batter that contains cornmeal, flour, milk, green onion, egg, and cayenne, among other wonderful ingredients, these little bites are deep-fried until golden brown and crispy.
They are incredibly tasty and you'll get hooked after the first bite!
Serve with a garlic mustard dip for an excellent pairing and you'll be impressed at how delectable these fried canned oysters are!
Inject some French flair to your next appetizer and serve this Smoked Oyster Pâté that's bound to impress!
Made by combining cream cheese, canned oysters, garlic, Worcestershire sauce, and a few other common ingredients, it's an easy recipe that's great for making in advance of a gathering.
To make it a perfect appetizer, serve it alongside crispy thin baguette slices and everyone will be fighting for a second serving!
It's incredibly easy to make and tastes oh-so-yummy!
Grace your taste buds with this amazing Smoked Oyster Tapenade that makes an excellent appetizer!
It's a mix of olives, oysters, capers, garlic, and parsley, giving the spread a refreshing taste with a squeeze of lemon juice, and goes really well with crackers and chips.
You'll enjoy this even if you're not a fan of oysters because they are blended and you'll be tasting more of the olives!
It's a great way to get all those nutrients from oysters with this simple dish!
This fantastic Smoked Oyster Dip is so addictive that you won't be able to stop once you've given it a try!
Made by blending canned smoked oysters, oil, shortening, turmeric, lemon zest, and lemon juice, it's loaded with delightful flavors that are perfect for dipping with some plantain chips.
It's chilled for a few hours before serving for the dip to thicken up and it's great for making ahead for a party or gathering.
Enjoy this dip with a garnish of chives for the best flavor!
Make a bowl of comforting Oyster Artichoke Soup that'll definitely warm your soul and fill your belly!
It's extremely flavorful and delicious with oysters, sherry, herbs, and mushrooms combined to create this hearty soup.
The ingredients sit in a creamy soup base and it's perfect for pairing with some crusty homemade bread for a wholesome meal!
You'll be craving this on a rainy day and you'll love how easy it is to whip this up!
Impress your friends and family with this dirty rice that's loaded with wonderful ingredients and nutrients, and most importantly, tastes super good!
Bell pepper, cherry bomb pepper, scallion, and garlic combine with rice, canned oysters, and chicken stock to create a flavorful mix that's sure to please with every bite.
It's a quick and easy canned oyster recipe that's perfect for a simple weeknight dinner and you'll definitely love this awesome dish!
Spruce up your next meal with this exceptional oyster casserole that's amazingly delicious!
It's extremely flavorful with a creamy oyster and mushroom layer that's made even tastier with the addition of Parmesan cheese and vegetables.
Topped with bread crumbs and more Parmesan cheese before being broiled, this casserole is super satisfying and ticks all the boxes for an excellent meal!
You'll definitely need to add this casserole to your meal rotation because it's just that delectable!
Add some Korean flair to your next meal with this simple oyster broth that's light and tasty!
With only radish, kelp, garlic, and canned oysters, this soup is filled with a delightful flavor that has natural umami with every sip!
Soy sauce, salt, and pepper are used as seasonings to make it even tastier and it's great as a side dish for any meal!
Expand your cooking repertoire with these amazing baked canned oysters that are great for whipping up on short notice!
It only takes 20 minutes to get these tasty bites out and they are so simple to make with common ingredients that you probably already have in the kitchen.
Canned oysters are seasoned with Cajun seasoning, fresh garlic, and black pepper before being topped with melted butter, bread crumbs, Parmesan cheese, and herbs.
Baked till the crumbs become toasted, these oysters are absolutely delicious and it's one of our favorite canned oyster recipes to make for special occasions!
Inspired by oysters Rockefeller, this smoked oyster pasta is filled with familiar flavors that blend well together to create a delectable dish!
Canned oysters are super handy for making this pasta and they are combined with spinach, garlic, white wine, and lemon zest for a simple yet tasty dish.
Topped with toasted bread crumbs, this smoked oyster spaghetti has a nice texture that's well-balanced with the other ingredients and it definitely makes for a wholesome and enjoyable meal!
Yield: 20
20 Best Canned Oyster Recipes To Try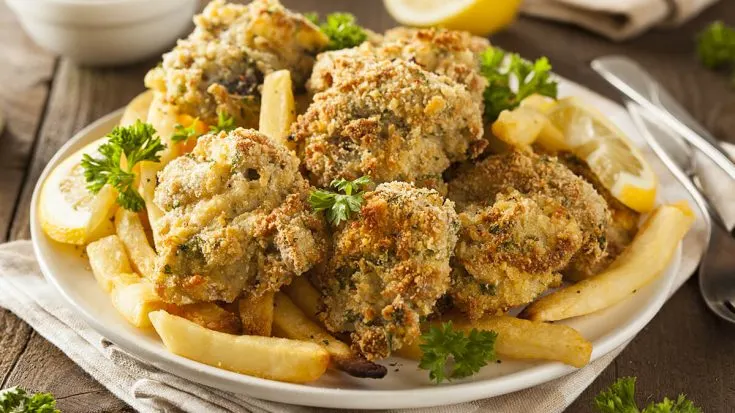 Try these canned oyster recipes and enjoy a delicious meal! From seafood pasta to oyster soups, there's always something for every occasion!
Instructions
Choose your favorite canned oyster recipe.
Prepare all the required ingredients.
Whip up the tasty dish and enjoy an awesome meal!
Nutrition Information:
Yield:
20
Serving Size:
1
Amount Per Serving:
Calories:

207
Total Fat:

9g
Saturated Fat:

3g
Trans Fat:

0g
Unsaturated Fat:

4g
Cholesterol:

54mg
Sodium:

361mg
Carbohydrates:

20g
Fiber:

2g
Sugar:

2g
Protein:

12g
Nutrition information is only an estimate and can vary depending on ingredients used.
Which of the canned oyster recipes have you tried so far?
Let us know in the comments below!
For more seafood recipes, check out the following:
Colossal Shrimp
Argentine Red Shrimp
Calamari Steak
Bay Scallops
Razor Clams
Langostinos
Chicken and Shrimp
Salmon and Shrimp
Salmon Bites
Yellowtail
Or check out Canned Beef, Canned Pork, and Canned Potato for more canned food recipes!
Share on your favorite social media platform and tag us @GloriousRecipes – we can't wait to see what you have made!